Total restaurant industry sales
Restaurant sales rose for the third consecutive month in April
Consumer spending in restaurants rose for the third consecutive month in April, as a healthy labor market and improving COVID-19 environment boosted confidence in dining out.
Eating and drinking places* registered total sales of $83.7 billion on a seasonally adjusted basis in April, according to preliminary data from the U.S. Census Bureau.
April's 2.0% sales increase followed solid gains in both February (6.6%) and March (1.9%), and represented the industry's strongest 3-month period of growth since the second quarter of 2021.
The recent upward trend followed sharp declines in both December and January, when customer traffic and business operations were negatively impacted by the significant increase in COVID-19 cases due to the omicron variant.
[Note: The April sales report included the Census Bureau's annual revisions to the data. While the month-to-month trend in eating and drinking place sales remained generally consistent, the total sales volume was revised higher for many months.]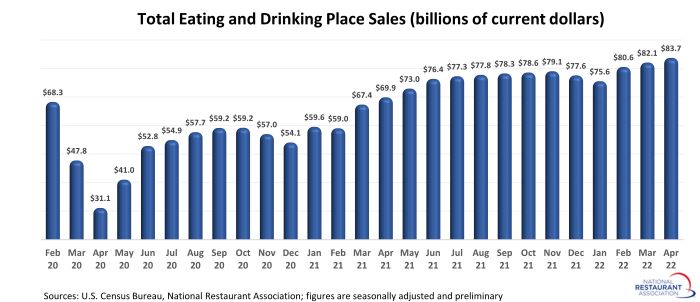 Consumers are facing financial headwinds
While the healthy job market helped boost restaurant sales in recent months, consumers are currently facing a confluence of headwinds that will potentially influence their spending patterns in the months ahead. Record gas prices, rising interest rates, plunging stock prices and decades-high inflation are putting a strain on the budgets of many households.
All of these can negatively impact consumers' ability and willingness to spend – and none were on the radar before the pandemic. As a result, it's not surprising that many consumers say their personal economies are in worse shape now than they were before the pandemic.
Thirty-six percent of consumers say their personal financial situation is currently worse than it was before the start of the coronavirus pandemic, according to a national survey of 1,000 adults conducted May 6-8 for the National Restaurant Association by Engine. Only 18% of adults say their finances are in better condition than they were before the pandemic, while 46% say they have stayed about the same.
Older adults' assessment of their finances is significantly more negative than their younger counterparts. Only 8% of baby boomers say their household financial situation is better now than it was before the pandemic; 37% say it is worse. Among Gen Z adults, similar proportions say their finances are in better (29%) or worse (27%) shape compared to pre-pandemic readings.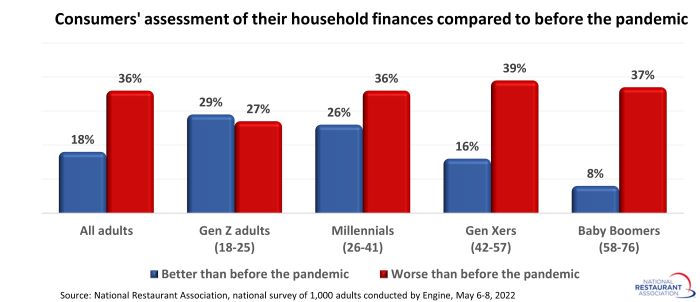 Youthful exuberance
Consumers are cautiously optimistic about their finances in the coming months, though the degree of bullishness varies dramatically by age group. Overall, 38% of adults expect their household financial situation to get better during the next 12 months. Only 23% think it will get worse.
Once again, younger consumers are the most optimistic. Sixty-three percent of Gen Z adults and 49% of millennials expect their personal finances to improve during the next 12 months. Only 32% of Gen-Xers and 22% of baby boomers reported similarly.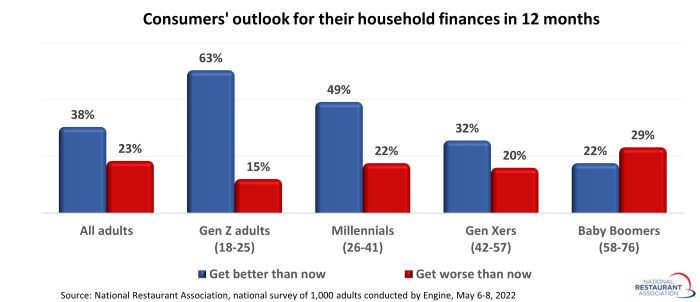 *Eating and drinking places are the primary component of the U.S. restaurant and foodservice industry, which prior to the coronavirus outbreak generated approximately 75 percent of total restaurant and foodservice sales.
Track more economic indicators and read more analysis and commentary from the Association's chief economist Bruce Grindy.