Total restaurant industry sales
Real restaurant sales down $1.3 billion from recent peak
Although overall consumer spending in restaurants trended higher in August, inflation-adjusted (real) sales remained down from early-summer levels.
Eating and drinking places* registered total sales of $86.2 billion on a seasonally adjusted basis in August, according to preliminary data from the U.S. Census Bureau. That was up from July's downward-revised volume of $85.2 billion.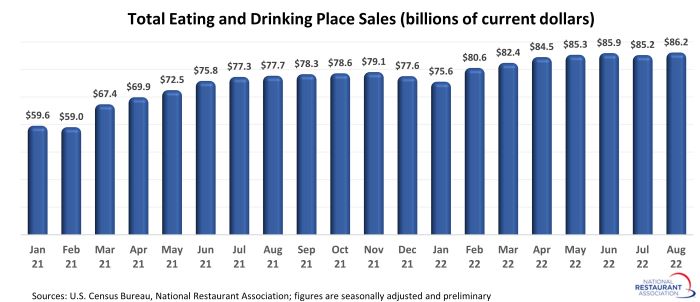 After adjusting for menu-price inflation, restaurant sales declined in two of the last three months. As a result, inflation-adjusted sales in August remained $1.3 billion below the recent peak registered in May 2022.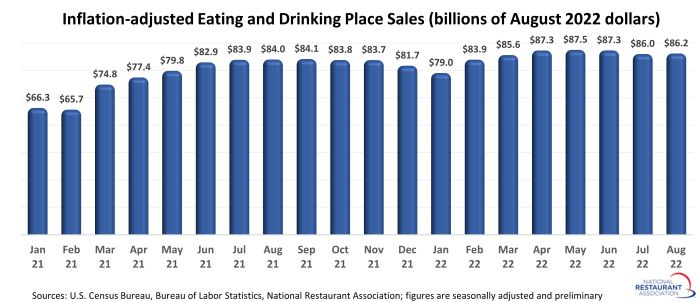 Pulse of the consumer
Given consumers' current views on the economy, it's a positive sign that spending is holding up as well as it is. In a National Restaurant Association survey fielded September 9-11, only 27% of adults gave the economy ratings of excellent or good. The remaining 73% described the current state of the economy as either fair or poor.
Younger adults are much more likely than their older counterparts to think positively about the economy. Nearly 40% of Gen Z adults and millennials describe the economy as either excellent or good; less than 1 in 5 Gen Xers and baby boomers report similarly.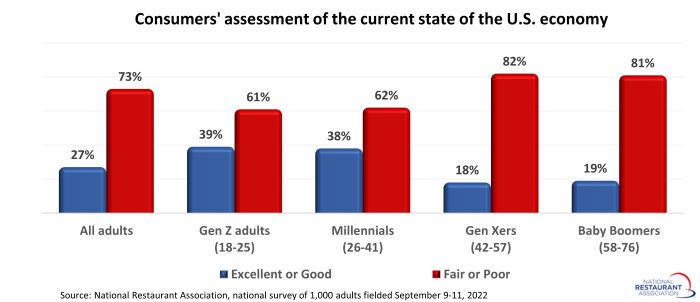 When it comes to their personal economies, consumers are somewhat more upbeat. Four in 10 adults describe their own personal finances as either excellent or good. Six in 10 say their finances are in fair or poor condition.
Gen Z adults (47%) and millennials (45%) are more likely than baby boomers (37%) and Gen Xers (33%) to describe their personal finances as either excellent or good.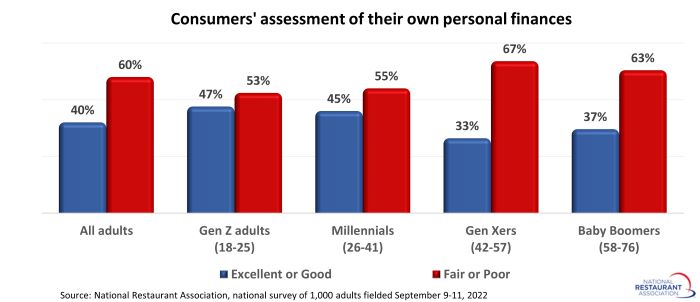 Perhaps aligning with their cautious approach to the economy, older adults are more likely to say they aren't using restaurants enough. Fifty-two percent of Gen Xers and 48% of baby boomers say they are not eating on premises at restaurants as often as they would like.
On the off-premises side, Gen Xers (39%) are the most likely to say they are not ordering takeout or delivery from restaurants as often as they would like.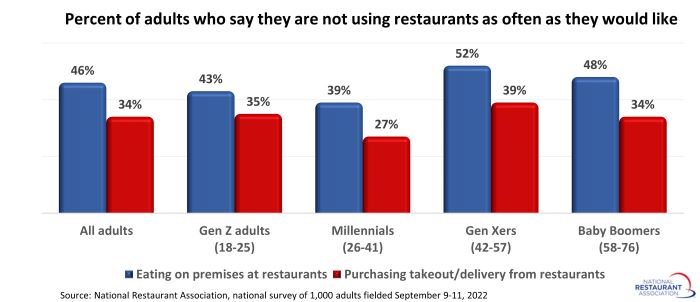 *Eating and drinking places are the primary component of the U.S. restaurant and foodservice industry, which prior to the coronavirus outbreak generated approximately 75 percent of total restaurant and foodservice sales.
Track more economic indicators and read more analysis and commentary from the Association's chief economist Bruce Grindy.