Same-store sales and customer traffic
One-half of operators reported positive 2-year sales comparisons in September
A solid majority of restaurant operators continued to report positive same-store sales compared to their early-pandemic levels. Seventy-six percent of restaurant operators said their same-store sales rose between September 2020 and September 2021, while 11% reported a sales decline.
Two-year comparisons remained mixed, with 51% of operators saying their September 2021 sales were up from September 2019 levels. Limited-service operators were more likely than fullservice operators to report an increase in same-store sales between September 2019 and September 2021.
Restaurant operators: Want to know how your business compares to similar restaurants on a monthly basis? Find out by taking a few minutes to participate in the National Restaurant Association's Restaurant Industry Tracking Survey. All survey respondents receive exclusive access to the detailed survey results each month, broken out by industry segment and type of ownership.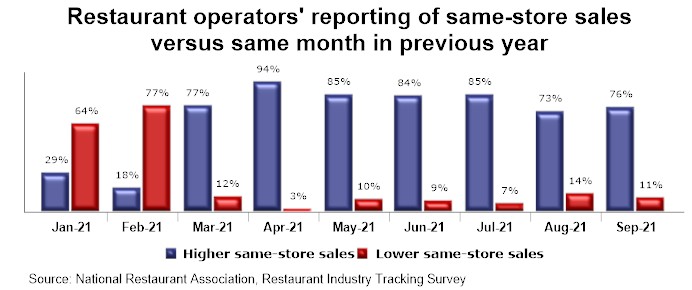 Restaurant operators also continued to report positive traffic readings in September. Seventy percent of restaurant operators said their customer traffic in September 2021 was higher than it was in September 2020. Fifteen percent said their traffic declined.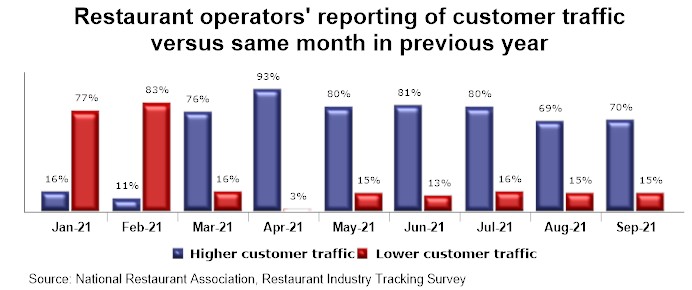 Track more economic indicators and read more analysis and commentary from the Association's chief economist Bruce Grindy.