Total U.S. jobs
National economy added 187,000 jobs in August
Employers continued to expand payrolls in August, albeit at a slower pace than much of the last 3 years. The national economy added a net 187,000 jobs on a seasonally-adjusted basis in August, according to preliminary figures from the Bureau of Labor Statistics.
That was a slight improvement from the downward-revised gains of 105,000 jobs in June and 157,000 in July.
Job growth during the last 3 months was well below the average monthly increase of 287,000 jobs registered during the first 5 months of 2023.
Despite the recent slowdown, job growth remains healthy by historical standards. August's addition of 187,000 jobs was above the average monthly increase of 163,000 jobs registered during 2019.
August represented the 32nd consecutive month of job growth, a period during which the national economy added more than 13.9 million jobs. As a result of the steady gains, total U.S. employment stood more than 4 million (or 2.7%) above the February 2020 pre-pandemic peak.
The private sector drove the bulk of the employment growth in August. The private sector added a net 179,000 jobs in August, while government employment increased by 8,000.
Within the private sector, the health care and social assistance sector led the way with a net increase of 97,000 jobs in August.
The broad leisure and hospitality sector added 40,000 jobs in August. Within this industry grouping, the arts, entertainment and recreation (+16,700), eating and drinking place (+14,900) and accommodations (+8,600) sectors all added jobs.
Construction firms added a net 22,000 jobs in August, while the professional and business services sector added 19,000 jobs. Manufacturers added a net 16,000 jobs in August.
Retailers added a net 6,000 jobs in August, while wholesalers added 5,000 jobs.
On the flip side, the transportation and warehousing sector cut 34,000 jobs in August.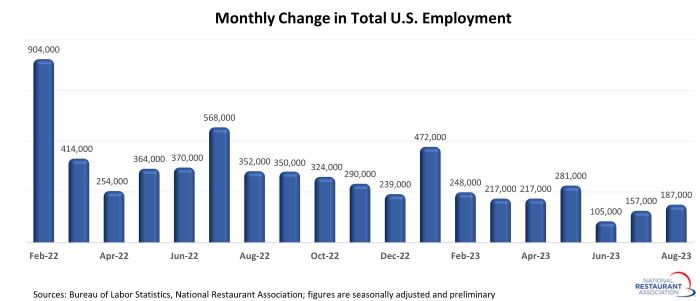 Track more economic indicators and read more analysis and commentary from the Association's chief economist Bruce Grindy.