Total U.S. jobs
National economy added 253,000 jobs in April
The national economy added a net 253,000 jobs on a seasonally-adjusted basis in April, according to preliminary figures from the Bureau of Labor Statistics. That was up from a downward-revised increase of 165,000 jobs in March.
April represented the 28th consecutive monthly employment increase – for a total of nearly 13.2 million jobs. As a result of the steady gains, total U.S. employment stood 3.3 million (or 2.2%) above the February 2020 pre-pandemic peak.
Job growth was broad-based across the private and public sectors in April. The private sector added a net 230,000 jobs in April, while government employment increased by 23,000.
The professional and business services sector added a net 43,000 jobs in April, while the health care sector added 40,000 jobs.
The broad leisure and hospitality sector added a net 31,000 jobs in April. Within this industry grouping, the eating and drinking place (+24,800) and arts, entertainment and recreation (+5,900) sectors added jobs, while employment in the accommodations (+200) sector remained essentially flat.
Construction firms added 15,000 jobs in April, while manufacturers added 11,000 jobs. Retailers added a net 8,000 jobs in April.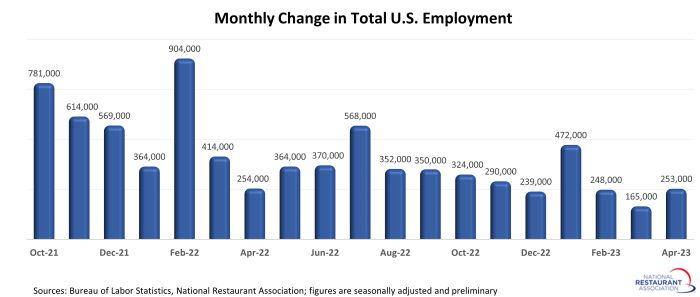 Track more economic indicators and read more analysis and commentary from the Association's chief economist Bruce Grindy.