Total U.S. jobs
National economy added 428,000 jobs in April
The economy continued to add jobs at a steady pace in April, according to preliminary figures from the Bureau of Labor Statistics. Employers added a net 428,000 jobs in April on a seasonally-adjusted basis – matching the increase registered in March.
April represented the 12th consecutive month with job growth above 400,000 – and the 16th consecutive gain overall. In total during the last 16 months, the economy added more than 8.8 million jobs.
Despite the healthy gains in recent months, the economy remained 1.2 million jobs – or 0.8% – below its February 2020 peak. Eating and drinking places remained 794,000 jobs below their pre-pandemic peak – tops among all U.S. industries.
The private sector added a net 406,000 jobs in April, with broad-based gains across industries. Within the private sector, the broadly defined leisure and hospitality sector led the way with a net increase of 78,000 jobs in April.
Within this industry grouping, the eating and drinking place (+43,800), accommodations (+22,300) and arts, entertainment and recreation (+11,300) sectors all added jobs in April.
Elsewhere in the private sector, the manufacturing (+55,000), transportation and warehousing (+52,000), professional and business services (+41,000) and health care and social assistance (+41,000) sectors all added jobs in April.
The financial activities sector added 35,000 jobs in April, while retailers added 29,000 jobs.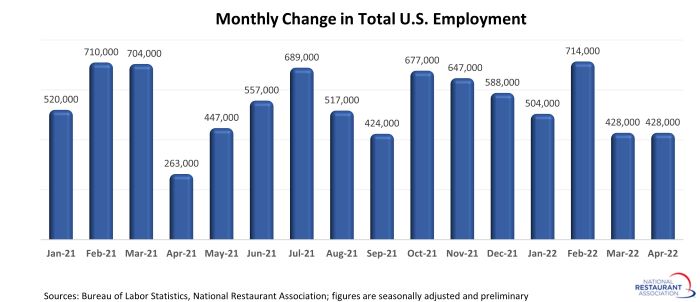 Track more economic indicators and read more analysis and commentary from the Association's chief economist Bruce Grindy.