Total U.S. jobs
The economy added 315,000 jobs in August
Job growth continued at a healthy pace in August, providing additional evidence that the economy is currently not in recession. The economy added a net 315,000 jobs on a seasonally-adjusted basis in August, according to preliminary figures from the Bureau of Labor Statistics.
That marked the 20th consecutive month with gains above 250,000 – representing a total increase of more than 10.2 million jobs. As a result of the steady gains in recent months, the national economy is now 240,000 jobs above its February 2020 peak.
Job growth in the economy was generally positive across industries in August. The private sector added a net 308,000 jobs in August, while government employment rose by 7,000.
The professional and business services sector led the way with a net gain of 68,000 jobs in August, while the health care and social assistance sector added 62,000 jobs.
Retailers added 44,000 jobs in August, while manufacturers added 22,000 jobs. Employers in the financial activities sector added a net 17,000 jobs in August, while construction firms added 16,000 jobs.
Eating and drinking places added a net 18,200 jobs in August, their smallest increase since December 2020.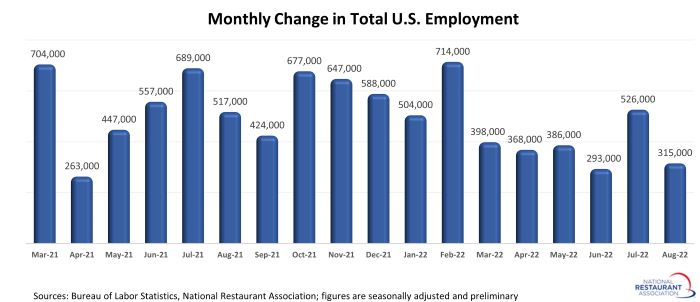 Labor market remains tight
According to the Bureau of Labor Statistics, there were 11.2 million job openings in the U.S. economy on the last business day of July 2022. While this was down from the record 11.9 million unfilled job openings recorded in March 2022, it was 3.2 million (or 60%) more openings than the economy had in February 2020 before the pandemic.
At the same time, the number of unemployed people available to fill these positions trended steadily lower. As of July 2022, there were only 0.5 unemployed persons per job opening, which matched the lowest level on record. Put another way, there were 2 job openings for every person that was officially categorized as unemployed (which is defined as individuals who are currently not working and are actively looking for a job).
In comparison, during the peak of the Great Recession in 2009, there were more than 6 unemployed persons for every job opening in the U.S. By these measures, the economy is experiencing the tightest labor market since the beginning of this BLS data series in late-2000.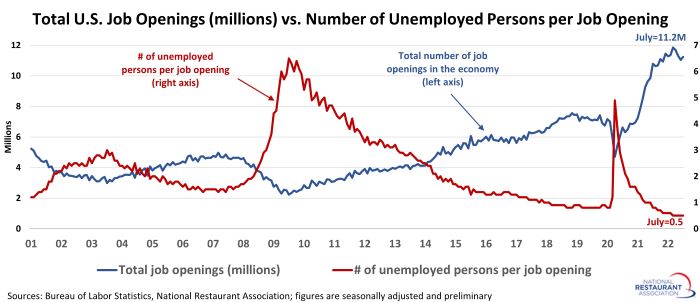 Track more economic indicators and read more analysis and commentary from the Association's chief economist Bruce Grindy.