Total U.S. jobs
National economy added 223,000 jobs in December
The national economy continued to add jobs at a steady pace in December. Employers added a net 223,000 jobs on a seasonally-adjusted basis in December, according to preliminary figures from the Bureau of Labor Statistics.
December represented the 24th consecutive month of payroll gains – with each month topping 220,000 jobs.
In total during the last 24 months, the national economy added more than 11.2 million jobs. As a result, total employment now stands more than 1.2 million jobs above the pre-pandemic peak.
The private sector drove most the employment growth in December. The private sector added a net 220,000 jobs in December, while government employment increased by 3,000.
The health care and social assistance sector added a net 74,000 jobs in December, while the leisure and hospitality sector added 67,000 jobs. Within this industry grouping, the arts, entertainment and recreation (+31,000), eating and drinking place (+26,300) and accommodations (+10,000) sectors all added jobs in December.
Construction firms added 28,000 jobs in December, while retailers added 9,000 jobs. Manufacturers added 8,000 jobs in December.
The professional and business services sector lost 6,000 jobs in December, its second consecutive monthly decline. This was largely due to a downturn in temporary employment services.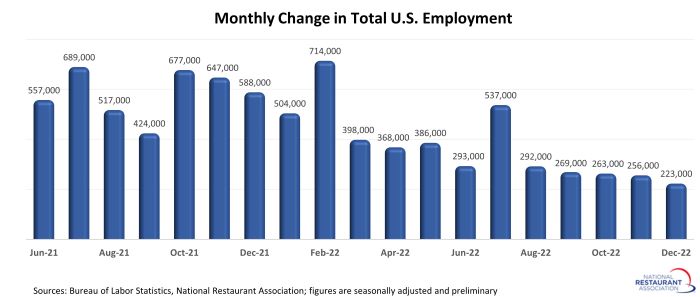 Track more economic indicators and read more analysis and commentary from the Association's chief economist Bruce Grindy.