Food Costs
Average wholesale food prices jumped 14.7% during the last 12 months
Wholesale food prices posted their first monthly decline in 4 months, according to preliminary data from the Bureau of Labor Statistics. The Producer Price Index for All Foods – which represents the change in average prices paid to domestic producers for their output – dipped 0.7% between November and December.
That followed 3 consecutive monthly gains, including a sharp 3.0% increase in November. It also marked the 18th increase in the last 24 months – with 15 of those monthly gains exceeding 1%.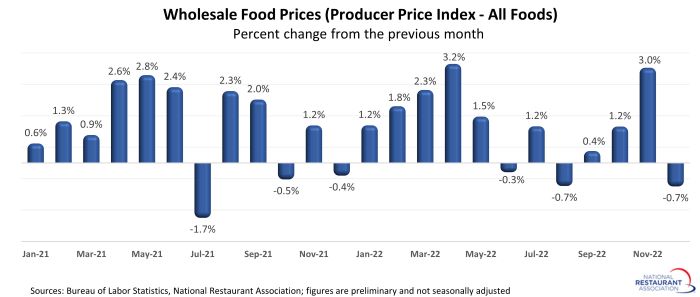 Driven by the steady growth, average wholesale food prices stood 14.7% above their year-ago level in December. While this was down from the 17.7% increase posted between April 2021 and April 2022, it marked the 17th consecutive month with double-digit gains on a 12-month basis.
The last 2 years represented the most sustained period of food price growth in nearly 5 decades. Between December 2020 and December 2022, average wholesale food prices were up 31.0%.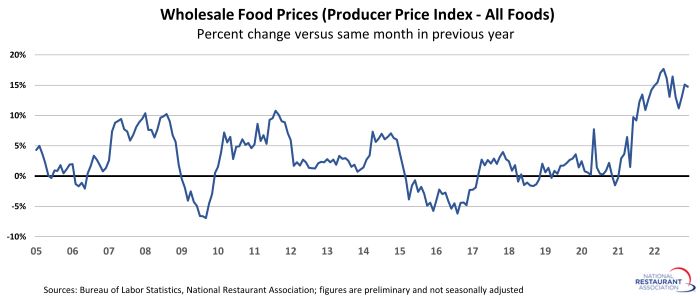 Although prices for some food commodities leveled off or declined in recent months, others continued to trend sharply higher. As a result, the degree to which restaurants are experiencing relief depends on the menu mix of each individual operation.
Producer prices for eggs (248.1%), butter (37.2%), milled rice (22.8%), coffee (19.8%), confectionary materials (16.6%), milk (15.5%), bakery products (13.9%), cheese (13.4%), soft drinks (12.1%) and fats and oils (11.6%) stood well above their December 2021 levels. The fresh vegetables index jumped 119.7% during the last 12 months, while the fresh fruits and melons index was up 13.3%.
Until wholesale prices start trending lower across a broad range of commodities, food costs will continue to be a headwind for restaurants – particularly when customer traffic remains below pre-pandemic levels for many operations.
Track more economic indicators and read more analysis and commentary from the Association's chief economist Bruce Grindy.