Food Costs
Wholesale food prices jumped 17.8% during the last 12 months
Wholesale food prices continued to trend sharply higher in April, according to preliminary data from the Bureau of Labor Statistics. The Producer Price Index for All Foods – which represents the change in average prices paid to domestic producers for their output – increased 3.1% between March and April.
April represented the fourth consecutive month of accelerating growth, and the largest monthly gain since May 2020.
April marked the continuation of an extended period of strong growth, with average wholesale food prices rising in 13 of the last 16 months. Eleven of those monthly gains were at least 1%.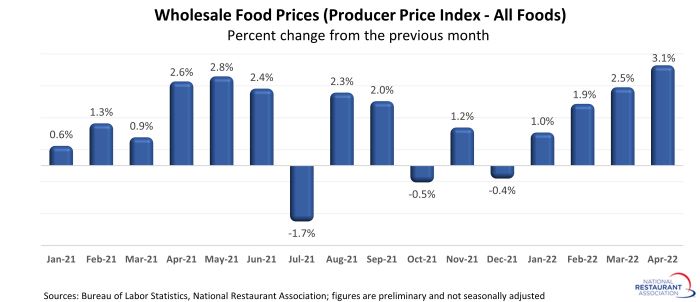 As a result of the steady growth in recent months, average wholesale food prices jumped 17.8% between April 2021 and April 2022. That represented the largest 12-month increase in nearly 5 decades, when the price index jumped 21.4% between December 1973 and December 1974.
Several of the major commodities in the wholesale food price index stood well above their year-ago levels in April, including eggs (220.1%), unprocessed fin fish (54.7%), butter (51.0%), fats and oils (40.5%), flour (40.3%), unprocessed shellfish (27.0%), processed poultry (24.1%) and milk (24.0%). The fresh vegetables index jumped 45.7% during the last 12 months, while the fresh fruits and melons index was up 17.3%.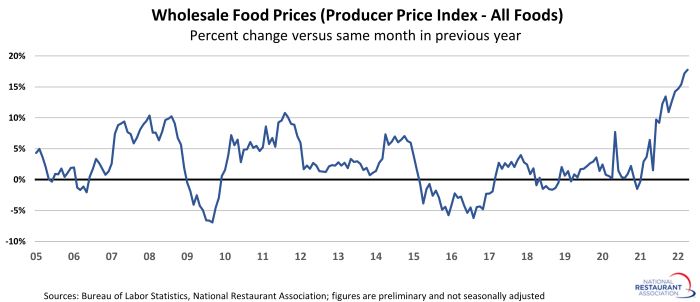 Track more economic indicators and read more analysis and commentary from the Association's chief economist Bruce Grindy.