Total restaurant industry jobs
Restaurants continue to struggle filling job openings
The restaurant industry continued to expand payrolls in April – albeit at a much slower pace compared to the healthy gains registered in 2021. Eating and drinking places* added a net 43,800 jobs in April on a seasonally-adjusted basis, according to preliminary data from the Bureau of Labor Statistics (BLS).
April marked the fifth consecutive month of slowing job growth in the restaurant industry. The net gain of 43,800 jobs was the smallest monthly increase since December 2020, when the industry cut more than 356,000 positions.
Despite the slowdown, April was the 16th consecutive month of industry employment growth – representing a total of more than 1.8 million jobs.
While gradual progress is being made toward rebuilding the restaurant and foodservice workforce, much work has yet to be done. As of April 2022, eating and drinking places were still 794,000 jobs – or 6.4% – below their pre-pandemic employment levels. No other industry has a longer road to reach a full employment recovery.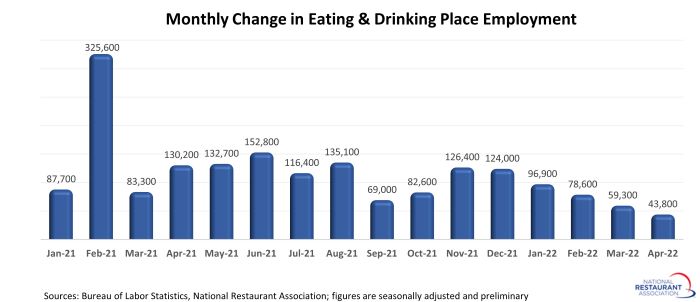 Job openings exceed monthly hires by 500k
To put the current labor market challenges in context, we look to the Job Openings and Labor Turnover Survey (JOLTS) data from BLS. By these measures, the industry's current labor shortage is far and away the most severe on record.
During the initial weeks of the pandemic, millions of restaurant and foodservice employees were laid off or furloughed. As lockdowns eased and businesses were able to resume partial operations, many of these jobs were restored. In May and June of 2020, employers in the restaurants and accommodations sector** hired 3.5 million people, according to JOLTS data (blue line below).
The pace of hiring slowed somewhat in the months that followed, but still remained elevated in historical terms. On average between April 2021 and March 2022, hospitality sector employers hired more than 1 million people each month. That was roughly 100,000 above the average monthly hiring during 2019.
[Note: The 'hires' figures represent the total number of additions to the payroll during the month. Net job growth – which for eating and drinking places was 43,800 in April – is the difference between total hires and total separations during the month.]
Efforts to rebuild the industry's workforce gathered momentum in 2021. As the rapid vaccine rollout created a semblance of somewhat-normal business conditions, job openings trended sharply higher. During the past 12 months, unfilled job openings in the restaurants and accommodations sector averaged 1.4 million – by far the highest levels on record (red line below).
Taken together, these two metrics illustrate the severity of the industry's current labor shortage. During the 6-month period between October 2021 and March 2022, unfilled job openings in the hospitality sector exceeded total hires by an average of 500,000 each month.
This is in stark contrast to the entire pre-pandemic history of the JOLTS data series (2000 to 2019), when the number of hires exceeded unfilled job openings by an average of 230,000 each month. The only other time these two indicators merged was during the low unemployment environment of 2018 and 2019, when unfilled job openings were briefly higher than monthly hires. Still, that pales in comparison to the current gap.
Until these two indicators converge to become more in line with historical trends, the warning lights of a labor crisis will continue to blink red.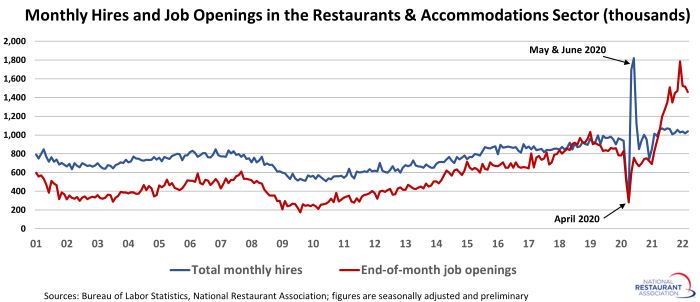 Restaurant employment remains dampened in most states
Although nearly every state added restaurant jobs in February, overall staffing levels remained dampened across most of the country. Only 7 states – Utah, Nevada, Wyoming, Texas, Montana, Idaho and Mississippi – have seen restaurant employment return to pre-pandemic levels.
In 8 states and the District of Columbia, restaurant employment was still down more than 10% from the February 2020 level. This group was led by the District of Columbia, which had 21% fewer eating and drinking place jobs in February 2022 than it did in February 2020. Maryland (-13%), Hawaii (-13%) and Delaware (-12%) were also well below their pre-pandemic restaurant employment levels.
View the latest employment data for every state.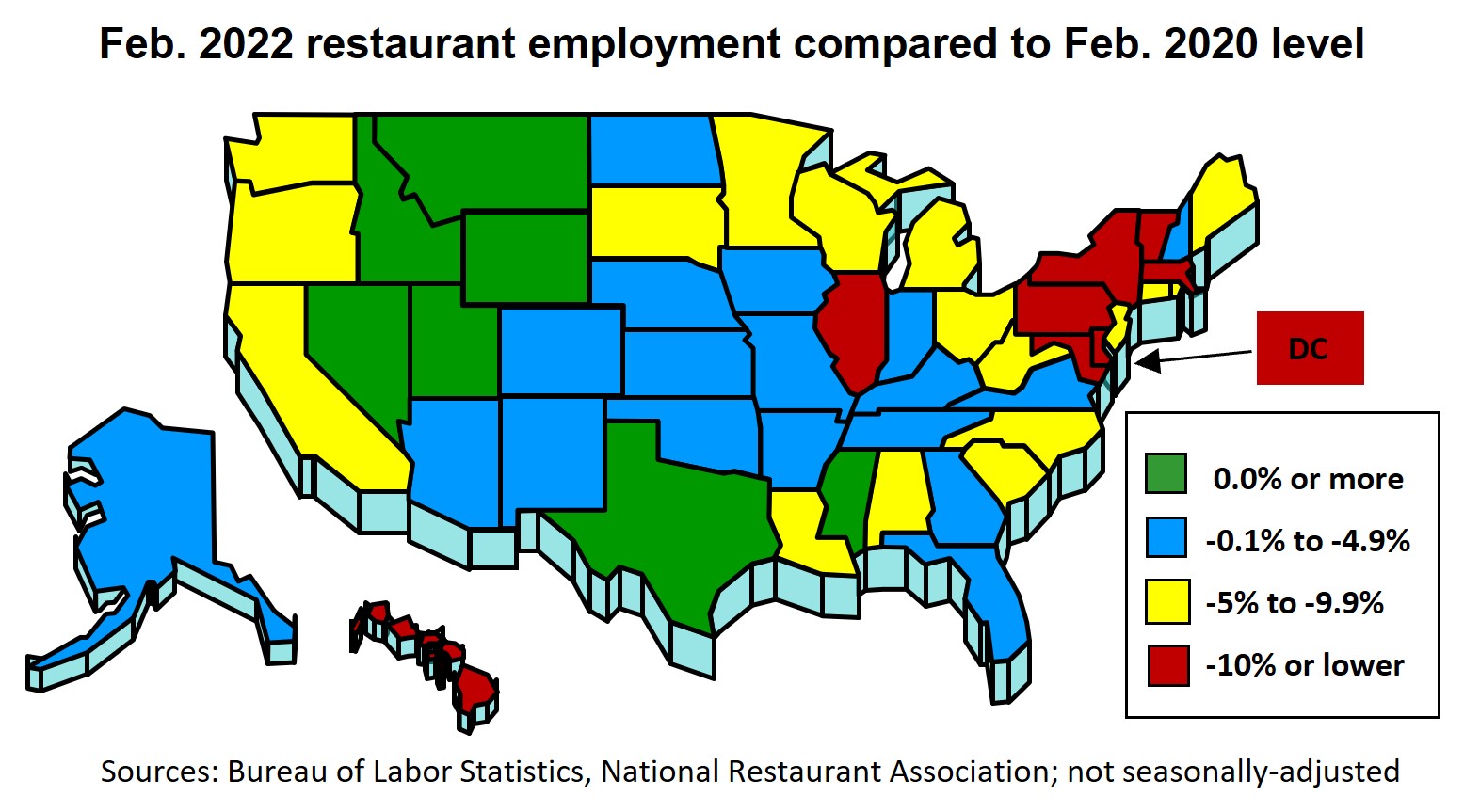 *Eating and drinking places are the primary component of the total restaurant and foodservice industry, which prior to the coronavirus pandemic employed 12 million out of the total restaurant and foodservice workforce of 15.6 million.
**The hires and job openings data presented above are for the broadly-defined Accommodations and Food Services sector (NAICS 72), because the Bureau of Labor Statistics does not report data for restaurants alone. Eating and drinking places account for nearly 90% of jobs in the combined sector.
Track more economic indicators and read more analysis and commentary from the Association's chief economist Bruce Grindy.