Train & Certify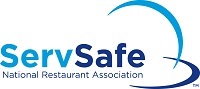 The National Restaurant Association provides educational resources to help members attract and develop a strong workforce.
Our ServSafe training and certification programs ensure your team has the tools to serve food and alcohol safely. It also helps you provide a safe and harassment-free workplace. Learn more on our ServSafe site.
Industry Leader in Food Safety
Industry Leader in Food Safety
Professional development
ManageFirst equips college students with key competencies to begin or advance their management careers. More than 350 colleges and universities and many restaurant and foodservice companies offer ManageFirst.
FMP Credential
The Foodservice Management Professional certification denotes outstanding personal achievement and communicates knowledge, leadership and professionalism to restaurant and foodservice employers. Managers in restaurants and other foodservice operations are eliigible. The FMP exam assesses candidates on knowledge and skills related to job activities. Learn more at the ManageFirst website.