Total restaurant industry jobs
Restaurants added nearly 70,000 jobs in February
The rebuilding of the restaurant workforce continued in February. Eating and drinking places* added a net 69,900 jobs in February on a seasonally-adjusted basis, according to preliminary data from the Bureau of Labor Statistics (BLS).
February marked the 26th consecutive month of employment gains in the restaurant industry – representing a total increase of nearly 2.5 million jobs.
As of February 2023, eating and drinking places were 108,000 jobs – or 0.9% – below their February 2020 employment peak.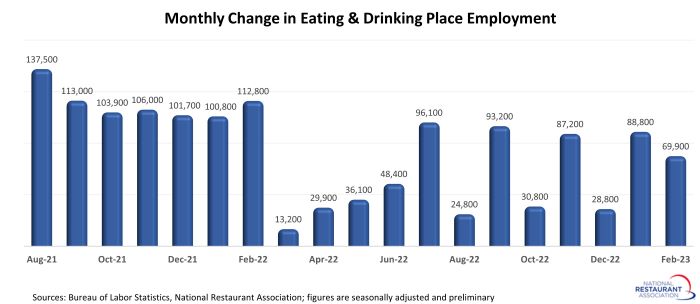 Labor shortage persists
Even though the industry is inching toward pre-pandemic staffing levels, it doesn't mean restaurants are close to full employment.
In fact, on the last business day of January, there were nearly 1.5 million job openings in the combined restaurants and accommodations sector, according to Job Openings and Labor Turnover Survey (JOLTS) data from BLS. That marked the 22nd consecutive month with at least 1 million openings.
This doesn't mean hospitality employment would instantly jump by 1.5 million if an equal number of applicants was available to fill these openings. Because of the natural churn that occurs on an ongoing basis in the industry workforce (due to large numbers of teens, students, part-time and seasonal employees), many restaurants are actively looking to fill openings that arise each month.
For example, an average of 930,000 people left their job each month in the restaurants-and-accommodations industry during 2019, according to BLS data. At the same time, the sector filled an average of 954,000 jobs each month during 2019. In anticipation of this normal turnover, employers regularly post job openings on a monthly basis.
A better measure of the industry's current labor shortfall is job openings above normal – or the JOAN Index. The JOAN Index measures the number of job openings that are in excess of the postings required to handle the regular churn in the workforce.
In 2019, there were an average of 875,000 hospitality job openings each month. Using this as a proxy for normal business conditions, it means there were 600,000 job openings above normal in January 2023 (calculated as 1.475 million total job openings minus 875,000 normal job openings).
This represented the 19th time in the last 20 months with a JOAN Index reading of at least 400,000, which illustrates the extended period during which hospitality businesses have been significantly understaffed.
With restaurants providing nearly 90% of the total jobs in the combined restaurant-and-accommodations sector, it is likely that the restaurant industry is currently operating with a labor shortfall of at least 540,000 employees.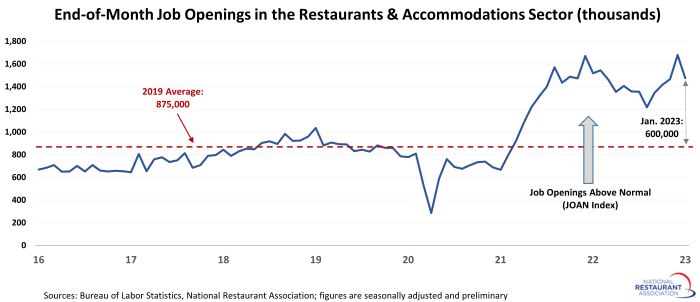 Note: The job openings data presented above are for the broadly-defined Accommodations and Food Services sector (NAICS 72), because the Bureau of Labor Statistics does not report data for restaurants alone. Eating and drinking places account for nearly 90% of jobs in the combined sector.
Fullservice employment remains well below pre-pandemic levels
The extent to which staffing levels are rebounding continues to vary significantly by segment. [Note that the segment-level employment figures are lagged by one month, so January 2023 is the most current data available.]
The fullservice segment suffered the most job losses during the initial months of the pandemic – and still has the longest path to recovery. As of January 2023, fullservice restaurant staffing levels were 288,000 jobs (or 5%) below pre-coronavirus readings in February 2020.
Job losses in the limited-service segments were somewhat less severe during the initial months of the pandemic, as these operations were more likely to retain staff to support their existing off-premises business. As of January 2023, employment at snack and nonalcoholic beverage bars – including coffee, donut and ice cream shops – was 118,000 jobs (or 15%) above February 2020 readings.
Staffing levels in the quickservice and fast casual segments were 46,000 jobs (or 1%) above pre-pandemic levels. Headcounts at bars and taverns were 22,000 jobs (or 5%) above the pre-pandemic peak.
Employment counts in the cafeterias/grill buffets/buffets segment (-37%), foodservice contractor segment (-2%) and catering and mobile foodservice segment (-2%) remain below their February 2020 levels.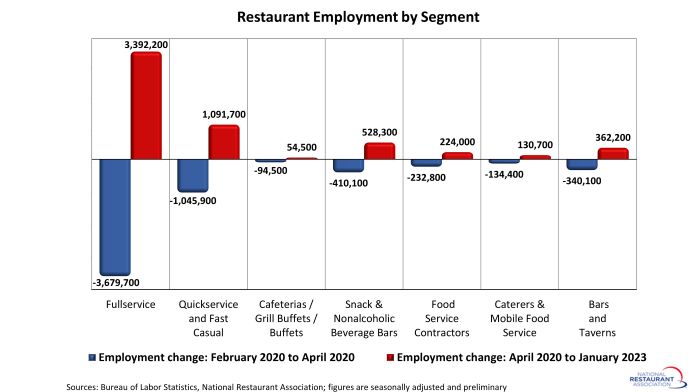 Restaurant employment trends vary across states
Restaurant employment trended steadily higher in recent months, but the extent of the industry's workforce recovery varies significantly by state.
As of January 2023, eating and drinking place employment in 21 states surpassed their comparable pre-pandemic readings in January 2020. This group was led by Nevada (+14%), Utah (+10%) and Idaho (+10%).
Twenty-nine states and the District of Columbia still had fewer eating and drinking place jobs in January 2023 than they did in January 2020. This group was led by Vermont, Maine and Rhode Island, which had 11% fewer eating and drinking place jobs in January 2023 than they did in January 2020.
Maryland (-9%) and West Virginia (-8%) were also well below their comparable pre-pandemic restaurant employment levels.
View the latest employment data for every state.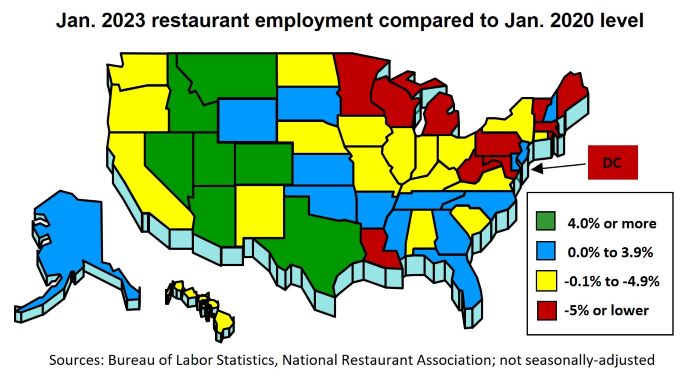 *Eating and drinking places are the primary component of the total restaurant and foodservice industry, which prior to the coronavirus pandemic employed 12 million out of the total restaurant and foodservice workforce of 15.6 million.
Track more economic indicators and read more analysis and commentary from the Association's chief economist Bruce Grindy.