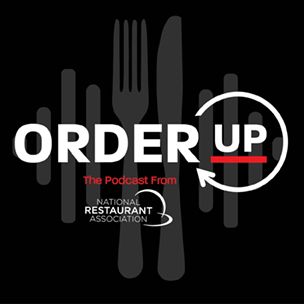 Episode 84
27:11
July 10, 2023
Trends in On- and Off-Premises Beverage Alcohol
Guest Speakers:
TJ Oakley, Blanca Aldaco,
Alcohol has always presented restaurant operators with a creative and high-margin opportunity to innovate and set themselves apart from the competition. A newly released
Alcohol Trends report
covers what's selling, who's buying, and how it's purchased. It also includes nearly 30 on- and off-premises wine, beer and cocktail offers customers say they'd like to try.
Our conversation starts off with Mike Whatley, VP of State Affairs and Grassroots Advocacy as well as Michelle Korsmo President and CEO of the National Restaurant Association. They discuss the exciting release of this new report and some of the key findings in beverage alcohol trends today.
(01:57) - Alcohol to-go
(03:35) - Generational differences
(06:16) - Locally sourced beverages
(08:20) - Changes to state alcohol laws
(10:00) - TJ Oakley, EVP at Main Street Management on creating a wine club
(13:24) - Blanca Aldaco, Owner of Aldaco's Mexican Cuisine on cocktails to-go
(17:51) - Marrying takeout and on-premise
(20:56) - Looking to the future
(24:18) - Wine dinners and tasting events
Resources to learn more:
Full press conference with visuals can be viewed on-demand here
If you'd like to receive new episodes as they're published, please subscribe to
Order Up
in
Apple Podcasts
,
Google Podcasts
,
Spotify
, or wherever you get your podcasts. If you enjoyed this episode, please consider leaving a review in
Apple Podcasts
. It really helps others find the show.
Podcast episode production by Dante32
.
This podcast is intended for general informational purposes, and nothing in this podcast shall be deemed to create or grant any rights to any third parties. The views expressed by the guest speakers in this podcast are solely those of the guest speakers and do not necessarily represent the opinions of the National Restaurant Association (Association) and its affiliates. The Association does not warrant or guarantee the accuracy or suitability of any information offered. Listeners are encouraged to do their own research and consider the applicability and suitability of the information provided for their own individual circumstances.
Listen to the previous episodes
Episode 89

16:19

September 25, 2023

Best Practices in Food Safety and Hygiene

Guest Speakers:

For National Food Safety Education Month, Karly is joined by Dotti Haynes of Tork, an Essity Brand, to discuss providing a safe, hygienic experience for staff & guests across the restaurant industry.

Play Episode

Episode 88

31:46

September 11, 2023

From Concept to Franchise with Chef Erica Barrett

Guest Speakers:

This week, Karly speaks with Chef Erica Barrett about her new restaurant, Dough Boy Pizza, and the journey from catching the entrepreneurship bug as a child to appearing on Shark Tank.

Play Episode

Episode 87

12:36

August 28, 2023

Top 5 Policy Priorities for Remainder of 2023

Guest Speakers:

National Restaurant Association's VP of Public Policy Aaron Frazier returns to discuss recent advocacy on Capitol Hill and potential legislation and regulatory shifts impacting the industry.

Play Episode