Reports
February 28, 2023
2023 State of the Restaurant Industry 
Get the Report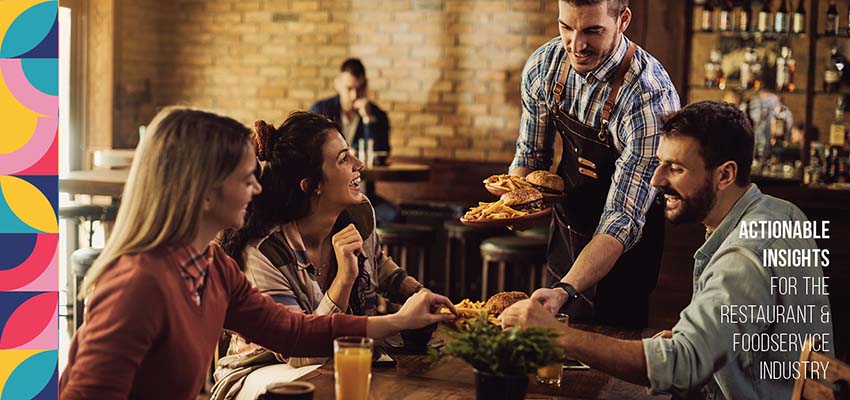 A new normal takes hold…
Many restaurant owners have a growth mindset for 2023. Nearly 3 in 4 operators say business conditions are already close to normal—a new, more positive normal—or are well on the path, and the focus is on sustaining growth in the coming year.
While the headwinds of 2022 will carry over into 2023, consumers' desire for the restaurant experience is as strong as ever and will play a critical role in the industry's recovery.
Key findings:
Growth will continue: The foodservice industry is forecast to reach $997B in sales in 2023, driven in part by higher menu prices.
Industry help wanted: The foodservice industry workforce is projected to grow by 500,000 jobs, for total industry employment of 15.5M by the end of 2023 and surpassing pre-pandemic levels.
Rising costs create challenges: 92% of operators say the cost of food is a significant issue for their restaurant.
Competition is heating up: In 2023, 47% of operators expect competition to be more intense than last year.
Consumers want restaurant experiences: 84% of consumers say going out to a restaurant with family and friends is a better use of their leisure time than cooking and cleaning up.
The 2023 State of the Restaurant Industry report is the authoritative source for industry sales projections and trends. It is based on analysis and forecasts by National Restaurant Association economists and surveys of restaurant operators and consumers conducted throughout the year.
The report examines key factors impacting the industry including the current state of the economy, operations, workforce, and food and menu trends to forecast sales and market trends for the year ahead.
The 2023 State of the Restaurant Industry report is free to members and $349 for nonmembers.
Purchase
Get the Report
Purchase
Executive Summary
Executive Summary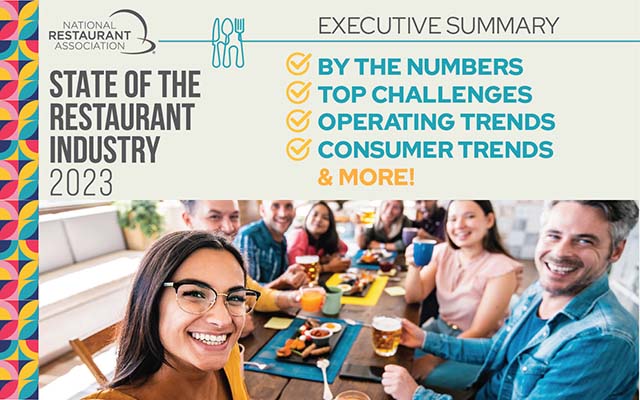 Reports
2023 State of the Restaurant Industry Executive Summary
February 28, 2023
Join us
THE 2023 STATE OF THE RESTAURANT INDUSTRY IS SUPPORTED BY
SpotOn

SpotOn

Presenting Sponsor

About SpotOn SpotOn

is one of the fastest-growing software and payment companies providing the technology and support that helps local businesses—and the people that run them—to succeed on their own terms. Known for its flexible, cloud-based technology and personalized support, SpotOn offers an end-to-end platform to accept payments, boost revenue, streamline operations, and create exceptional guest experiences. From seamless and efficient point-of-sale systems to integrated management solutions built for the fast-growing enterprise, SpotOn builds technology that works the way you work, and backs it up with a 24/7 team of experts who make sure it always does—with fairness, flexibility, and a personal touch. SpotOn has 2,000 employees, including one of the strongest product and technology teams in the combined software & payments industry.

Click here for more information

Sage

Sage

Industry Sponsor

About Sage Sage

exists to knock down barriers so everyone can thrive, starting with the millions of Small and Mid-Sized Businesses served by us, our partners, and accountants. Customers trust our finance, HR, and payroll software to make work and money flow. By digitizing business processes and relationships with customers, suppliers, employees, banks and governments, our digital network connects SMBs, removing friction and delivering insights. Knocking down barriers also means we use our time, technology, and experience to tackle digital inequality, economic inequality, and the climate crisis.