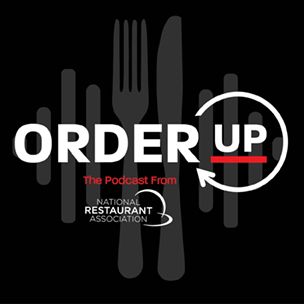 Episode 83
23:14
June 20, 2023
Creating a Culture of Acceptance at Red Robin and Wingstop Restaurants
Guest Speakers:
This week Karly speaks with Lehigh Valley Restaurant Group President & CEO Mike Axiotis about establishing and operating their Diversity and Inclusion Council and its positive impact on team members.
In this episode, Mike shares LVRG's strategies to create a respectful workplace and embrace cross-cultural learning.
(01:20) – Introducing Mike Axiotis
(04:35) – Approaching diversity, equity, and inclusion
(07:15) – Establishing and operating the Council
(13:52) – Recruitment and retention
(18:30) – MFHA's Elevate Program
(20:59) – Refreshing the Council's leadership
(22:54) – Vulnerability
Resources to learn more:
If you'd like to receive new episodes as they're published, please subscribe to Order Up in Apple Podcasts, Google Podcasts, Spotify, or wherever you get your podcasts. If you enjoyed this episode, please consider leaving a review in Apple Podcasts. It really helps others find the show.
Listen to the previous episodes
Episode 89

16:19

September 25, 2023

Best Practices in Food Safety and Hygiene

Guest Speakers:

For National Food Safety Education Month, Karly is joined by Dotti Haynes of Tork, an Essity Brand, to discuss providing a safe, hygienic experience for staff & guests across the restaurant industry.

Play Episode

Episode 88

31:46

September 11, 2023

From Concept to Franchise with Chef Erica Barrett

Guest Speakers:

This week, Karly speaks with Chef Erica Barrett about her new restaurant, Dough Boy Pizza, and the journey from catching the entrepreneurship bug as a child to appearing on Shark Tank.

Play Episode

Episode 87

12:36

August 28, 2023

Top 5 Policy Priorities for Remainder of 2023

Guest Speakers:

National Restaurant Association's VP of Public Policy Aaron Frazier returns to discuss recent advocacy on Capitol Hill and potential legislation and regulatory shifts impacting the industry.

Play Episode