'Bottomless Inclusion' on menu at Red Robin franchise group
Burger franchise beefs up its diversity, equity and inclusion efforts with help from the Multicultural Foodservice & Hospitality Alliance.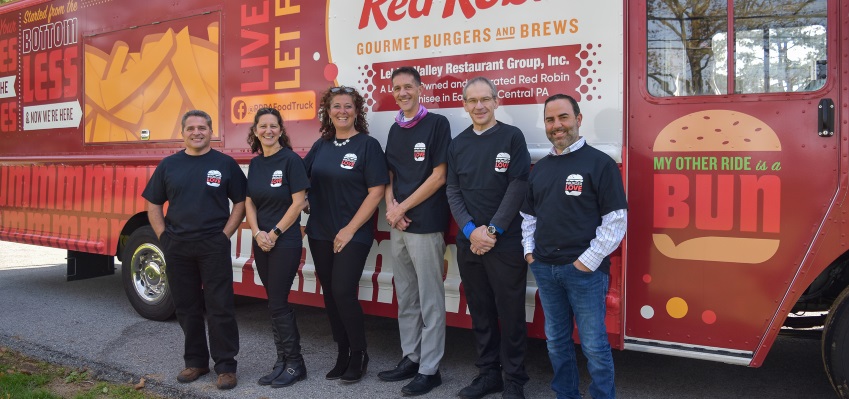 LVRG has recruited more women and minorities into leadership and GM roles, but says there's more work to do.
Red Robin restaurants are famous for their bottomless fries—crispy delights that just keep coming . . . and coming. One Red Robin franchise is proud to say it also offers something else that employees and community members crave even more: "bottomless inclusion."

The Lehigh Valley Restaurant Group (LVRG), which operates 21 Red Robin restaurants in Southeast, Northeast and Central Pennsylvania, increased its diversity, equity and inclusion (DEI) efforts over the past two years, introducing the slogan "Bottomless Inclusion . . . and Fries," which now adorns employee uniform shirts. The T-shirt features colorful fries, representing various myriad groups, and is just one way that LVRG is fostering a diverse, inclusive culture.

The company also created a Diversity & Inclusion Council, expanded recruiting efforts to attract more diverse applicants, connected with community-based organizations in the DEI arena and launched a Diversity Dispatch newsletter to engage team members and highlight cultural observances and celebrations.

LVRG has always valued diversity; the company made great strides over the past decade in recruiting women and minorities into executive leadership and general manager positions but there was still work to be done. A couple years ago, LVRG's executive leadership recognized a need to grow the group's DEI initiatives at the restaurant level to better recruit, engage and retain a diverse workforce. Here are some steps this Red Robin franchise group is taking to beef up DEI efforts.

• Lead from the top. "It has to start at the very top of the organization and be embraced and filter its way down," says LVRG President & CEO Mike Axiotis, noting that the company got a buy-in not only from executive leadership but also from its board of directors. To make the issue a priority down the pipeline, leadership added DEI discussions to quarterly general manager meetings. The goal is that eventually restaurant-level managers will be equipped to discuss DEI initiatives at pre-shift team huddle-ups.

• Assess the situation. LVRG turned to the Multicultural Foodservice & Hospitality Alliance to identify strengths and areas needing improvement. Based on the assessment, MFHA provided concrete advice on ways to improve. For example, MFHA identified gaps in LVRG's recruiting process and pointed the restaurant group to specific recruiting websites targeted toward diverse populations.

• Create a forum to listen to your team members. LVRG launched its Diversity & Inclusion Council in October 2020, offering front-line employees an opportunity to participate and voice their opinions. "Some people were hesitant to join the council at first, because they didn't know exactly what it was or what it was going to do," says Mike Warner, council co-chair and an executive general manager. The first few months were focused on building trust and spreading the word. "MFHA told us it's not a race. It's going to take time to create a sustainable council and see results." Today, the council is comprised of 32 employees. The goal is to recruit at least one representative from each location to get comprehensive input and to deliver the council's messages into individual restaurants.

• Formalize your efforts. LVRG is taking a structured approach to support a sustainable DEI initiative. The LVRG Diversity & Inclusion Council established regular meeting dates, elected officers, launched a newsletter and created subcommittees in areas such as community outreach and employee engagement. To stay focused, council members crafted a vision statement—Differences Make Us Stronger—and a mission statement: To promote and celebrate the uniqueness that strengthens our team by providing a safe environment supported by the Burger Love culture of LVRG, while simultaneously giving team members the ability to be comfortable and thrive while being their true authentic selves.

• Create a buzz about your DEI efforts. The new diversity T-shirts offer a visible and fun way to spread the DEI message. To generate excitement and a sense of ownership among staff, LVRG invited employees to submit a design through its Diversity T-shirt contest earlier this year. The council chose the "bottomless inclusion" fry design from 28 entries.

• Show that you value diversity. "If you want to attract a more diverse employee base you need to show that with the pictures on your website and with your onboarding materials so that people know that it is an inclusive workplace," says Axiotis. The restaurant group upped its efforts in this area, on MFHA's recommendation. Likewise, LVRG turned to social media to highlight the hiring and promotion of diverse employees.

• Dedicate resources. LVRG compensates council members for their time commitment and allocates marketing funds to promote DEI efforts on social media and in the community.

• Be authentic. "You want to do this because you really believe it's the right thing to do," says Axiotis. "Don't do it just to check off a box, because today's workforce is really attuned to whether or not you really mean what you say."

To help more restaurants with their DEI efforts, MFHA recently developed ELEVATE: A Menu for Change, a toolkit that delivers best practices and proactive business strategies. ELEVATE is an acronym standing for:

Explain your (DEI) business case
Listen and learn from your data (company makeup)
Enlist stakeholders and resources
Verify goals and success metrics
Advertise your work
Test your results
Engage your employees

ELEVATE is based on findings of a new landmark DEI Report released by MFHA. The report measures the impact of DEI strategies in the restaurant industry and reinforces the critical importance of effective DEI policies in driving employee engagement and retention. The research was conducted through a collaboration of MFHA, the National Restaurant Association, the National Restaurant Association Educational Foundation and Cornell University Nolan School of Hotel Administration.

The ELEVATE toolkit includes a master guide with a step-by-step approach to developing an effective DEI culture in your restaurant organization. To purchase ELEVATE, or for more information, see here.