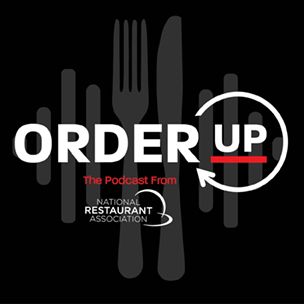 Episode 66
47:10
September 26, 2022
CEO Series: Creating a Culture that Attracts and Retains Talent
Guest Speakers:
Roz Mallet, Lakisha Hunter
This episode is the second installment of a new miniseries where National Restaurant Association President & CEO Michelle Korsmo discusses key topics and issues with Association members. Listen to the
first installment
of the series entitled "Political Advocacy in the Restaurant Industry" with Lance Trenary. And check out Michelle's
introductory episode
from earlier this year.
This week on Order Up, Michelle Korsmo is joined by Chef Kisha Hunter, founder and owner of
That Jerk Spot LLC
and founder of Rise Above the Ordinary, and Roz Mallet, former board chair of the National Restaurant Association, emeritus board member of NRAEF, and CEO/President of
PhaseNext Hospitality.
With Michelle, they discuss
NRAEF
programs (like
HOPES
and
ProStart
) that cultivate a talented restaurant industry workforce from all backgrounds. Roz and Chef Kisha share insight into their inspiring careers and approaches to leadership and mentorship across numerous roles and enterprises. In this episode, learn how cultivating a culture that acknowledges the needs of today's employees—while amplifying the benefits of working in the restaurant industry—can combat workforce challenges.
(4:08) – Introducing
Roz Mallet
(8:18) – Introducing
Chef Kisha Hunter
(13:46) –
ProStart
(15:50) –
HOPES
(18:48) –
Military programs
(21:19) – Lessons in professionalism and fulfillment
(25:26) – Current challenges for recruitment and retention
(32:22) –
Rise Above the Ordinary
(38:11) – Looking ahead
This podcast is intended for general informational purposes and is not intended to provide medical or legal advice. Podcast listeners are encouraged to do their own research, and where appropriate, obtain the advice or guidance of legal counsel or the input of other experts with respect to their practices and/or applicable laws.
If you'd like to receive new episodes as they're published, please subscribe to
Order Up
in
Apple Podcasts
,
Google Podcasts
,
Spotify
or wherever you get your podcasts. If you enjoyed this episode, please consider leaving a review in
Apple Podcasts
. It really helps others find the show.
Podcast episode production by Dante32.
Listen to the previous episodes
Episode 93

20:10

November 13, 2023

Celebrating National Apprenticeship Week with Conrad Chura

Guest Speakers:

For National Apprenticeship Week, Karly is joined by Conrad Chura, owner and founder of Wakin Bakin in Louisiana, to discuss the value of apprenticeship in the restaurant industry.

Play Episode

Episode 92

32:04

October 30, 2023

The Entrepreneur's Studio: Milk Bar

Guest Speakers:

This week, Order Up shares a conversation with pastry chef Christina Tosi, founder and CEO of Milk Bar, featured on The Entrepreneur's Studio podcast.

Play Episode

Episode 91

24:25

October 16, 2023

CEO Series: Expanding Opportunities in Restaurant Operations

Guest Speakers:

CEO Michelle Korsmo talks to Casey Absey of Fargo's Blackbird Woodfire about embracing opportunities beyond their restaurant, in another installment of Order Up's CEO-hosted miniseries.

Play Episode