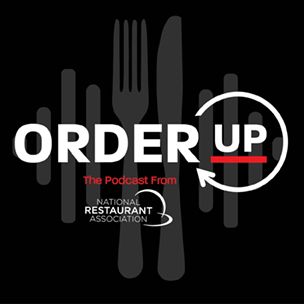 Episode 65
32:39
September 12, 2022
CEO Series: Political Advocacy in the Restaurant Industry
Guest Speakers:
This episode is the first installment of a new miniseries where National Restaurant Association President & CEO Michelle Korsmo discusses key topics and issues with Association members. This week on Order Up, Michelle Korsmo is joined by Lance Trenary, President & CEO of Golden Corral Corporation and Chairman of the National Restaurant Association, to discuss current challenges restaurants are facing, such as inflation and workforce shortages, and the critical role of industry advocacy with elected officials. In this episode, learn how "the comeback is greater than the setback" became an essential mindset of pandemic recovery for Lance Trenary and Golden Corral.
(2:21) – Introducing Lance Trenary
(4:55) – Thirty-seven years at Golden Corral
(10:28) – Hearing from Association members about current challenges
(20:33) – Advice for relationship-building with elected officials
(25:35) – Offsetting rising costs at Golden Corral
If you'd like to receive new episodes as they're published, please subscribe to Order Up in Apple Podcasts, Google Podcasts, Spotify or wherever you get your podcasts. If you enjoyed this episode, please consider leaving a review in Apple Podcasts. It really helps others find the show.
Podcast episode production by Dante32
Listen to the previous episodes
Episode 80

20:18

May 08, 2023

ProStart: Educating Tomorrow's Industry Leaders

Guest Speakers:

Chef Patrick Phelan, 2023 ProStart Teacher of the Year, shares insights on mentoring the next generation of restaurant workers and the value of ProStart's hands-on curriculum.

Play Episode

Episode 79

15;35

April 26, 2023

Why Restaurant Operators Oppose New Labor Nominee

Guest Speakers:

National Restaurant Association's Sean Kennedy, EVP of Public Affairs, and Aaron Frazier, VP of Public Policy, discuss the Association's opposition to Julie Su's nomination for secretary of Labor.

Play Episode

Episode 78

18:53

April 24, 2023

Good Done Right: Wendy's Focus on Environmental Awareness

Guest Speakers:

In recognition of Earth Day, Karly speaks with Liliana Esposito, Chief Corporate Affairs and Sustainability Officer at The Wendy's Company, about sustainable practices and embracing accountability.

Play Episode