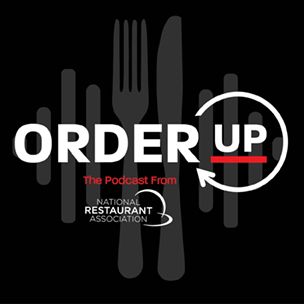 Episode 65
32:39
September 12, 2022
CEO Series: Political Advocacy in the Restaurant Industry
Guest Speakers:
This episode is the first installment of a new miniseries where National Restaurant Association President & CEO Michelle Korsmo discusses key topics and issues with Association members. This week on Order Up, Michelle Korsmo is joined by Lance Trenary, President & CEO of Golden Corral Corporation and Chairman of the National Restaurant Association, to discuss current challenges restaurants are facing, such as inflation and workforce shortages, and the critical role of industry advocacy with elected officials. In this episode, learn how "the comeback is greater than the setback" became an essential mindset of pandemic recovery for Lance Trenary and Golden Corral.
(2:21) – Introducing Lance Trenary
(4:55) – Thirty-seven years at Golden Corral
(10:28) – Hearing from Association members about current challenges
(20:33) – Advice for relationship-building with elected officials
(25:35) – Offsetting rising costs at Golden Corral
If you'd like to receive new episodes as they're published, please subscribe to Order Up in Apple Podcasts, Google Podcasts, Spotify or wherever you get your podcasts. If you enjoyed this episode, please consider leaving a review in Apple Podcasts. It really helps others find the show.
Podcast episode production by Dante32
This podcast is intended for general informational purposes and not intended to provide medical or legal advice. Podcast listeners are encouraged to do their own research, and where appropriate, obtain the advice or guidance of legal counsel or the input of other experts with respect to their practices and/or applicable laws.
Listen to the previous episodes
Episode 66

47:10

September 26, 2022

CEO Series: Creating a Culture that Attracts and Retains Talent

Guest Speakers:

Roz Mallet, Lakisha Hunter

This week, Michelle Korsmo speaks with Roz Mallet and Chef Kisha Hunter in the second installment of Order Up's CEO-hosted miniseries with Association members about key topics and issues.

Play Episode

Episode 64

50:25

August 25, 2022

The Entrepreneur's Studio: Sugar + Spoon

Guest Speakers:

Ivana Orlovic, William Hubbell

This week, Order Up shares a conversation with Ivana Orlovic and William Hubbell, safe-to-eat cookie dough entrepreneurs and founders of Sugar + Spoon, featured on The Entrepreneur's Studio podcast.

Play Episode

Episode 63

24:28

August 08, 2022

The American Data Privacy and Protection Act

Guest Speakers:

This week, Karly is joined by Brennan Duckett, to discuss the American Data Privacy and Protection Act and its impact on restaurants if passed by Congress in its current form.

Play Episode