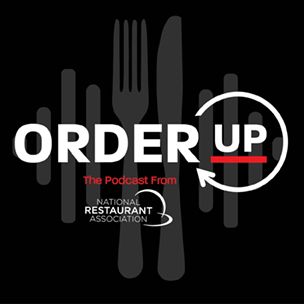 Episode 61
11:30
July 11, 2022
Introducing the National Restaurant Association's new President and CEO
Join us in welcoming Michelle Korsmo as the new President and CEO of the National Restaurant Association and CEO of the NRA Educational Foundation. In this episode, learn about Michelle's previous experience, her first 60 days as President and CEO, and the inspiration for what she is prioritizing in her tenure, including "relentless advocacy."

(3:53) – The first 60 days
(6:43) – Key priorities

Learn more about the programs mentioned in the episode by visiting The ProStart Program, Hospitality Opportunities for People (Re)entering Society (HOPES), and Multicultural Foodservice & Hospitality Alliance (MFHA). If you'd like to receive new episodes as they're published, please subscribe to Order Up in Apple Podcasts, Google Podcasts, Spotify or wherever you get your podcasts. If you enjoyed this episode, please consider leaving a review in Apple Podcasts. It really helps others find the show. Podcast episode production by Dante32.
Listen to the previous episodes
Episode 75

24:53

March 27, 2023

Celebrating Women's History Month with Denny's CEO Kelli Valade

Guest Speakers:

This week, Karly speaks with Kelli Valade, CEO of Denny's Corporation, about fostering an inclusive and service-minded company culture and taking recent lessons into 2023.

Play Episode

Episode 74

22:35

March 13, 2023

Turning Industry Insight into Action with SpotOn CMO Kevin Bryla

Guest Speakers:

This week we revisit the 2023 State of the Restaurant Industry report with the perspective of Kevin Bryla, Chief Marketing Officer and Head of Customer Experience, for SpotOn, our presenting sponsor.

Play Episode

Episode 73

27:07

March 06, 2023

2023 State of the Restaurant Industry

Guest Speakers:

A new and positive normal is starting to take hold at restaurants across the country. This week, Hudson Riehle joins us to discuss the report findings and what to expect in the year ahead.

Play Episode