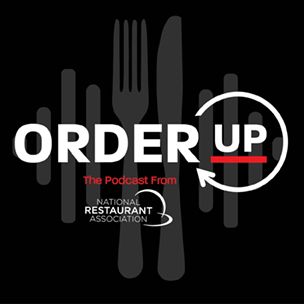 Episode 51
34:24
February 07, 2022
2022 State of the Restaurant Industry
Guest Speakers:
Over the past two years, the restaurant industry has been met with challenge after challenge. While we aren't quite over the hill yet, 2022 is looking to be a year of transition and growth.
This week, Hudson Riehle joins us to discuss the 2022 State of the Industry report and how the culture of restaurants continues to evolve to meet the needs of consumers.
(1:40) - Research and knowledge group
(2:50) - What's in store for 2022
(6:08) - The rise of quick-service dining
(10:20) - The fall of on-premise dining
(14:42) - The next generation of restaurant goers
(17:11) - What's Hot survey
(20:28) - Points of access
(22:14) - Travel and tourism
(24:18) - Employment outlook for restaurants
(26:00) - Depressed income environment
(29:06) - Efficiency and variety
(31:51) - Advocating for funding
If you'd like to receive new episodes as they're published, please subscribe to Order Up in Apple Podcasts, Google Podcasts, Spotify or wherever you get your podcasts. If you enjoyed this episode, please consider leaving a review in Apple Podcasts. It really helps others find the show.
Listen to the previous episodes
Episode 93

20:10

November 13, 2023

Celebrating National Apprenticeship Week with Conrad Chura

Guest Speakers:

For National Apprenticeship Week, Karly is joined by Conrad Chura, owner and founder of Wakin Bakin in Louisiana, to discuss the value of apprenticeship in the restaurant industry.

Play Episode

Episode 92

32:04

October 30, 2023

The Entrepreneur's Studio: Milk Bar

Guest Speakers:

This week, Order Up shares a conversation with pastry chef Christina Tosi, founder and CEO of Milk Bar, featured on The Entrepreneur's Studio podcast.

Play Episode

Episode 91

24:25

October 16, 2023

CEO Series: Expanding Opportunities in Restaurant Operations

Guest Speakers:

CEO Michelle Korsmo talks to Casey Absey of Fargo's Blackbird Woodfire about embracing opportunities beyond their restaurant, in another installment of Order Up's CEO-hosted miniseries.

Play Episode