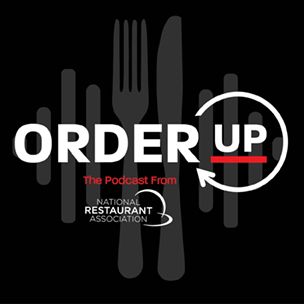 Episode 51
34:24
February 07, 2022
2022 State of the Restaurant Industry
Guest Speakers:
Over the past two years, the restaurant industry has been met with challenge after challenge. While we aren't quite over the hill yet, 2022 is looking to be a year of transition and growth.
This week, Hudson Riehle joins us to discuss the 2022 State of the Industry report and how the culture of restaurants continues to evolve to meet the needs of consumers.
(1:40) - Research and knowledge group
(2:50) - What's in store for 2022
(6:08) - The rise of quick-service dining
(10:20) - The fall of on-premise dining
(14:42) - The next generation of restaurant goers
(17:11) - What's Hot survey
(20:28) - Points of access
(22:14) - Travel and tourism
(24:18) - Employment outlook for restaurants
(26:00) - Depressed income environment
(29:06) - Efficiency and variety
(31:51) - Advocating for funding
If you'd like to receive new episodes as they're published, please subscribe to Order Up in Apple Podcasts, Google Podcasts, Spotify or wherever you get your podcasts. If you enjoyed this episode, please consider leaving a review in Apple Podcasts. It really helps others find the show.
This podcast is not intended to provide medical or legal advice, and nothing in this podcast shall be deemed to create or grant any rights to any third parties. Podcast listeners are encouraged to do their own research, and where appropriate, obtain the advice or guidance of legal counsel or the input of other experts with respect to their practices and/or applicable laws. Listeners are encouraged to consider the applicability and suitability of the information provided for their own individual circumstances, and the National Restaurant Association and its affiliates cannot warrant the applicability of the information to any particular listener or party. Given the rapidly evolving nature of the pandemic, guidance may change as our understanding of unique challenges that COVID-19 poses within each country, state, and locality evolves.
Listen to the previous episodes
Episode 75

24:53

March 27, 2023

Celebrating Women's History Month with Denny's CEO Kelli Valade

Guest Speakers:

This week, Karly speaks with Kelli Valade, CEO of Denny's Corporation, about fostering an inclusive and service-minded company culture and taking recent lessons into 2023.

Play Episode

Episode 74

22:35

March 13, 2023

Turning Industry Insight into Action with SpotOn CMO Kevin Bryla

Guest Speakers:

This week we revisit the 2023 State of the Restaurant Industry report with the perspective of Kevin Bryla, Chief Marketing Officer and Head of Customer Experience, for SpotOn, our presenting sponsor.

Play Episode

Episode 73

27:07

March 06, 2023

2023 State of the Restaurant Industry

Guest Speakers:

A new and positive normal is starting to take hold at restaurants across the country. This week, Hudson Riehle joins us to discuss the report findings and what to expect in the year ahead.

Play Episode