Articles
November 16, 2021
What's Hot in 2022? Health, happiness, plus a side of sustainability
Report says plant-based choices, better packaging, fun beverages, and zero waste are on tap next year.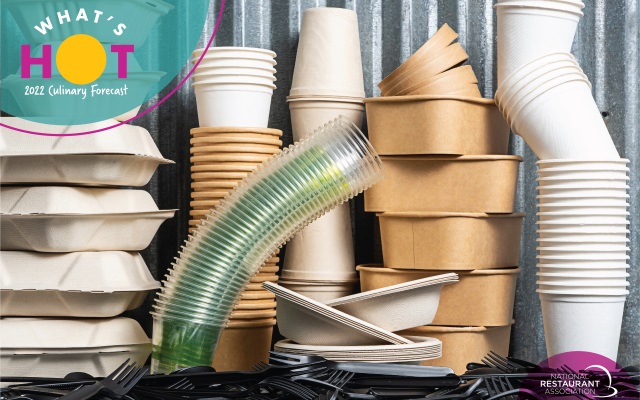 Consumers have increased their use of takeout and delivery during the pandemic, and prefer packaging that's eco-friendly but maintains food quality, temperature, and safety.
Health, sustainability, better packaging solutions, and global flavors are just some of the top trends chefs around the country say will galvanize the restaurant industry in 2022, according to new National Restaurant Association research.

The Association's What's Hot 2022 Culinary Forecast, conducted in partnership with the American Culinary Federation and an assist from marketing research firm Technomic Inc., asked 350 chefs—all ACF members—for their input. The survey details what those professionals think consumers will want when dining out in the coming year.

Hudson Riehle, the Association's senior vice president of Research and Knowledge, said the responses reflect an industry—and country—recovering from the worst pandemic to hit the United States in three generations.

"As the industry continues to emerge from the pandemic, we're seeing consumers refocus on health and wellbeing, and that includes nutrition," he said. "To meet that demand, chefs will highlight and incorporate functional ingredients featuring health benefits on menus and in food offerings. Throughout the year, we'll watch closely to see how restaurants and foodservice operations usher in those trends and values."
Sustainability is still an influencer
Sustainability, typically a big influencer on menus and on how restaurants operate—from serving locally sourced and sustainable proteins to practicing food-waste reduction and recycling in the front- and back-of-the-house—will continue in 2022, the survey indicates.

Though consumers have increased their use of takeout and delivery during the pandemic, they prefer packaging that's environmentally friendly, but also maintain food quality, temperature, and safety.

They also want their produce, beef and seafood to be grown and harvested, raised and caught sustainably, Riehle said.

The chef-respondents also think that consumers, after indulging in comfort foods at the height of the pandemic, are now beginning to balance with what are perceived as more healthful choices, including plant-based proteins, and those purported to have immunity-boosting properties, such as tomatoes, berries, olive oil, seeds and dark chocolate.

At the same time, the desire for unique, often international flavors rank extremely high. Global food items from Southeast Asia, South America, the Caribbean and North and West Africa, top the list, as do alcohol-based and non-alcohol drinks on the beverage side, including to-go cocktails, spice-rimmed drinks, sparkling water and seltzers and nut milks.

Here are the Top 10 overall trends for 2022:
Sustainable, reusable and recyclable packaging
Packaging that maintains food quality and ensures the food travels well during delivery
Packaging that retains temperature—hot food hot, cold food cold
Zero waste/sustainability
Immunity-boosting snacks
Menu streamlining, featuring fewer items and SKUs
Immunity-boosting/functional ingredients
Plant-based sandwiches
Food security/tamper-proof packaging
Alternative sweeteners, like maple and coconut sugars
Besides the return to more health-focused and more eco-friendly offerings and improved off-premises packaging, Riehle also said to expect growing popularity of snack items.

Chefs say they anticipate more upscale potato chips, new appetizer "wing" selections, globally spiced fries, and alcohol-infused desserts will find spots on the menu, he added.