Restaurant operators meet policymakers to rebuild, grow business at industry's largest grassroots lobbying event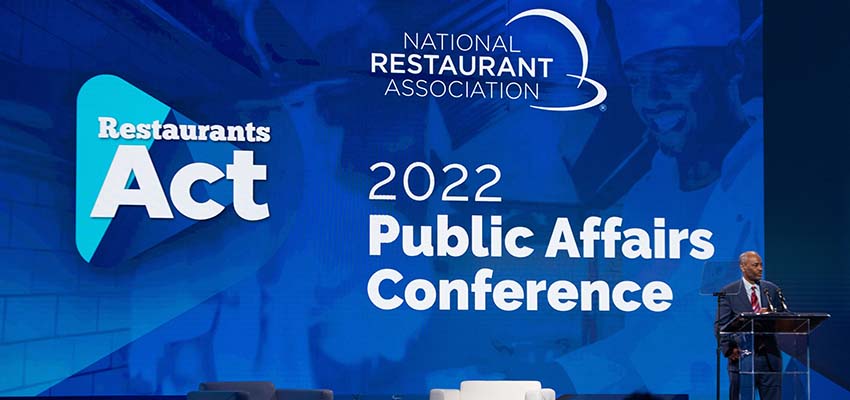 Restaurants Act: The Public Affairs Conference returned to Washington, D.C., last week with more than 500 restaurant owners and operators seeking congressional action on federal tax, wage, workforce, and COVID-19 relief policies that would support industry recovery and growth.
Conference Chair Scott Redler, co-founder and chief operating officer of Freddy's Frozen Custard and Steakburger, Wichita, Kansas, welcomed attendees at an Opening Reception at Association headquarters on April 25. Redler chronicled the urgent need for Congress to help restaurant recovery in a
Wichita Eagle Op/Ed
.
State of the industry
With the economy top of mind for operators, Hudson Riehle, senior vice president of the Association's Research & Knowledge Group, kicked off the conference's educational programming April 26 with an overview of current business conditions, an economic forecast for the next few years, and observations into operational, menu, and workforce trends.
Riehle explained how elevated gas prices and inflation have affected the nation's overall economy, and less disposable income, declines in travel/tourism, and even environmental threats like droughts are impacting the restaurant industry's recovery. "The pandemic has fundamentally altered how consumers use restaurants, and the industry is unlikely to ever completely return to its pre-pandemic state."
Applauding restaurants for adapting to the pandemic's rapidly changing business environment through the use of new transaction technology, outdoor dining, and alcohol-to-go, Riehle also projected that other pandemic-driven trends in the areas of on- and off-premises dining, delivery, technology, digital menus, meal subscriptions, packaging, and kitchen automation could help restaurants grow in the next decade.
"Restaurant operators' ability to innovate and stay flexible continues to play a key role in creating a new future for the industry," he concluded. Additional findings can be found in the Association's
2022 State of the Industry Report
.
Policies to strengthen the industry; improve its future
Forecasted to generate nearly $900B in sales this year but only add 400K jobs, the foodservice industry's immediate future is being threatened by the nation's ongoing labor shortage, inflation, rising food costs, and supply chain disruptions, among others. As Association EVP, Public Affairs Sean Kennedy began policy discussions, he emphasized that the industry's future can be improved through an "all of the above" approach.
"Customer desire to dine out again is bumping against runaway inflation, worker shortages, and an uneven economic recovery. Some of these obstacles are ours to surmount, and others can only be negotiated with new ideas from Congress," said Kennedy. "While we look forward, we won't ever give up on those restaurants that need a boost to jumpstart their recovery—either from the Restaurant Revitalization Fund, or in other creative solutions that could earn bipartisan support from a divided Congress."
In an
opinion piece
in
The Hill
, Kennedy warned that congressional stalling threatens restaurants' future and proposed several ready-to-go options on which Congress should take action. Attendees further emphasized the importance of proposals to
reinstate the Employee Retention Tax Credit
,
preserve the Tip Credit
,
replenish the RRF
, and
pass the Essential Workers for Economic Advancement Act
(EWEA) during congressional meetings.
Launched live at the conference, an EWEA
grassroots activation campaign
generated nearly 10,000 letters to members of Congress.
Political insight from congressional insiders
Advocating for policies is one thing; moving legislation through Congress is another. For inside perspective into how Congress functions and addresses complex issues in today's divisive political climate, Kennedy turned to former House Speaker John Boehner, Sen. Joe Manchin (D-WV), Rep. Steve Scalise (R-LA), House Republican Whip, and Anna Palmer, best-selling author and founder/CEO of Punchbowl News.
A fireside chat with Sen. Joe Manchin (D-WV)
Known for his candid nature and bipartisan approach to policymaking, Manchin acknowledged that extreme partisan politics do not work. "I could never afford to make an extreme decision. But here everyone's been moved to extremes. We're not going to fix it from within, nor do we pay any penalties for not doing it," he said. Stressing the need for members of Congress to find common ground, Manchin believes that "If a public servant is a good public servant, it shouldn't matter if they're a Democrat or Republican."
The senior U.S. Senator from West Virginia, Manchin has played key roles on issues of importance to the restaurant industry. One of three democrats who essentially blocked the confirmation of David Weil as the Department of Labor's Wage and Hour Administrator, Manchin explained his decision was based on risk. "It was too heavy of a lift, and I didn't want to take that risk in the economy that we have." Opposed to increasing the minimum wage, he said the key to fixing the economy is "getting inflation down and our financial house in order."
When asked if he thought Congress could find middle ground to pass legislation that would replenish the RRF, he advised attendees to "approach everyone for the possibility, appreciate what was done, but make Congress cognizant as to what must still be done."
After touching on other pressing issues including the war in Ukraine and prescription drug prices, he left attendees with encouraging words. "This country has pulled itself out of very difficult situations. I have a lot of hope for our country, and I know there's better to be had. So, speak up!"
Rep. Steve Scalise (R-LA) addresses attendees
The second highest Republican leader in the House of Representatives, Scalise's success connecting with voters and getting Republican candidates elected has propelled him into a position of influence over the party's agenda. However, it was his start as a dishwasher in a New Orleans restaurant that taught him the values and work ethic that help him appreciate the plight of restaurants throughout the pandemic.
When the Paycheck Protection Program (PPP) was initially rolled out, he recounted that "the government was quickly trying to figure out how to keep the economy afloat." After hearing from restaurant operators across the country that the PPP didn't address their unique payment structures and business models, Scalise said Congress responded.
Understanding that inflation, transportation, tax credits, and food costs are plaguing restaurants, Scalise believes the best way to confront these issues is by "recognizing that we've got to get this country back open again."
When it comes to the labor shortage, Scalise acknowledged that "there are more things we have to do to get people back to work." But he's adamant that setting a national minimum wage at the federal level and getting rid of the Tip Credit are not the right approaches. "It's important for people to have an opportunity to get into the workforce and work their way up. However, the market is clearly taking care of wages."
Scalise prepared attendees for their congressional meetings by reminding them that restaurants are well regarded on Capitol Hill. "After Hurricane Katrina, it was restaurants that stepped up. Restaurants took it upon themselves to feed the community even when they were struggling." Then and now, "members of Congress see restaurants as keys to the community."
Perspective from the Fourth Estate with Anna Palmer
The expansion of news outlets covering Congress over the last decade has bombarded consumers with information 24/7, but not all media coverage focuses on the innerworkings of the legislative branch and the power players within it. Palmer, who has been writing about congressional leadership, lobbying, and presidential campaigns for more than 15 years, gave attendees a glimpse into Congress's imminent future.
"From a historical perspective, Republicans are in a very good spot to take over the majority in the House. Democrats feel like it's a 'Dead Man Walking' situation, and with many retiring, Democrats in Congress are going to have to do as much as they possibly can before November."
Between now and then, and with a month-long August recess, Congress doesn't have much time to move policies. However, she noted that Congress's radar is currently focused on advancing the United States Innovation and Competition Act (USICA) and providing additional aid to Ukraine. These imperatives will be followed by funding the federal government into the next fiscal year.
Having observed political struggles between congressional majorities and minorities for years, Palmer sees storytelling as a powerful advocacy tactic. She advised attendees to "tell human stories; talk about workers" in order to increase public awareness of restaurants and the challenges they face as the pandemic subsides.
Journeys that inspire
Whether it's providing opportunities to formerly incarcerated individuals, revising business models to survive the pandemic, or feeding communities after natural disasters, restaurants have plenty of intriguing stories to share.
Attendees joined public figures and industry visionaries at the
National Restaurant Association Educational Foundation's
Journeys that Inspire Gala to recognize restaurants and professionals for their work in diversity, equity and inclusion, community service, and leadership.
Learn more
about this year's honorees and how they've helped their businesses, employees, and the restaurant industry advance.