Hot food trends from the Institute of Food Technologists
Annual event provides an advanced look at the food and beverage trends for professionals in commercial food production and foodservice.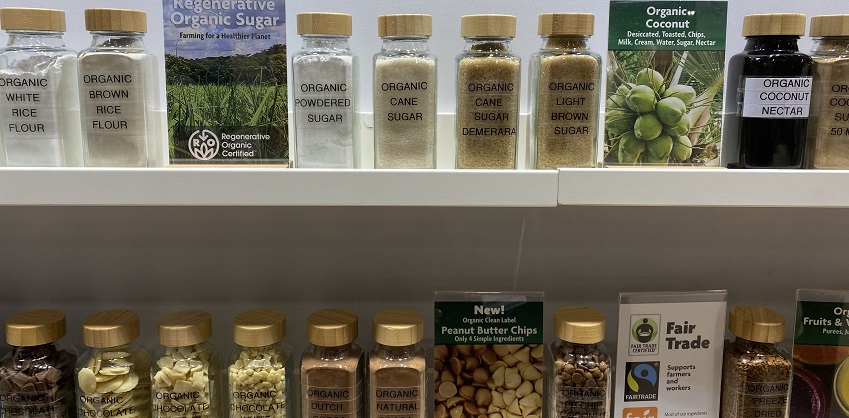 According to Innova Market Insights, 69% of consumers globally say they prefer products that mention benefits of sourcing/farming methods on the packaging.
The "FIRST" in IFT FIRST expo stands for "Food Improved by Research, Science and Technology" and the expo updates food manufacturers and menu development teams about the ingredients that can improve their foods' flavor, stability, nutritional profile and provenance.

Among the latest trends, innovations, and solutions to advance the business of food from the IFT First 2023 expo floor:

Sustainability through regenerative farming. Commitment to Environment, Sustainability, and Governance (ESG) continues to be a key theme through 2023 and had a strong showing on the expo floor, with regenerative farming—producing food while using fewer of the planet's resources—taking center stage at IFT First. According to Innova Market Insights, 69% of consumers globally say that they "prefer products that mention the benefits of their sourcing/farming method on the packaging." Innova has also seen a 44% growth rate in new food and beverage launches with a regenerative agriculture claim. Global Organics displayed Regenerative Organic Certified Sugar, chocolate and cocoa, coconut, caramel, fruit purees, and juices, both dried and IQF.

Healthful living with chickpeas. Chickpeas are the latest (and oldest) way to create protein-packed, plant-based, gluten-free, and vegan foods. Foods made with chickpeas were once considered alternative or niche. But now they're a mainstream way for consumers to personalize their lifestyle and diet. Ardent Mills displayed cookies, mini cakes, and bread made with its gluten-free chickpea flour and Ancient Grains Plus flour blend (which also contains chickpea flour). INNOVOPRO sampled tacos and flan made with the "world's first ever" chickpea-based textured protein. And, chickpeas were also found in The Good Bean Chocolate Covered Chickpeas, and Good Catch Plant-Based Tuna.

Cold brew coffee & caramel flavor familiarity. Cold-brew coffee and caramel were the forefront flavors at IFT First, and often in combination. Javo, an FFP Company, sampled Cold Brew Soft Serve with salted caramel syrup. Westrock Coffee Company sampled its ready-to-drink cold brew coffee including a salted caramel flavor, and also displayed its coffee flavors, extracts and ingredients. Caramel was presented in traditional sweet applications. Sethness Roquette, displayed its new CARANESS specialty caramel in salted butter caramel and milk caramel, and Kraft Heinz Ingredients sampled German Chocolate Cake Trail Mix made with Kraft Caramels.

Accelerated sodium and sugar reduction. Sodium reduction technologies were prominently displayed with FDA voluntary sodium reduction and World Health Organization's sodium commitments on the horizon. A stand-out innovation was potassium chloride encapsulated by sodium chloride by SALTWELL. This technology allows the consumer to experience the taste of traditional salt while experiencing a product that contains 35% less sodium than regular salt. Sugar reduction continues to be a major theme for the food industry to meet the needs of sugar-conscious consumers. Non-sugar sweeteners such as monk fruit, stevia, and allulose continue to be popular to produce zero-added-sugar foods. But a middle ground of less/lower sugar instead of zero sugar has emerged using ingredients like agave. The iidea Company's Sweet Agave Powder is made from the agave plant and is 30% sweeter than table sugar, and Ciranda created agave syrup AL40 that is 40% less sugar than their standard organic agave syrup due to the presence of agave allulose.

Upcycled revolution. Upcycling is making big waves in the food industry as it includes food, packaging, and supply chain sustainability, zero-waste, and culinary nose-to-tail components. Ocean Spray displayed its new Cranberry Seeds that are "upcycled from processing waste and contribute positively to a more sustainable supply chain." Ocean Spray's red cranberry seeds can be used in baked goods, as a topper in smoothies, and many more applications (much like chia seeds) to impart fiber, omega-3 fatty acids, zinc, and magnesium. NovaPro Animal Proteins showcased its "zero-waste" beef products including shaved steak, bone broth, collagen fibers, and oleic acid. And to make B2B upcycling easier, Upcycled Foods Inc., an upcycled food ingredients and innovation service, works with food companies to enable business-to-business ingredient upcycling.