Articles
October 13, 2022
Challenges met, promises kept
Industry entrepreneur rises above tough times to achieve success and give back to at-risk youth.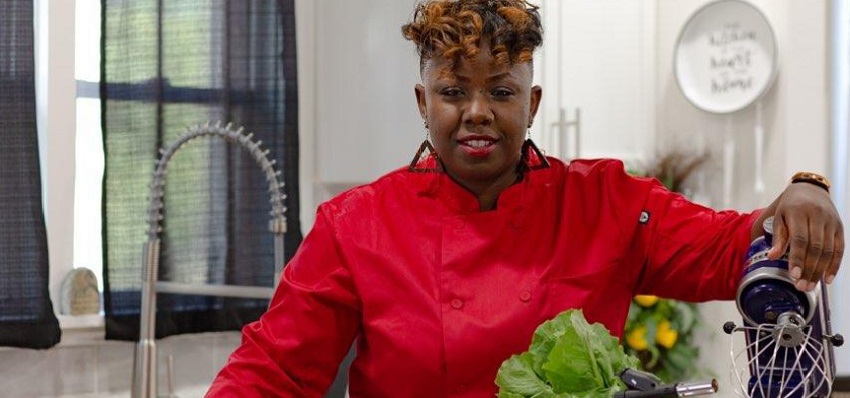 In 1993, Hunter enrolled in the ProStart program and never looked back. Today, she's helping at-risk youth in need of a second chance.
Growing up on Chicago's South side, LaKisha Hunter didn't know a career in the restaurant industry could take her to places far from where her journey started or return her to her roots to help other young people create better futures for themselves.

Hunter, who grew up in Englewood, a tough neighborhood known for its high crime rate and gang activity, learned about cooking early, during visits to her grandmother's house. It wasn't true love at first, but as she grew older and faced difficult life choices, the culinary arts became a means to a successful career and business ownership opportunities.
"I started cooking in my grandmother's kitchen in the summertime, and when I'd come over on the weekends," Hunter says. "She'd teach me how to cook different things, to help prepare dinner, but the skills she taught me were most important. I didn't know they'd resurface when I cooked for my own family or different communities 30 years later. I didn't think I really liked cooking; it was something she instilled in me, but I'm grateful for it to this day."
Cooking up positive change
Hunter says in 1993 she changed her life forever, for the better. A freshman at Englewood High and already a gang leader, she enrolled in the National Restaurant Association Educational Foundation's ProStart program there, "turned a temporary situation into a permanent decision," and never looked back, thanks to Darlene Austin, a new teacher at the school.

"We were told we had to choose a career path and I thought, 'OK, I know how to cook,' so I chose culinary arts, but I still wasn't ready to give up the gang. I was headed for some trouble and Ms. Austin heard about it. When she saw me in the hallway, she dodged out the door, grabbed my arm, and stopped me in my tracks. She said, 'On this day you're going to choose cooking or your gang. What's it going to be?' I chose cooking, and I'm still feeding and serving people 30 years later!

"ProStart was my road map," she continues. "I followed its instruction on what to do, what professionalism should look like, having a good attitude, working as a team member, and how to treat customers. It was my foundation for success at work and in life. It helped me win scholarships so I could go to Lexington College. It gave me the knowledge of what to use and how to succeed in the culinary and hospitality industry. Everything grew from there."

Hunter established her career in culinary and executive management positions with Odyssey Cruises, Hyatt Hotels, and even became a ProStart instructor. Today, the 44-year-old mother of three sons, also known as Chef K, is the founder and owner of That Jerk Spot LLC, a Chicago-based catering and food truck business. In addition, as a trainer for the Educational Foundation's HOPES program, she uses culinary training and the food truck business to teach justice-involved young adults life lessons in responsibility, entrepreneurship, and giving back to their community.
Rise above the challenges you face
But it's Rise Above the Ordinary, her mentorship/apprenticeship program, that is her proudest achievement. The work with HOPES helped Hunter solidify her purpose and the program, which focuses on helping at-risk youth and seeks to educate them in culinary arts and management. It also teaches them social development skills needed to succeed. Classes include food purchasing and preparation, cooking, and how to operate catering and food truck businesses. She says her goal is to inspire the next generation of chefs and business owners in Chicago's culinary industry.

"We want our students to commit themselves, to rise above the stigmas and negative labels placed on them," she says. "Some kids need to be challenged. Who back then would've thought that today I'd have three degrees under my belt? I wasn't even supposed to make it past high school. I believe in providing experience to those in need of a second chance. I want them to know they can succeed despite the challenges they face."

Learn more about the National Restaurant Association Educational Foundation