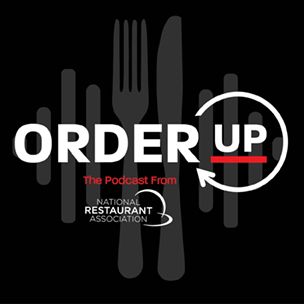 Episode 54
22:26
March 21, 2022
Future Restaurant Legislative Advancements
Guest Speakers:
This week on Order Up, we're joined by Sean Kennedy, Executive Vice President for Public Affairs, and Mike Whatley, Vice President of State Affairs, to get the low down on the legislation that most impacts restaurant operators in 2022. Tune in to hear about initiatives that the National Restaurant Association plans to continue fighting for and what policies will stay with us beyond the pandemic.
(01:15) - Restaurant Revitalization Fund update
(02:58) - Employee Retention Tax Credit delay
(05:09) - Immigration reform and visa programs
(07:31) - Cocktails to go
(10:15) - The future of the tip credit
(14:38) - Third party delivery principles
(17:04) - Natural gas cooking legislation
(19:20) - Public Affairs Conference
If you'd like to receive new episodes as they're published, please subscribe to Order Up in Apple Podcasts, Google Podcasts, Spotify, or wherever you get your podcasts. If you enjoyed this episode, please consider leaving a review in Apple Podcasts. It really helps others find the show.
The National Restaurant Association does not warrant or guarantee the accuracy or suitability of any information offered, and the podcast listener is encouraged to do their own research, and where appropriate, obtain the advice or guidance of legal counsel or the input of other experts with respect to their practices and/or applicable laws.
Listen to the previous episodes
Episode 89

16:19

September 25, 2023

Best Practices in Food Safety and Hygiene

Guest Speakers:

For National Food Safety Education Month, Karly is joined by Dotti Haynes of Tork, an Essity Brand, to discuss providing a safe, hygienic experience for staff & guests across the restaurant industry.

Play Episode

Episode 88

31:46

September 11, 2023

From Concept to Franchise with Chef Erica Barrett

Guest Speakers:

This week, Karly speaks with Chef Erica Barrett about her new restaurant, Dough Boy Pizza, and the journey from catching the entrepreneurship bug as a child to appearing on Shark Tank.

Play Episode

Episode 87

12:36

August 28, 2023

Top 5 Policy Priorities for Remainder of 2023

Guest Speakers:

National Restaurant Association's VP of Public Policy Aaron Frazier returns to discuss recent advocacy on Capitol Hill and potential legislation and regulatory shifts impacting the industry.

Play Episode