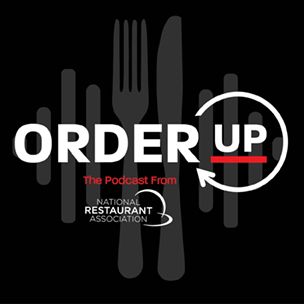 Episode 73
27:07
March 06, 2023
2023 State of the Restaurant Industry
Guest Speakers:
A new and positive normal is starting to take hold at restaurants across the country. In the 2023 State of the Restaurant Industry Report, nearly three in four restaurant operators say they are getting comfortable with their day-to-day operations and are focused on sustaining that growth in 2023.
There will still be challenges, such as supply chain delays, rising input costs, and inflation impacting everything from consumer spending to new capital. But there's also an opportunity to be nimble and employ new skills and tools to drive economic and employment growth.
This week, Hudson Riehle joins us to discuss the report findings and what to expect in the year ahead.
(02:44) - Transitioning out of the pandemic
(05:13) - Accommodating higher food and supply prices
(09:34) - Demand for in-house restaurant experiences
(14:32) - Successful operational trends
(19:22) - Workforce outlook for 2023
(21:59) - How the national economy could impact the industry
(24:01) - Shifting consumer demand for experiences over physical goods
2023 State of the Restaurant Industry Report
We'd like to thank the following sponsors for supporting this episode: \
SpotOn
Sage
This podcast is intended for general informational purposes, and nothing in this podcast shall be deemed to create or grant any rights to any third parties.
If you'd like to receive new episodes as they're published, please subscribe to
Order Up
in
Apple Podcasts
,
Google Podcasts
,
Spotify
, or wherever you get your podcasts. If you enjoyed this episode, please consider leaving a review in
Apple Podcasts
. It really helps others find the show.
Podcast episode production by Dante32
.
Listen to the previous episodes
Episode 89

16:19

September 25, 2023

Best Practices in Food Safety and Hygiene

Guest Speakers:

For National Food Safety Education Month, Karly is joined by Dotti Haynes of Tork, an Essity Brand, to discuss providing a safe, hygienic experience for staff & guests across the restaurant industry.

Play Episode

Episode 88

31:46

September 11, 2023

From Concept to Franchise with Chef Erica Barrett

Guest Speakers:

This week, Karly speaks with Chef Erica Barrett about her new restaurant, Dough Boy Pizza, and the journey from catching the entrepreneurship bug as a child to appearing on Shark Tank.

Play Episode

Episode 87

12:36

August 28, 2023

Top 5 Policy Priorities for Remainder of 2023

Guest Speakers:

National Restaurant Association's VP of Public Policy Aaron Frazier returns to discuss recent advocacy on Capitol Hill and potential legislation and regulatory shifts impacting the industry.

Play Episode