Research
January 14, 2022
Real restaurant sales fell below pre-pandemic levels in December
The positive restaurant sales trajectory stalled during the second half of 2021.
Consumer spending in restaurants trended steadily higher during the first half of 2021, driven by rising vaccination numbers, the easing of capacity restrictions and healthy household balance sheets. That positive trajectory stalled during the second half of 2021, with real sales dropping back below pre-pandemic levels by the end of the year.

Eating and drinking places* registered total sales of $72.5 billion on a seasonally adjusted basis in December, according to preliminary data from the U.S. Census Bureau. That was down 0.8% from November's sales volume of $73.1 billion, and represented the lowest monthly reading since August.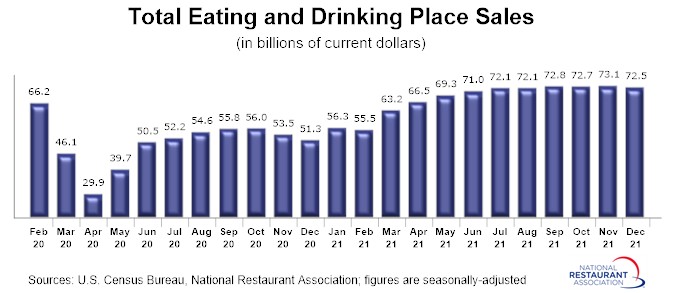 The inflation-adjusted data revealed an even greater deterioration in business conditions in recent months. After adjusting for menu-price inflation, eating and drinking place sales in December were sharply lower than the levels reached during the third quarter of 2021.

Additionally, real eating and drinking place sales in December dropped below the pre-pandemic highs of 2019 and early-2020.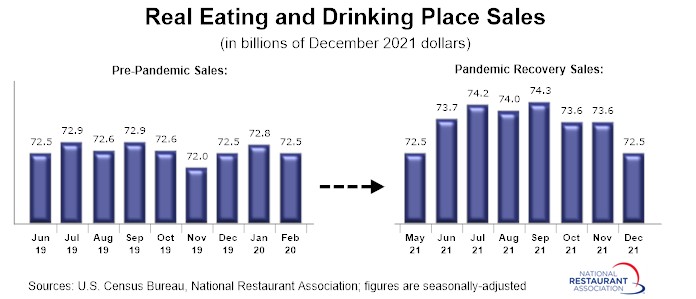 Business conditions became increasingly difficult for restaurants in recent months due to a number of factors:
Dampened staffing levels forced many restaurants to curtail business operations.
Soaring food costs and supply chain disruptions continued to create challenges for restaurants.
The omicron variant reduced customer demand for indoor on-premises dining in recent weeks.
Cooler weather meant fewer outdoor dining opportunities in many parts of the country.

*Eating and drinking places are the primary component of the U.S. restaurant and foodservice industry, which prior to the coronavirus outbreak generated approximately 75 percent of total restaurant and foodservice sales.

Read more analysis and commentary from the Association's chief economist Bruce Grindy.