Hungry for Gift Giving Ideas: Most People Have Restaurant Gift Cards on their Wish List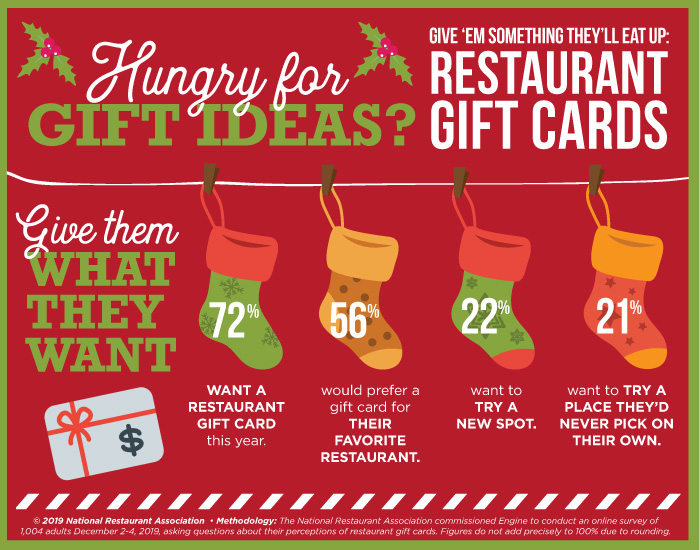 Washington, D.C. – If you're still trying to find the perfect gift for grandma, dad, aunt Sue, or cousin Benny, there is one present they will all eat up: a restaurant gift card. According to new research from the National Restaurant Association, 72 percent of people want a restaurant gift card this holiday season.
"Restaurant gift cards are a perfect gift for anyone on your shopping list; they're quick and easy to purchase and your friends and loved ones get to pick the meal they want most," said Hudson Riehle, senior vice president of research and knowledge for the Association. "A sizable 47 percent of adults say they are planning to give a restaurant gift card to somebody this holiday season–and among consumers with children in their household, that goes up to a whopping 60 percent."


Restaurant gift cards are easy to add to your last minute shopping list - grab them when you're out for holiday social events, or order them online. Just keep this in mind while shopping:
More than half of consumers (56 percent) said they would want a gift card from their favorite restaurant;
Nearly a quarter (22 percent) would like to use a gift card to try a new restaurant they haven't been to before; and
More than 1 in 5 (21 percent) would like a gift card for a restaurant they wouldn't otherwise get to visit.
Additionally, the research suggests diners have specific plans for their gift cards. Twenty percent say they will use the gift as soon as possible, while 40 percent plan to save the gift for a special occasion. When they do use them, more than a third (35 percent) say they will splurge and order more expensive items than usual.
"Ninety percent of people tell us they enjoy going to restaurants, so a gift card is pretty much one size fits all. They are also a good choice for someone who wishes to give an experience rather than a material item," said Riehle.
The National Restaurant Association commissioned Engine to conduct an online survey of 1,004 adults December 2-4, 2019, asking questions about their perceptions of restaurant gift cards.
For more restaurant industry research and information, visit restaurant.org.
About the National Restaurant Association

Founded in 1919, the National Restaurant Association is the leading business association for the restaurant industry, which comprises nearly 1 million restaurant and foodservice outlets and a workforce of 15 million employees. Together with 52 State Associations, we are a network of professional organizations dedicated to serving every restaurant through advocacy, education, and food safety. We sponsor the industry's largest trade show (National Restaurant Association Show); leading food safety training and certification program (ServSafe); unique career-building high school program (the NRAEF's ProStart). For more information, visit Restaurant.org and find @WeRRestaurants on Twitter, Facebook and YouTube.