Articles
October 19, 2023
Tech can help, but human-based hospitality still has a role
Restaurant consumers' desire for employee-delivered services versus tech-enabled ones varies by dining scenarios and age groups.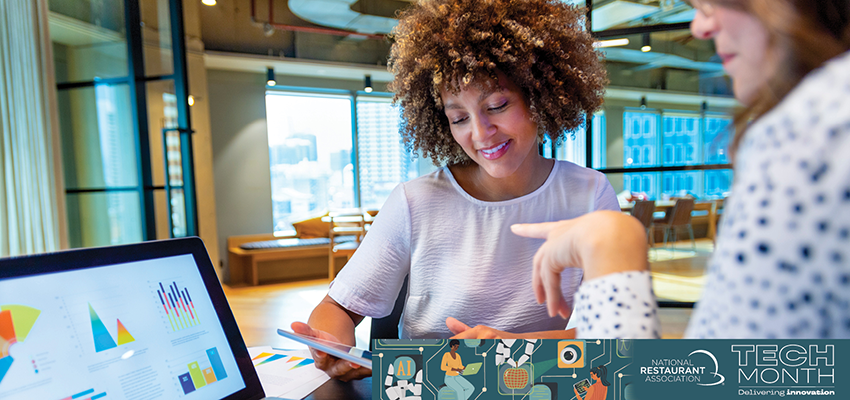 As the foodservice industry adopts and adapts to advances and innovations in technology, consumers still want their dining experiences to include employee-based service, new National Restaurant Association research finds.
While many consumers, especially Gen Zs and millennials, embrace the new technologies they're finding in restaurants (think digital ordering, automation, self-order kiosks, and cashless/contactless payments), there are still some customers, such as Gen Xers and Baby Boomers, who aren't yet used to using it. They're willing to try it though they may not feel entirely comfortable to start. And while that tech-shy sentiment may decrease with time, all diners tend to prefer the full employee service that enhances their dining experiences.
The big takeaway: Great food, great service, good value—genuine hospitality—is what brings customers in. So, technology integrations that can free up operators and their teams to deliver a great experience, not try to replace it, are the order of the day.
"Technology is augmenting restaurant labor roles, not replacing it with total automation," explains Hudson Riehle, the Association's senior vice president of the Research and Knowledge Group. "According to this new research, consumers, especially tableservice patrons, are quite clear in telling us that even though they might want technology to make things like ordering and payment easier and more convenient, they're there for the hospitality experience the industry is known to deliver."
"While much of the recent innovation has been guest-facing, some of the most impactful restaurant technology is employee-facing," said Kevin Bryla, chief marketing officer at SpotOn. "Tech that drives efficiency and cuts costs frees up restaurant workers to deliver the best possible guest experience."
The research, fielded last month, was conducted as part of an online survey of 1,000 adult consumers who were asked about their tech preferences in tableservice, limited-service and delivery service scenarios.
Looking at traditional tableservice
When asked to choose between two similar tableservice restaurants, with the difference in the amount of technology used in the dining experience (to order, pay, etc.), 64% of tableservice customers said they would choose a restaurant that offered traditional tableservice where all aspects of service are handled by employees over one that incorporates technology.
Responses varied significantly by generation. Gen Zs (50% full/50% tech) and millennials (47% full/53% tech) were basically split in choosing full service over a tech-enhanced dining experience. Gen Xers and boomers, however, skewed heavily in favor of traditional employee-provided service (64% full/36% tech and 88% full/12% tech respectively).
Technology that tableservice customers would choose that would impact their dining experience includes:
30% chose tech that makes payment easier and faster
28% chose tech that makes ordering easier and faster
21% chose tech that provides nutritional, caloric, allergen and sourcing information
21% chose tech that provides an accurate time when food would be delivered to the table
Limited-service likes/dislikes
Asked the same question about limited-service restaurants, such as quickservice venues, fast-casual concepts, delis and coffee shops, results were very similar. Some 62% of limited-service customers said they prefer traditional service when given the choice between that and restaurants that incorporate some technology into the restaurant experience.
Results again showed generational differences that were very similar to the responses for a full tableservice dining experience, despite the differences in these restaurant experiences.
Gen Z (at 48% /52%) and millennials (50%/50%) were pretty much split when choosing a limited-service restaurant with employee-provided service over a restaurant that required them to interact with technology in some way. Gen Xers (at 60%/40%) and boomers (83%/17%) prefer to interact with employees.
Asked to choose one area where technology would impact their limited-service dining experiences:
40% said they'd like technology to be incorporated if it made ordering easier and faster
23% would welcome tech that provided more detailed information about food, such as nutrition, calories, allergens, and sourcing
22% would like tech that provided accurate timing of when their order is ready
16% would like tech that helped their food and beverages arrive faster
Delivery is different
Tech preferences are quite different when it comes to restaurant delivery. The survey asked—for a delivery order—would you choose:
A restaurant that offers traditional service from employees where you call the restaurant to place your order with an employee and when the food is ready, an employee delivers the food to you.
A restaurant that incorporates technology into the experience. You view the menu, place your order and pay using the restaurant website, an app on your smartphone, or a third-party delivery service site. When the food is ready, either a restaurant employee or a third-party delivery person delivers the food to you
.
The total response was 47% for option A., 53% for option B., but generationally, the response rates flip between Gen Z and boomers: 27% of Gen Z would choose A., 73% would choose B. Boomers say just the opposite, with 73% choosing A. for their delivery service and 27% choosing the tech-enhanced option B. Millennials and Gen Xers are fairly split in their preferences.
Asked to choose one area where technology would impact their delivery experiences, customers indicated the following:
33% said tech would be good if it makes ordering easier and faster
24% would like it if tech helped deliver more accurate times for when orders would arrive
24% said they'd like tech that could make delivery faster
19% said using tech for packaging that could make a greater variety of food items available would be welcome
When it comes to selecting the right technology, restaurants must start with a deep understanding of their operation's unique requirements and the team members within their organization who will be using that technology, says SpotOn's Bryla. They can take advantage of tools such as a
restaurant tech assessment checklist
to take stock of the operation's current tech, identify the tech they actually need, and find the right tech partner for their restaurant.
Read more about our new research and restaurant technology advancements
here
.
Subscribe
Sign-up for weekly recaps of the latest Tech Month content.