Articles
November 16, 2021
Tap into technology to recruit and retain workers
Automating features that ease the application process, simplify onboarding and save employees' time on the job enhance your employment proposition.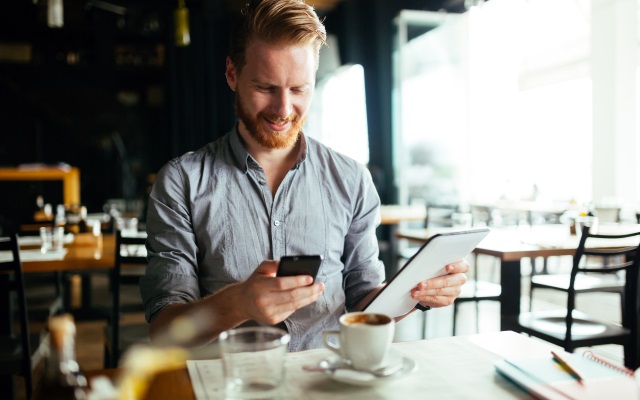 Smartphones are always in hand. Use QR codes to let potential hires instantly connect to a mobile job application.
Given today's labor shortage, savvy operators are leveraging technology to gain a competitive edge in employee recruitment and retention. A recent National Restaurant Association webinar, offered in partnership with Heartland, highlighted how restaurants are tapping into tech solutions—from text recruiting to electronic onboarding to labor-saving POS integrations. Watch the webinar on demand, and check out these tech tips from the presenters:
Recruiting applicants
Position your website as a recruiting tool. Make a great first impression with an up-to-date website that showcases your restaurant's values and culture. You'll not only attract customers but also potential job candidates.
Use QR codes and text messages. "It seems people barely ever put their phones down," says webinar presenter John Romano, senior director of Sales Support for GetHired, Inc. Take advantage of that ever-present tech solution by offering text-to-apply or QR access to a mobile job application. Candidates "snap the QR or send a text and literally they are applying right then and there on their phones," Romano says.
Offer online WOTC screening. Employers can receive the Work Opportunity Tax Credit (WOTC) for hiring applicants facing significant barriers to employment—including long-term unemployed individuals. Reduce applicant paperwork by incorporating the WOTC screening into an online form powered by human capital management (HCM) software.
Onboarding new hires
Create a paperless process. Excessive paperwork can frustrate new hires. Plus, today's workers are attuned to environmental issues and dislike wasting paper. Electronic onboarding "creates a great first impression, a lasting impression that can really improve retention," says webinar presenter Jason Hines, Heartland vice president of Compliance and Risk. "The key to a great onboarding experience from a technology standpoint is being able to access that technology on a mobile application."
Use electronic signatures. Build in the capability to sign online documents with an e-signature. This eliminates the annoyance of having to print a form, sign it, scan it and email it.
Migrate application information. Save employees the hassle of re-entering the personal information that they already submitted when they applied for the job. Today's HCM software can make onboarding a breeze by seamlessly accessing application details and pre-filling information. "That's a huge win for your employee experience," Hines says.
Retaining restaurant workers
Make your POS portable. Mobile POS systems let servers place orders and process payment tableside, eliminating the extra step of transferring information to a stationary POS. Servers spend more time with guests, and some studies indicate this leads to bigger tips.
Integrate your ordering systems. Eliminate the need for employees to input online orders into your POS, reducing busy work that leads to employee burnout, says Mark Mitchell, Heartland software-product vice president. Integration with online ordering aggregators has "helped employees not have to do double work," he says.
Promote tipping. Electronic payment interfaces can encourage tipping by suggesting pre-calculated amounts. Software solutions help restaurants manage tip payouts, ensuring that employee tips are paid accurately and offering workers the flexibility of choosing payment methods, such as paycards or payroll disbursements. Convenient and lucrative tips can entice employees to stay onboard!