Should you install an EV charger at your restaurant?
With drivers looking for more charging stations, rebates or credits could lower operators' installation costs.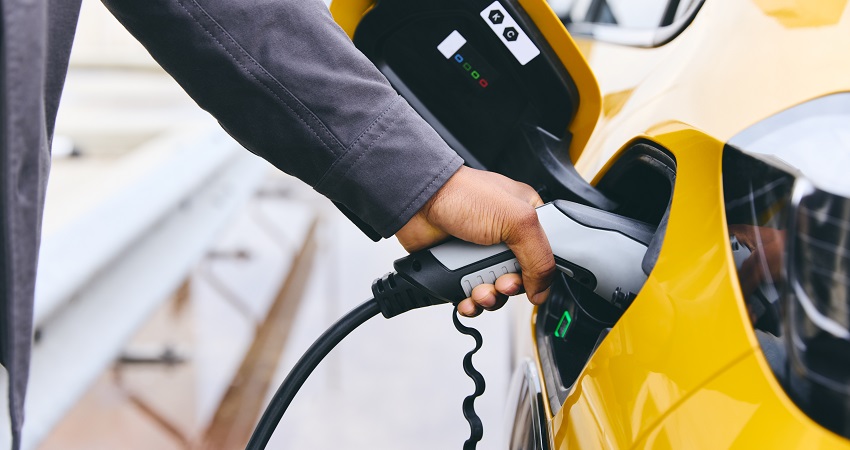 Charging a car could take at least 30 to 45 minutes so chances are good drivers will stop at restaurants with EV chargers and have lunch at the same time.
Some 31 million electric vehicles are expected to hit the road by 2030. Restaurants and retail operations could benefit from that traffic, especially if they install EV chargers at their locations. Experts say the car owners would likely visit the stores while their cars recharge.

The Biden Administration earmarked $7.5 billion for installing chargers in its 2021 infrastructure legislation to develop availability of EV chargers across the U.S. The government, through public and private partnerships, has set a near-term goal of installing 100,000 chargers. In exchange for the investments, they're offering tax incentives and credits to companies who buy electric vehicles or install charging stations.

The goal: reduce the number of gas-powered vehicles on the road to less than half of all cars sold in the U.S. within the next six to seven years.

Over the next five years, the Department of Transportation is disbursing $2.5 billion, with $350 million going toward community fueling and charging grants, and another $350 million to alternative fuel corridor grants. Additional funds are also available to provide states with tools to build the infrastructure.

Restaurant companies, such as Starbucks and Subway, have already committed to building EV chargers at some locations around the country, but for smaller and independent operators the expense is too costly. To combat that, the government is offering the rebates and tax credits to offset the costs.

"There'll be a lot more EVs on the road, especially in the next 10 years," says Steve Douglas, the Alliance for Automotive Innovation's vice president of Energy and Environment. "It'll be a transition and, initially, most of the charging will probably occur at home, except when traveling. However, when travelers do stop to charge their cars, even if it's fast, it'll still take around 30 to 45 minutes so chances are good they'll stop at restaurants with EV chargers and have lunch at the same time, which should positively impact sales."

For the uninitiated, EV chargers are available at three different levels. Here's a quick look at each one.
Level 1: This version literally allows you to plug your vehicle into a regular 120-volt outlet (the same kind you'd use for, say, a phone charger or lamp). The caveat? This level of charging is slow—between 40 and 50 hours if charging from empty to full.
Level 2: This version allows charging from a 220-volt outlet (the same kind that heavy-duty appliances use, such as washers). A full charge from empty takes between four and 10 hours. Public Level 2 charging stations are most common at locations where drivers tend to park, such as workplaces or commercial parking lots.
Level 3: This version is the fastest method of charging an EV. Also known as DCFC, or direct current fast chargers, they can offer a full charge in as little as 20 minutes.
Restaurant operators installing the chargers are eligible to qualify for the following federal credits and grants, notes Matthew Stephens-Rich, director of Technical Services for the Electrification Coalition, a nonprofit facilitating the widespread adoption of EVs.
Stephens-Rich says anyone planning to pursue specific grants, credits, or rebates should be aware of all deadlines, necessary data, or other requirements needed to receive the funds.

"Grant applications and tax credits can take up to a year to submit and receive," he says, and "installation of the charging stations can take six to 12 months depending on size and scale of the station's site design. For Level 2 EV chargers, the cost typically averages between $10,000 and $17,000 each. DCFC or Level 3 (the most powerful and fastest) chargers, often cost around $100,000 each. The funds could contribute a significant portion of financing toward the installation."

He further advises that "when filing for the federal tax credits, check against your respective tax liability. Your tax accountant could be a great resource in ensuring you're able to properly file for and claim the credits."

Asked what operators should think about before deciding to install EV chargers, Stephens-Rich offers these two important tips:
Reach out to your utility provider for information
Research all funding opportunities available to offset costs