App helps operators sell surplus food, reduce waste
Too Good to Go shows how to connect with consumers to sell leftover items the restaurant would typically throw away at the end of the day.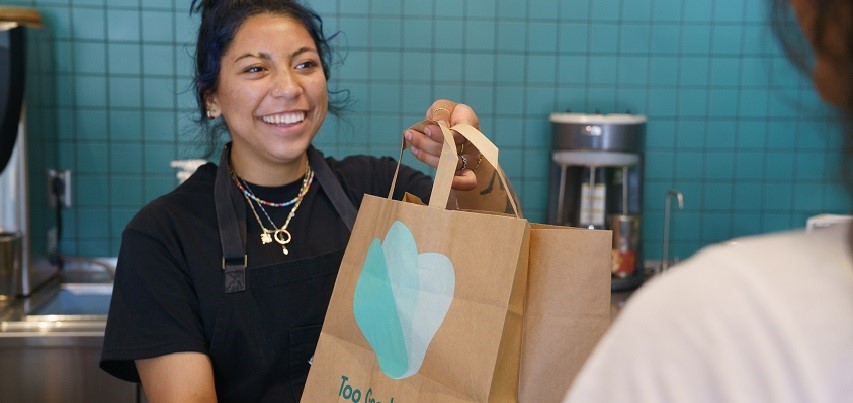 The Too Good to Go app connects local consumers to restaurants trying to sell their remaining food at the end of the day.
Food waste reduction is a way for restaurant operators to be more sustainable and operationally efficient, and with inflation and food costs skyrocketing, operational efficiency is paramount.

An app called Too Good to Go is not only helping restaurants cut down on their food waste, it provides an opportunity to sell the unit's unsold, surplus food items and generate additional revenue.

The app connects local consumers to restaurants trying to sell their remaining food at the end of the day. It advertises left-over menu items at deeply discounted prices, typically a third of the retail price.

Founded in Denmark in 2016, Too Good To Go debuted in North America in 2020. Now operating in 12 U.S. cities, the company says that more than 36 million global app users have prevented more than 66 million meals from being thrown out and sent to landfills.

"We created the app when we discovered that 30% of all food produced is thrown away," says Tyler Simmons, Too Good to Go's head of U.S. key accounts. "In the U.S., it's more than 40%, an incredible drain on the resources used to produce that food. When you throw that much away, it creates such a negative environmental impact. We wanted to address this problem by ensuring that food that's still edible, that can't be held over and sold the next day, instead can be sold to people who'll eat it."

Using the app is simple, he says. Participating restaurants need only follow these few steps to begin:
List the surplus food items on the app as "Surprise Bags". The bags contain whatever is left over from the day. They could consist of entrees, appetizers, desserts, or all of those items.
Once they're listed, customers go online and search what's available. They can prepay for them on the app.
The restaurants set a time for customers to pick-up their bags from the restaurant.
Creating community to reduce waste
Simmons makes it clear, however, that the app doesn't track the restaurants' food waste. That is something operators have to do on their own.

"Our focus is on connecting businesses and consumers," he says. "What we want to build is a community that addresses food waste at different points along the supply chain. It's going to take a multi-pronged solution to get to zero waste, or as close to that as possible."

He says the company currently has nearly 6,000 businesses signed up and working with To Good to Go, including chains such as Cava, Panera, Peets Coffee, and Just Salad.

Sandra Noonan, Just Salad's chief sustainability officer, says her company joined Too Good to Go in 2020 to strengthen its food waste reduction strategy.

"The EPA's food waste hierarchy states the best use of surplus food is to feed people," she says. "Composting is good, but the best diversion tactic is to feed people. At Just Salad, we operate 60 units in six states, and prior to Too Good to Go our main option was to donate leftover food to a charity or volunteer group, but that's tough to do on a scalable level with a lot of stores. Too Good to Go allowed me to get in front of our leadership team with a proposal to sell the surplus at very discounted prices and reduce our food waste at the same time."

Too Good To Go's Simmons says that some of the app's participants can earn an extra few thousand dollars by selling their surplus food items, which in and of itself is appealing, but the majority of them really care about the environment and acting sustainably. Their biggest motivation is to ensure the food doesn't go to waste.

"Consumers want restaurants to be responsible and reduce their food waste," he says. "By doing this, restaurants will be able to show them they're agile, openminded and taking action. At the same time, they're also creating an effective marketing channel that can get their brands in front of a new consumer base."