Articles
November 20, 2023
International soups, stews top What's Hot culinary forecast
In 2024, heat up your sales with these trending menu items.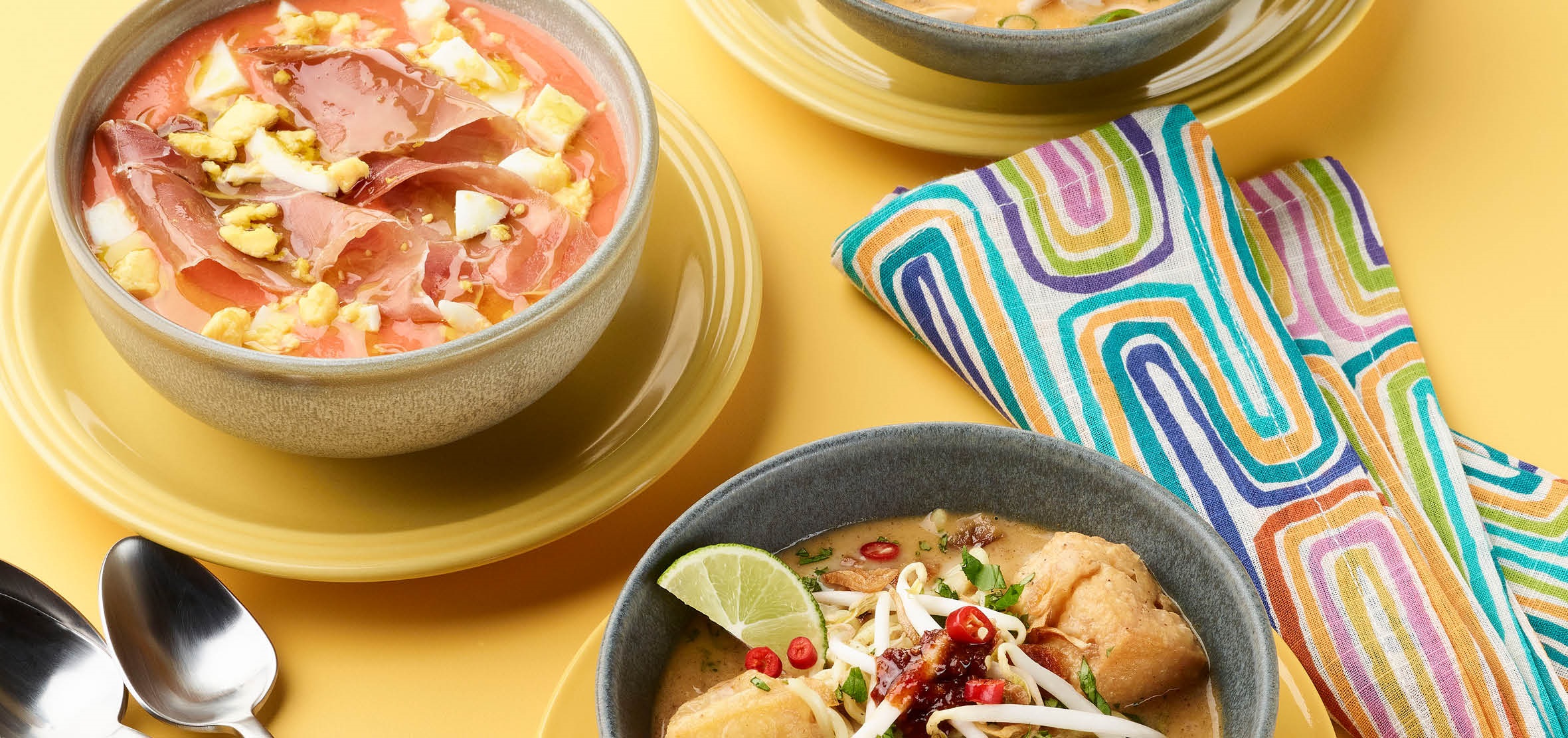 With an endless array of visually appealing varieties, soups and stews are Instagrammable and have gone viral on TikTok.
Soup's in! World-stage soups and stews top the list of menu trends in the National Restaurant Association's 2024 What's Hot Culinary Forecast, based on a recent survey of over 1,500 culinary professionals. Soups and stews are the ultimate comfort food, and many consumers consider them healthful food choices, giving them broad appeal.
"Soup has been gaining popularity recently, most likely due to people wanting healthier choices in their diets, and some variety," says Dave Jurena, co-owner of The Soup Market, which operates three locations in the Milwaukee area. The quickservice restaurant rotates through 200 soup varieties, offering several each day. International influences flavor many of the varieties, with "African Peanut & Chicken Soup" the restaurant's most popular.
At Baltimore's Soup's On, customer favorites include "Chicken Noodle" and regional specialties like "Maryland Crab Soup," but more adventurous guests savor world flavors like "Bok Choy Chicken with Shitake Mushrooms," "Brazilian Fish Stew with Tilapia," and "Peruvian Chicken w/Quinoa & Corn," inspired by chef/owner Kevin Mullaney's recent trip to Peru. "When people ask, "Why a soup restaurant?" I tell them you can explore the world in a bowl of soup," Mullaney says.
Soups have become a social media sensation. With an endless array of visually appealing soup and stew varieties, they are Instagrammable and have gone viral on TikTok; just see #SoupTok.
Here's how to heat up your soup and stew sales:
Put vegetarian choices on the menu. Soup's On offers vegan, vegetarian, meat-based, and seafood selections to appeal to everyone's palate and dietary preferences. If you can't offer that type of variety, consider using a vegan or vegetarian base that can be "souped up" with meat and chicken. For example, fast-casual Qdoba features a vegetable broth-based "Loaded Tortilla Soup" that can be customized with savory proteins like brisket birria (#3 on the What's Hot list of Hot Ingredients), adobo chicken and grilled steak.
Go seasonal. Keep your soup menu fresh by offering seasonal specialties. Think gazpacho in the summer, butternut squash soup in the autumn, and a hearty chili in the winter. "When an ingredient is at its peak, that's when I use it," says Donna Henry, owner of Washington, D.C.'s Soup Up. "When heirloom tomatoes are fuller and riper at the end of summer, I make a 'Roasted Tomato and Basil Soup.' . . . During the fall harvest, I make a 'Spiced Pumpkin Latte Soup' with just a shot of coffee on the top, so as not to overwhelm." An added perk: Produce is more economical when it's in season.
Lean into your brand. Every cuisine has its own take on soups and stews, whether it's the Spanish chilled salmorejo made from fresh tomatoes; Malaysian laksa, a spicy coconut noodle soup with various protein toppings; or Japanese ramen, loaded with noodles and an array of toppings from seaweed to fish cakes to pork. Showcase selections that complement your brand. For example, Australian-themed Outback Steakhouse recently added Tasmanian Chili, a spicy, bean-less variety packed with tender steak bites. If your restaurant is eclectic, you have a world of choices. The Soup Market trots the globe, offering French vegan ratatouille, Indonesian chicken satay soup, Mexican cheesy chicken enchilada soup, Ukrainian mushroom and barley soup, and more.
Sell it to-go. Given its portability and the ease of reheating, soup is a popular takeout food. "Many people want to take it home and eat while reading a good book or watching their favorite reruns," says Soup Up's Henry. Choose insulated packaging that keeps the soup warm, with lids that fit snuggly to prevent spills but won't get stuck together in your kitchen and slow down service. Or, if you find that your customers prefer to reheat their soup later, consider pre-packing your selections in refrigerated containers, like Soup Up does.
Serve a soup du jour. Rotating your soup selection offers an easy way to diversify your offerings, adding variety to menus that continue to be streamlined since the pandemic hit; in fact, streamlining is #3 on the 2024 What's Hot list of macro trends. Consider repurposing leftover vegetable and protein trimmings as an inexpensive and environmental base for your daily soup selection.
Make it a combo. Boost your soup sales by offering a soup and sandwich/salad deal, or upselling soup as a starter with an entrée. Part of the beauty of soups and stews is that they can be easily portioned as a cup, bowl, pint or quart. Plus, soups typically have a low food cost, relative to their menu price, so increased soup sales equate to larger margins. Meanwhile, consumers view these deals as good values—an important selling point in today's economy.
Download
Download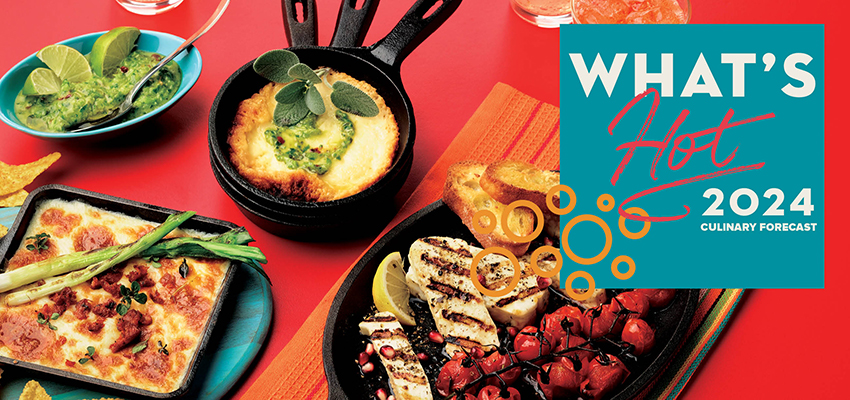 Research
2024 What's Hot Culinary Forecast
November 14, 2023