Articles
September 29, 2022
When inflation is a challenge, it may help to look under couch cushions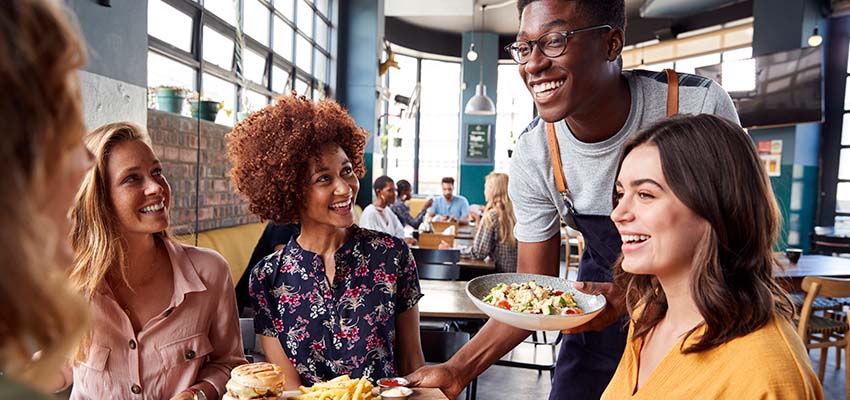 With declines in customer traffic, fewer dining-out occasions, and "trading down" to cheaper alternative meals, owners and operators may need to dig deep to uncover additional top-line sales opportunities.

By now, you've tried online ordering, 3rd-party delivery, in-house takeout, curbside-to-go, catering, or all of the above. Now is the time to review what's worked (or hasn't) for your concept, your operation, and your staffing model—and adjust your strategies accordingly.

Use pricing strategically
With the consumer price index up around 8% this year, customers are seeing increased prices in every part of their lives. They may find it easier to accept raised prices in restaurants when input costs, fuel surcharges, and product scarcity are driving the change.

Pricing is an art and a science. It might make sense to take a "broad brush" approach, raising all prices by a certain percentage but perhaps do it in smaller increments and on a quarterly basis. It might even make sense to take an additional price increase going into the fall—especially if your restaurant has typically higher sales in the fourth quarter due to holiday celebrations or snowbirds.

Make use of loyalty programs
Loyalty programs can attract new customers to your restaurant, build the frequency of dining occasions with your existing customers, and show customers they're special guests and are getting access to special privileges. These programs can also allow you to build closer relationships with your guests.

Build checks with upselling
Beyond delivery methods, consider growth opportunities in the dining room and with your menu. Adequately train servers to "upsell" and suggest appetizers, soups, salads, extra sides, and desserts. Some restaurants find that trimming down their portion sizes could lead a customer to order an extra item or dessert because they have room for more. This can be a great check-builder opportunity.

Focus on your social media presence
Many potential customers, especially the younger generations, check out your restaurant online before they walk in the door or make a reservation. They rely on reviews and pictures of your food to help them decide.

Use search engine optimization techniques so your brand or restaurant gets noticed by web browsers. Reward visitors to your social media pages with some fun early-week offerings such as BOGO or discounts on Monday, Tuesday, or Wednesday to drive traffic on those days. Discounts for online orders can be offset by customers who tend to order more items online than they would if dining in your restaurant.
Look for cost savings opportunities
In the restaurant industry, it's necessary to measure metrics including what's ordered, what's consumed, time worked, and supplies or utilities used. The following ideas may help improve the profitability and sustainability of your restaurant, protect against inflationary pressures, and potentially lower costs.

Improve food cost management
Take regular inventories of your top 10 – 20 items to verify what you're buying is turning over in a reasonable time. Verify that the usage in a week is in line with your sales reports for those ingredients. Secure high-dollar items like liquor and wine in locked cabinets, and carefully order expensive meats and seafood based on recent demand.

Keep and review waste logs to identify food-prep training opportunities, supplier issues, or where a recipe's volume might need some tweaking. Call your suppliers to see what they can do for you in terms of larger bulk shipments. Compare the prices in your contract or order guide with recent invoices and discuss the possibility of substituting items that might be a close alternative at a reduced price.

Additionally, consider investing in a food-cost-management tool that can provide helpful information on your top items, supplier volume, and pricing changes.

Apply menu engineering
Menu engineering makes it easier for the guest to enjoy your concept and what you're known for. Understand your guests and which menu items they crave—and which ones don't have the wow factor. Study your POS reports to assess your 10 most popular items, which entrees generate the highest guest check average, and those that yield the highest sales per labor hour.

Some menus are overly complex and can make it harder for guests to order. Use food photography sparingly and consider a "build-your-own" section that allows the guest to personalize their experience with different sauces or preparation styles. Check out your competitors to see how their menus are organized and priced for similar items.

Improve labor cost management
Today's labor challenges—scarcity of workers, demands for benefits or higher pay, retention and turnover issues, and lack of restaurant experience—can make it difficult to get more value from your workforce.

Focus on retaining your "star" employees and offer bonuses, benefits, perks, or discounts to help retain them and give them a career path in your establishment. Continuous training is a key way help your workforce achieve higher sales, attain consistent operational performance, and improve the culture of your concept.

Look at what you can afford to pay, shop the competition, and make sure you're getting the performance you need for the pay you're providing. Consider implementing a 3% – 5% service charge on every guest check to help pay for a new benefit for your employees.

Controlling labor costs requires daily diligence and should be done in real time as much as possible. Creating a weekly schedule is important, but just as important is reviewing the labor costs incurred to deliver the sales volume achieved. Evaluate the productivity of your labor force by creating a baseline labor model (what it takes to open the doors) including multiple models for different seasons. Learn from variances where there is excess labor and where labor was not adequate.

If your analysis of the actual vs. budgeted/scheduled labor consistently shows large variances and you are incurring significant overtime, consider various operating practices including tasks that can be assumed by the guest—pay at the table, order kiosk—and those that can remove back-of-house labor, such as pre-prepped items.

Explore financing options
The Federal Reserve is raising interest rates as a tool to help dampen inflation rates, but it comes at a cost for variable-rate debt holders. Debt is getting more expensive, so what do you do? Now is the time to refinance outstanding debt if you believe you can qualify for a lower rate or lock in a fixed rate.

Squirrel away as much cash as possible for the coming leaner months. Look at all operating costs, including loans and lease agreements—try to renegotiate these contracts and extend terms in exchange for lower rates. If that isn't providing enough capital to get through lean times, working with local Small Business Administration lenders and community banks can help provide capital at a reasonable rate. For larger restaurant groups, a line of credit can help smooth out seasonal fluctuations in sales and inflationary cost pressures.

For more information on withstanding inflationary times, contact Karen Blacik at karen.blacik@CLAconnect.com or 612.256.8344.

The information contained herein is general in nature and is not intended, and should not be construed, as legal, accounting, investment, or tax advice or opinion provided by CliftonLarsonAllen LLP (CliftonLarsonAllen) to the reader. For more information, visit CLAconnect.com.

CLA exists to create opportunities for our clients, our people, and our communities through our industry-focused wealth advisory, digital, audit, tax, consulting, and outsourcing services. CLA (CliftonLarsonAllen LLP) is an independent network member of CLA Global. See CLAglobal.com/disclaimer. Investment advisory services are offered through CliftonLarsonAllen Wealth Advisors, LLC, an SEC-registered investment advisor.