Operators turn to tech to offset high costs
Look for high-tech ways to take the sting out of increased expense of food and labor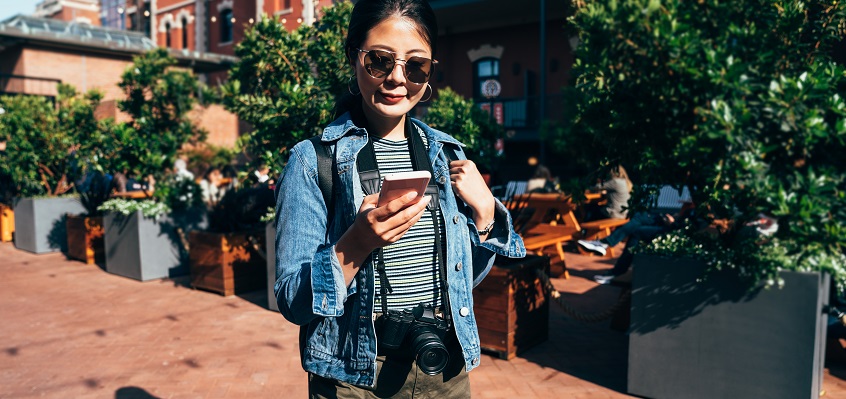 Mobile apps and social media help alert customers to discounts and specials.
As restaurants grapple with high food and labor costs, some operators are turning to technology solutions to cut costs and build revenue. The National Restaurant Association's
2023 State of the Restaurant Industry report
reveals that 90% of operators view inflation as a significant challenge, with 92% of operators saying that food costs pose a big challenge and 89% responding similarly about labor costs.
Three years ago, the pandemic pushed many operators to quickly adapt technologies that eased operations as they shifted to an off-premises and low-contact model—including online ordering and payments, handheld POS devices, and digital menus accessed through QR codes. Today, restaurant operators continue to innovate and adapt as they face the challenges that inflation poses, turning to high-tech solutions to help boost their bottom line.
Cost-cutting technology
Tech solutions can streamline back-of-house operations, trimming food and labor costs:
AI ordering assistants.
Panera Bread and Popeyes are among the restaurants testing AI voice assistants at their drive-thru restaurants. The chatbots take customer orders, asking follow-up questions, as needed, and upselling drinks, desserts and sides. Meanwhile, team members can concentrate on preparing guest orders. In a test run at a Popeyes franchise, the AI voice platform took orders with 99.9% accuracy and increased soda sales by 150%.
Remote workers.
Not ready for AI, but looking for ways that technology can help handle orders? Some restaurants with walk-up counters or drive-thru windows are turning to remote workers, who appear live on a video screen. The majority of customers in every age group have a favorable reaction to this ordering method, including 78% of Gen Z adults (age 18-26), according to the State of the Restaurant Industry Report.
Labor management solutions.
"When you have tools for labor management that give managers time back in their day and give team members great transparency, you're setting yourself up for success," says Hillary Holmes, operator in residence for restaurant tech and payments company SpotOn. Data-driven scheduling software can help managers anticipate their labor needs by drawing on sales history, weather forecasts and upcoming events. "Guided employee scheduling helps operators keep their labor costs down, because it automatically looks at your schedule and checks if you are overscheduled or under-scheduled," reducing the costs of overstaffing and the inefficiencies of understaffing. Integrated scheduling apps empower team members, placing the ability to swap shifts in their hands. With the right software, operators can slash the amount of time managers spend scheduling and performing other labor-management duties, including payroll and tip distribution.
Kitchen display systems.
Looking to streamline your kitchen? Some operators have moved to a paperless system for handling orders, relying on digital displays that organize, prioritize and track orders, rather than printed or handwritten order tickets. "Kitchen display systems (KDS) are massive for the culinary world," Holmes says. "They allow restaurants to operate with fewer team members and move a lot faster, just purely based off of organization and being able to see everything they need at a glance." Pair this with a handheld POS, and an order will appear on a kitchen display before a server leaves the table.
Inventory management software.
Thorough inventory management means less food spoilage and can deter internal theft—both ways to trim food costs. Most inventory management software can integrate with a restaurant's POS to track inventory in real time; in fact, inventory capabilities are built right into some POS systems. These software packages can forecast inventory needs, provide re-order alerts, and create purchase orders, shaving hours off a manager's back-office work. Some systems even connect to foodservice vendors for automated cost updates, and feature recipe-costing capabilities that can inform menu and pricing decisions to help improve profit margins.
Revenue-boosting technology
Restaurant operators are also leveraging technology to pinpoint their marketing efforts. Some trends to watch:
Variable pricing.
Taking a page out of the travel industry's and ride-share's playbooks, some restaurants are shifting toward a variable pricing model—offering discounts during slower times and higher prices during peak demand. About four out of five adults have a favorable reaction to this restaurant pricing strategy, according to the State of the Restaurant Industry Report.
Restaurants have long dabbled with variable pricing; think early bird and happy hour specials. Today, they can tap into technology that enables this strategy. Not only do sophisticated POS systems allow for time-based pricing structures, but some tech platforms work to optimize dynamic pricing based on a restaurant's sales data and real-time demand, helping operators reap larger margins during busy times and attract value-oriented guests during slower times. Mobile apps and social media help alert customers to discounts and specials. Online ordering, digital menu boards and QR code menus all ease flexible pricing.
Metaverse marketing.
Major restaurant chains are opening storefronts in the virtual reality world, building brand awareness and customer engagement in new realms. For example, VR enthusiasts can explore the Wendyverse in Meta's Horizon Worlds, where they play cheeseburger shuffleboard and shoot baskets with Wendy's Breakfast Baconator. "You have an opportunity to reach out to a different audience," says Asif Khan, president of the Location Based Marketing Association. "The demographics generally skew younger." Restaurants are experimenting with promos and new product launches in the virtual world that translate to real world sales.
Location-enabled marketing.
"The location-based ad targeting space has changed a lot in the last number of years," Khan says. Apple and Google privacy updates make it harder for businesses to push ads to consumer phones in the vicinity. "Real-time location data is more difficult to get." In turn, Khan is seeing a growth in cohort- or audience-based advertising that tracks consumer traffic patterns in search of individuals who fit criteria that mesh with a brand, and gathers their mobile phone IDs. For example, a restaurant specializing in salads might look for consumers who visit a gym and shop at an organic market. The restaurant can then target its advertising budget, reaching these individuals through social media ads.
Ready whenever you are.
Wouldn't it be great to have a guest's takeout order ready just as they arrive, even if they were stuck in traffic? Some operators are leveraging location-based technology to do just that, and are branding themselves for their commitment to customer service. "It works like a reverse Uber," Khan explains. "I'm sharing my location as I'm on my way to pick up my coffee, versus I order an Uber, and I want to see how far away my driver is." The restaurant receives an estimated time of arrival along with updates, which helps prioritize the order appropriately and facilitates an efficient and smooth handoff. Khan notes: "It's about leaning into the idea of convenience and customer service and associating that with your brand."
The 2023 State of the Restaurant Industry report is the authoritative source for industry sales projections and trends. It is based on analysis and forecasts by National Restaurant Association economists and surveys of restaurant operators and consumers conducted throughout the year. Download a copy here.
Get the report
Get the report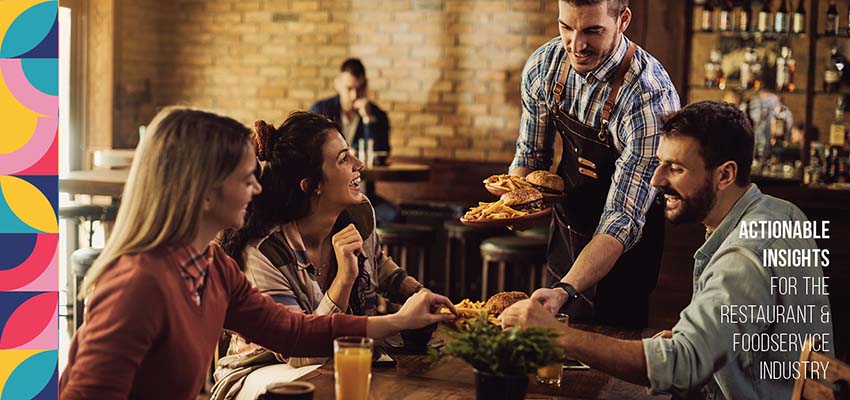 Reports
2023 State of the Restaurant Industry 
February 28, 2023
THE 2023 STATE OF THE RESTAURANT INDUSTRY IS SUPPORTED BY
SpotOn

SpotOn

Presenting Sponsor

About SpotOn SpotOn

is one of the fastest-growing software and payment companies providing the technology and support that helps local businesses—and the people that run them—to succeed on their own terms. Known for its flexible, cloud-based technology and personalized support, SpotOn offers an end-to-end platform to accept payments, boost revenue, streamline operations, and create exceptional guest experiences. From seamless and efficient point-of-sale systems to integrated management solutions built for the fast-growing enterprise, SpotOn builds technology that works the way you work, and backs it up with a 24/7 team of experts who make sure it always does—with fairness, flexibility, and a personal touch. SpotOn has 2,000 employees, including one of the strongest product and technology teams in the combined software & payments industry.

Click here for more information

Sage

Sage

Industry Sponsor

About Sage Sage

exists to knock down barriers so everyone can thrive, starting with the millions of Small and Mid-Sized Businesses served by us, our partners, and accountants. Customers trust our finance, HR, and payroll software to make work and money flow. By digitizing business processes and relationships with customers, suppliers, employees, banks and governments, our digital network connects SMBs, removing friction and delivering insights. Knocking down barriers also means we use our time, technology, and experience to tackle digital inequality, economic inequality, and the climate crisis.