How Noodles & Company became a best employer for diversity
Brand recognized for its DEI approach contributes to the Association's landmark DEI research and roadmap to inclusion for restaurants.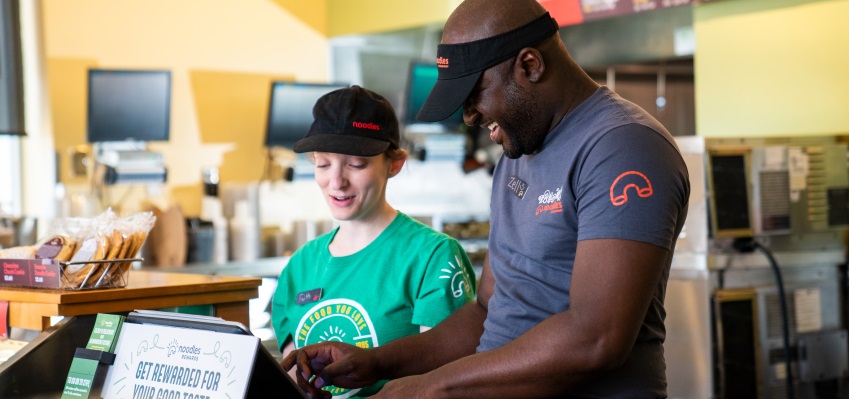 Forbes named Noodles & Co. one of America's Best Employers for Diversity. Pictured: Teammates Faith and Zell.
In the days following the May 2020 murder of George Floyd by a white police officer, Noodles & Company executives—like so many people—could feel the unrest in the air. When angry protesters smashed the windows at a Minneapolis location of the fast-casual restaurant, the anguish hit home.

"There was a lot of pain among our team members," recalls Sue Petersen, executive vice president of Inclusion, Diversity and People. "We thought it was really important to take a step back and make sure we fully understand what our team members were experiencing and how we could better support them."

While Noodles & Company has always valued diversity and fostered a welcoming environment, executives decided it was a time to review their diversity, equity and inclusion (DEI) efforts. As a starting point, the company analyzed their diversity data and launched a series of "listening forums" so employees could offer input. While many team members shared success stories, it was also clear that there was room for improvement—not every employee felt included, and some minority groups lagged in promotions.

Only two years later, Noodles has made significant progress. Walk into your local Noodles & Company, and you might see the Pride flag in the window and be greeted by a team member wearing an "All Noodles Welcome" shirt. BIPOC (Black, Indigenous and people of color) representation at the restaurant manager level has risen 5 percentage points in the last year alone, from 31% to 36%. Forbes named Noodles one of America's Best Employers for Diversity in 2022 and for Women in 2021.

Here are just a few ways Noodles & Company is building a more diverse, inclusive and engaged workforce.

• Gaining stakeholder input and building resources. Created an Inclusion & Diversity (I&D) Advisory Council with representatives from throughout the company and hired a dedicated I&D manager. Launched an I&D newsletter and an inbox for DEI suggestions.

• Fostering a more inclusive culture. Converted single-stall restrooms to gender neutral, encouraged employees to list their pronouns on name badges and added uniform options with inclusive messaging, like "All Noodles Welcome."

• Improving training and education. Partnered with the National Restaurant Association to provide training on Understanding Unconscious Bias in Restaurants. Leveraged workshops and learning modules from the Multicultural Foodservice & Hospitality Alliance, the affiliate of the National Restaurant Association Educational Foundation.

• Closing the advancement gap. Improved the internal careers posting process to make positions more readily available to all team members. Highlighted the success stories of employees from diverse backgrounds, using social media posts. Refocused the process for identifying future leaders to ensure there was a lens on diversity.

• Engaging employees. Launched Noodle Resource Groups to build a sense of belonging among employees from diverse backgrounds and elevate their voices in company decisions. The first two groups are THRIVE, which focuses on the BIPOC community and allies, and PROUD, which is devoted to the LGBTQIA+ community and allies. These groups offer mentorship opportunities and lead companywide initiatives on occasions like Juneteenth and Pride Month. More groups are in the works.

Noodles & Company is also working to effect DEI changes industrywide and is one of several companies that collaborated with the MFHA to develop ELEVATE – A Menu for Change, a step-by-step framework for building DEI initiatives.

ELEVATE is an outgrowth of a new landmark DEI report released by MFHA that shows the critical importance of effective DEI policies in driving employee engagement and retention within the restaurant industry. The research was conducted through collaboration between the National Restaurant Association, the National Restaurant Association Educational Foundation, the MFHA and Cornell University Nolan School of Hotel Administration.

The ELEVATE framework provides restaurant operators with proactive business strategies and plans for building effective and sustainable DEI initiatives. Noodles & Company's DEI approach aligns closely with ELEVATE, an acronym standing for:
Explain your business case.
Listen and learn from your data.
Enlist stakeholders and resources.
Verify goals and success metrics.
Advertise your work.
Test your results.
Engage your employees.

The ELEVATE toolkit includes a master guide with a step-by-step approach to developing an effective DEI culture in your restaurant organization, regardless of size. To purchase ELEVATE, or for more information, see here.