Education through experience
When it comes to good leadership, women operators discuss the importance of finding the right fit for themselves, their employees and guests.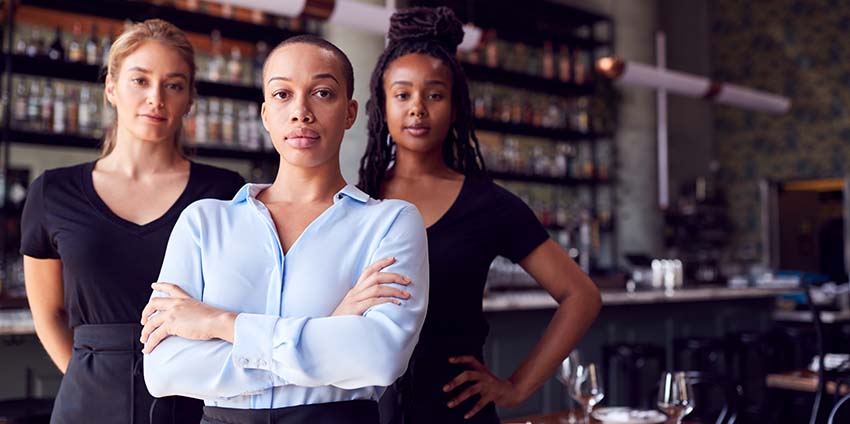 In their Women's History Month interviews, the Association asked Mmelo's Michelle Allen, White Castle's Lisa Ingram, and Red Lobster's Kelli Valade to share the biggest lessons they've learned running successful restaurant businesses.
Michelle Allen, Lead Confectioner, Mmelo
"When you start your company and ask people to help you build the business, be very clear about why they're there, the function they're serving, and why that function is important. I really value authenticity, and am very direct. I'll tell people precisely what I think in any given moment. It's taken me years to find people who are prepared to have those hard conversations with me. But, it's really important for success. Build your support network right out of the gate. Put people around you who are willing to tell you what you need to hear—not what you want to hear. They should be prepared to support your concept and help you figure out the myriad challenges you'll face. And make sure you hire for skills, not relationships. Also, you're always going to need more capital than you think to get things going. So put a strategy in place for finding the money to get things off the ground and run the business. Cash-flow management is key."
Lisa Ingram, President & CEO, White Castle
"It's really important to learn from failures as well as successes. Years ago, White Castle launched three new brands. It was an idea we'd pitched to the board and were really excited about. Well, all three of the brands failed. Even though the initiative was a failure, we learned a lot along the way—like how to collaborate better within our organization. And that's helped tremendously, especially during the pandemic. We also learned how to innovate better, especially with products on the White Castle side of the business. While you can certainly learn from success, I think you can learn a lot more from your failures. That's something I've continued to remember as a leader, and encourage all leaders to do. Make sure you analyze your failures and learn what to do better moving forward."
Kelli Valade, President & CEO, Red Lobster
"Don't assume—even if your brand registers high awareness scores—that customers keep your brand top of mind. You have to retrain customers to love you, remind them you're there and that they can count on the experience you promise. Has casual dining changed forever? The model has clearly shifted, and everyone is having to rebuild in some way. We're all having to rethink how to do the same things better and do them better year over year. We have to look at ways to evolve and integrate more technology, including through 3rd-party delivery and virtual kitchens. We have to find great partners [in those sectors] and leverage what appeals to new, different groups of guests. When you think about what those 3rd-party delivery and virtual kitchen companies have done, connecting people with a brand even when they're not in the physical space, it's essential for us to think about how we can leverage that, too."

Visit the Multicultural Foodservice & Hospitality Alliance to learn more about diversity and inclusion and the restaurant industry.