Articles
September 12, 2019
Eating well with less waste
More sustainable packaging and less food waste headline D.C. discussion.
Top sustainability professionals from major restaurant companies came to D.C., looking for answers to sustainability challenges.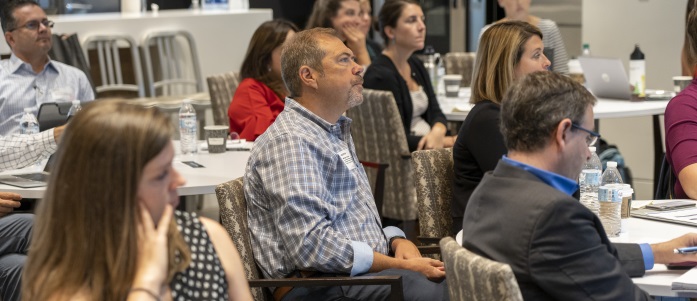 Attendees listen intently at this year's Sustainability Executive Study Group Conference
Attendees listen intently at this year's Sustainability Executive Study Group Conference
Convening at the National Restaurant Association's Sustainability Executive Study Group Conference on Sept. 11, their sessions focused on reducing back-of-the-house food waste, the latest packaging regulations, and making the business case for sustainability. Highlights included:
Using technology to advance supply chain intelligence

Wachs shared Zume's ideas on packaging alternatives and using data to change the supply chain.
Keely Wachs, vice president of communications and sustainability at Zume,described how predictive analytics, advances in packaging, and mobile kitchen technology can radically improve customers' dining experiences by moving the location where food is cooked and how it's cooked and delivered to them. Zume, parent of the fast-casual Zume Pizza concept, aims to connect restaurants and suppliers with real-time food consumption data so they can deliver "cooked-to-order" food. The goal is to minimize restaurants' over-purchasing and help minimize food waste. "[We want to] create supply-chain intelligence so farmers, producers and restaurateurs can safely and more efficiently do what they need to do," Wachs said. "Everyone wants to do right by the world; they just need the information to do it."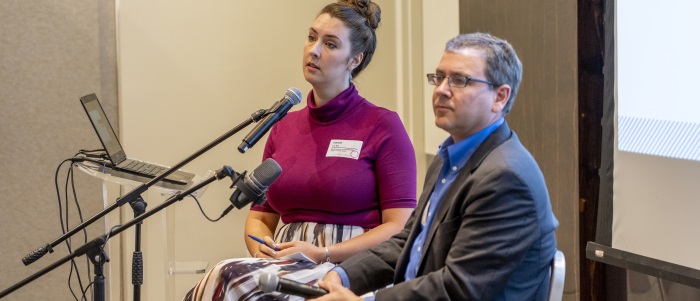 Fry and Shakman shared lessons learned on how to reduce food waste on a global scale.
Sodexo's Nell Fry and LeanPath's Andrew Shakman talked about Sodexo's WasteWatch powered by LeanPath program. WasteWatch is the global foodservice contractor's initiative to identify the causes of food waste and the actions necessary to prevent it. Shakman said both companies are excited to take food-waste prevention to an international scale. The program will enable Sodexo to measure its waste daily, develop data points, and change culture and behavior in its kitchens. The program will roll out to 3,000 sites within 12 months.
The latest on packaging policy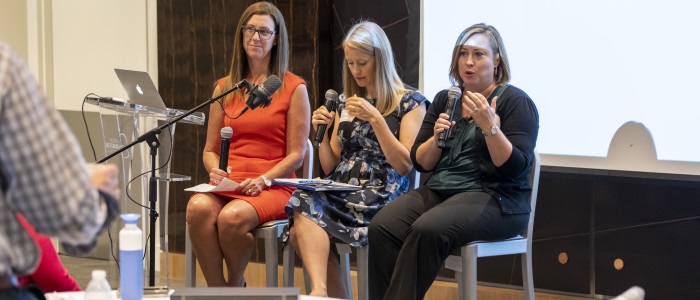 Friedel, Rentz and Dyer informed attendees about the latest packaging bans and regulations.
State and local packaging bans and regulations, including the District of Columbia's plastic-straw ban that the city began enforcing July 1, caught everyone's attention. Deb Friedel of foodservice contract management firm Delaware North, Lynn Dyer of the Foodservice Packaging Institute, and the Council of the District of Columbia's Nicole Rentz presented. "[Foodservice packaging is] in the bullseye of a big target," says Dyer. "That could be good or bad, more often, bad, but because of a number of different drivers, there's opportunity out there to make a difference and change the packaging landscape."
Talking about the future of agriculture and the food system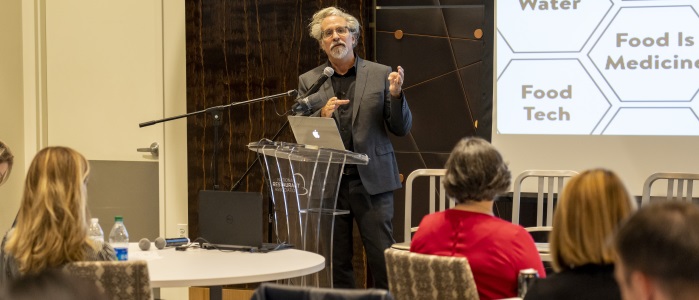 Gayeton talked about his new program, FLAG, a partnership with Google, that will display changes in the food system.
The Lexicon's Douglas Gayeton talked about his organization's partnership with Google to develop a knowledge-sharing platform to propel sustainability awareness and efforts. The platform, called the Food Lab Accelerator at Google (FLAG), debuts in October and one of the first projects documents the successes of 25 crops worldwide that are transforming the communities where they're grown. The goal of FLAG is to show and share where change is happening throughout the food system. "When consumers can actually buy foods [at retail operations or restaurants] that support their own values, that's when the food system changes," Gayeton said.