Articles
October 02, 2023
Delivering innovation: Technology advances the restaurant industry
October is Tech Month. Find out how restaurant operations can optimize all levels of tech to enhance the hospitality experience.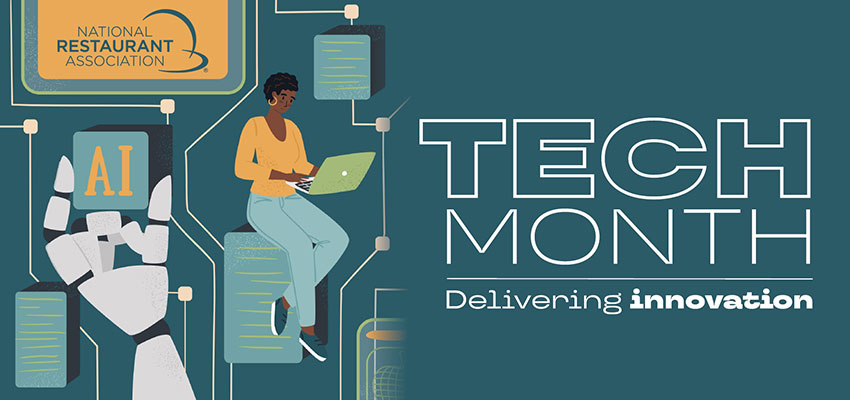 Restaurants of every size and service style are adopting technology in a variety of forms. They're using Artificial Intelligence (AI) to complete tasks through voice commands and computerized visual recognition. Intuitive software is automating back-office reporting, inventory management and operation staffing. Marketing tech is helping to generate buzz and increase sales. Robots are manning fry baskets.

The goal for tech is not to replace people, but to get tech to take on the tasks that take up time, freeing industry professionals to focus on their core purpose: delivering a great customer experience.

The right technology integrations can help us enhance that customer experience, improve operational efficiencies, and manage risks.

And while technology is rapidly changing the way restaurants operate on site, online, in corporate HQs and throughout the supply chain, it's important that operators be deliberate in assessing what problems they want tech to solve and identify opportunities they want tech to open for their businesses.

Tech shouldn't be Everything, Everywhere All at Once, but rather an easy-to-integrate aide to the business. Customers will always want human connection in their dining experiences, which tech can't replace.

Throughout October, the Association's month-long tech series delves into some of the practical applications of technology in restaurants, from the basics and potential of AI to tech in the supply chain, customers' tech preferences and tech-enabled location-based marketing that personalizes operators' engagement with customers.

Articles, webinars and podcasts deliver case studies, how-tos, new research and more. Check in all month for the latest content and connect with our Tech Month Sponsors.
Subscribe
Sign-up for weekly recaps of the latest Tech Month content.