Articles
November 17, 2022
Craving the restaurant experience: What's Hot menu trends for 2023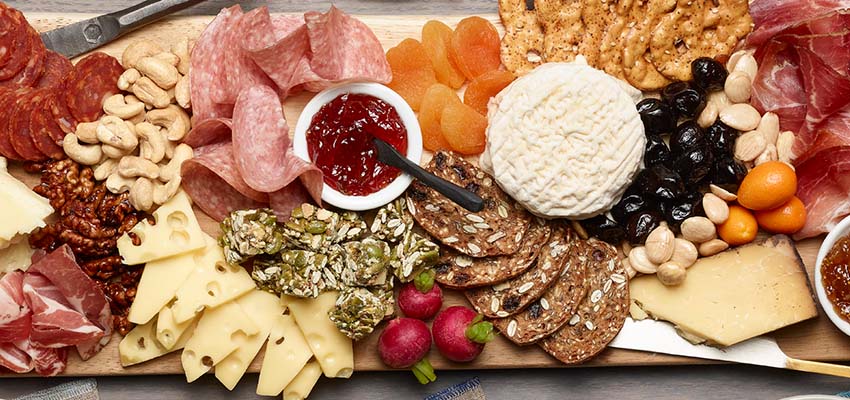 The highest priority for consumers in 2023: Their desire to gather, socialize and celebrate together in restaurants.
The What's Hot 2023 Culinary Forecast results are in and according to culinary experts, consumers are looking for time together, sharing dishes, trying new flavors, and seeking value. Here's an overview of what's hot, what's emerging, and what's cooling in the year ahead.
Top 10 Hot Trends for 2023
Experiences/local culture and community
Fried chicken sandwiches & Chicken sandwiches 3.0 (i.e., spicy and sweet-heat fusion flavors on chicken, etc.)
Charcuterie boards
Comfort fare
Flatbread sandwiches/healthier wraps
Menu streamlining
Sriracha variations
Globally inspired salads
Zero waste/Sustainability/Upcycled foods
Southeast Asian cuisines (Vietnamese, Singaporean, Philippine, etc.)
Cravings for restaurant experiences are strong, even with the impact of inflation on discretionary funds. Customers are hungry to connect over shared meals they can't replicate at home.
Operators—still facing economic fallout, recruitment challenges, and supply chain issues—will meet the demand. Innovative use of less expensive center-plate items and menu streamlining promise to be a big part of menu strategy in 2023.
Also playing a strategic role: all-hours dining. The rise of remote work is disrupting traditional meal times. Customers can access any kind of meal, snack or beverage at any time through delivery, pick-up and drive-thru.
This blurring of dayparts presents myriad opportunities for operators to entice customers at all hours. Handheld menu options, such as French toast sticks, chicken & waffle sandwiches and more, will satisfy growing customer demand for convenient access to foods they crave around the clock.
Top Trends by category
The 2023 forecast also delivers the top three hot items by category, including day part, menu section and macro trends. Leaders in each category are:
Breakfast: Value meals
Lunch: Chicken sandwiches 3.0 (spicy and sweet-heat fusion flavors, etc.)
Dinner: Less-expensive meat cuts (chicken thighs, beef chuck, pork shoulder, etc.)
Desserts: Alternative sweeteners (maple sugar, coconut sugar, etc.)
Snacks: Elevated bar snacks
Appetizers & sides: Charcuterie boards
Beverage non-alcohol: Oat, nut or seed milks
Beverage alcohol: Spritzes
Condiments, sauces, spices & seasonings: Sriracha variations
Global trends: Southeast Asian (Vietnamese, Singaporean, Philippine, etc.)
Ones to watch
In addition to identifying the hottest of the hot trends, professional chefs let us know what they see as emerging trends—not imminent but definitely ones to watch.
Globally inspired sandwiches (Chinese Rou Jia Mo or jianbing, Argentine choripan, etc.)
New sandwich carriers (including flatbreads paratha and roti, pastry buns, crepes, etc.)
Amazake (Japanese drink made from fermented rice)
Alfajor (sweet of almond paste, nuts, breadcrumbs & honey)
Balkan (Croatian, Bulgarian, Turkish, etc.)
Raki (Turkish alcohol made of twice-distilled grapes & anise)
Automation technology (monitoring volume, temperature & time)
Hawaiian haupia (coconut pudding)
Huacatay (Peruvian black mint sauce)
Elevated breakfast bowls (breakfast rice bowls, breakfast pasta bowls, etc.)
Alcohol insights
Sparkling wine continues to entice consumers at brunch and beyond with use in cocktails, according to Technomic Principal Donna Hood Crecca, adding that higher-end domestics and imports (prosecco and Champagne) are leading the charge. Spritzes top the What's Hot list for alcohol beverage trends.
Crecca says we're seeing a proliferation of headlines around hard seltzers, with major brands gaining placements but with a growing interest in smaller/local offerings.
Premium
no-alcohol cocktails
are definitely a thing. One of the biggest disruptors on the bar side is the rise of spirit-free and low-alcohol cocktails, according to Dana Pellicano, president, Patina Restaurant Group, N.Y., in an interview with
Restaurant Business
.
Updated throwbacks like espresso martinis are popping up, as are new takes on spice, and Asian influence is evident. "The trend where flavor profiles run the gamut from herbal and light to earthy to spicy continues in cocktails," says Crecca.
Challenged with labor constraints (behind the bar as well), and with supply issues continuing, many operators have extended their menu-streamlining to drink lists as well. They're optimizing them for high sales potential and minimal labor while still delivering an experience that's differentiated from what customers can craft at home.
About the trends
The National Restaurant Association partnered with the American Culinary Federation and Technomic to conduct its annual What's Hot survey. Targeted to thought leaders in the culinary world, more than 500 professional chefs weighed in to tell us what they see as the leading menu trends for 2023.
Presented with a list of 110 food items and culinary concepts in 11 categories (compiled by Association experts and Technomic's Menu Research & Insights Division), they were asked to rate each item as Hot, Not Hot or Emerging.
The What's Hot 2023 Culinary Forecast, generously supported by Nestlé Professional, is available
free for download
.