Articles
December 22, 2022
Charcuterie makes the cut for 2023
A Top 3 hot menu trend and No. 1 in appetizers, charcuterie can change up with new ingredients, keeping the concept fresh.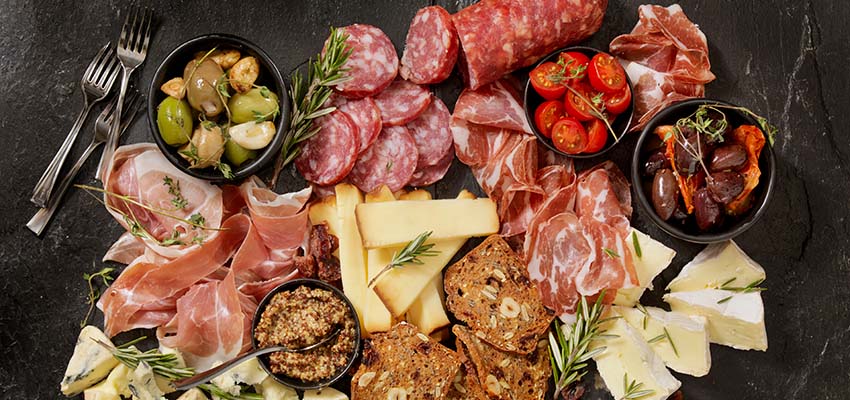 The key to a great charcuterie board is presentation, Café Ba-Ba-Reeba Chef Eric Jorgensen says.
Charcuterie is a rising star on menus; that's per the National Restaurant Association's What's Hot 2023 Culinary Forecast. Produced in partnership with the American Culinary Federation and Technomic, and based on the judgment of more than 500 professional chefs, the 2023 edition is the latest in a long line of yearly "What's Hot" culinary trend reports from the Association.

So, isn't charcuterie comprised of cold cuts and cheese? Yes and no, says Chef Eric Jorgensen of Chicago's Café Ba-Ba-Reeba and Lil' Ba-Ba-Reeba, part of the Lettuce Entertain You group of restaurants.

"Charcuterie is artisanally made sausages, pâtés, terrines, even whole muscle meats like cured pork loin," he explains. The key word is artisanal: "something made by hand, not made by a machine." So grocery-store sausages, salami and bologna in the very "technical" sense don't count.
A small plates favorite
The Ba-Ba-Reeba restaurants are small-plates concepts built around Spanish tapas and pintxos (small snacks served with toothpicks), and charcuterie offerings show up consistently. Lil' Ba-Ba-Reeba offers a House Meat & Cheese Plate of Ibérico Spanish ham, salchichón and chorizo along with Manchego cheese, olives and tomato bread. Café Ba-Ba-Reeba is menuing a similar Ibérico Charcuterie Tasting board.

Charcuterie may consist of fancy meats, but they don't have to be Spanish or even European. At the Lettuce Entertain You concept Mon Ami Gabi—which has outlets in Chicago, Las Vegas and the Washington, D.C. area—French-accented charcuterie offerings include a Chicken Liver Mousse Pâté garnished with cornichons, pearl onions and red wine Dijon mustard, as well as Duck Leg Confit accompanied by red cabbage, bacon, and dried cherries. But charcuterie from domestic sources can also be elevated cuisine.

"The great thing about charcuterie is that it's so versatile," Jorgensen says. "There are so many people, especially in America, making good products."
Sourcing is everything
Obviously, the success of charcuterie on the menu depends on sourcing the right meats. "We try to develop good relationships with our purveyors so we can get unique items," Jorgensen says. "Not everything from Spain can get here all the time, so we hear from our supplier when something has been greenlit for import and is available. Having a good relationship allows us to do that."

And because charcuterie purveyors are selling a rare and expensive product, they put a great deal of emphasis on educating chefs and sometimes send a representative to the restaurant for a training session with servers.

"The staff's knowledge and enthusiasm leads to guests' excitement," Jorgensen says. "If staff are not excited about the product and the story behind it, they're just going through the motions in front of guests. Not every guest is well educated on charcuterie—the different quality levels of Ibérico ham, the different versions and variations of chorizo, what 'dry cured' means—so the better we can help educate guests, the more exciting the experience."

Another benefit of a strong and consistent relationship with a purveyor is the chance to get a better price on the meats purchased, Jorgensen notes. And every bit of precious cured meats is used: "When we slice an Ibérico ham for which we've paid almost $50 a pound, we take the little nub ends and grind them up for our Ibérico ham croquettes." House-made pâtés, terrines and confits help in keeping food costs down.

The key to a great charcuterie board is presentation, Jorgensen says. He recommends "mixing different colored meats—red chorizo, pink ham, purply salsichón. Different cheeses: blue, Manchego. Vibrant colors from grapes, almonds, membrillo, quince, jams, marmalades, parsley or chervil."

Additional advice comes from Jorgensen's fellow Lettuce Entertain You chef Vincent Pouessel of Mon Ami Gabi in Las Vegas, posted on a LEYE blog: "A rustic-looking board to arrange everything; meats that showcase an array of texture and flavor, spice and smokiness; a mix of firm vs. soft, funky vs. mild cheeses; accoutrements like jams, mustards, chutneys; fruits and nuts like almonds, grapes, cherries or figs; great bread, a baguette, brioche or crackers."

While charcuterie makes for glorious presentations in the dining room, it can also go elsewhere. For instance, the Ba-Ba-Reeba restaurants use charcuterie as a passed item at catered events, serving bite-sized sausages and sliced meats as they are served at street markets in Spain: in paper cones with toothpicks.

Charcuterie is also excellent takeout fare, Jorgensen says: "It lends well to travel, and charcuterie tastes a bit better at room temperature after the fat has started to melt." The meats, cheeses and accompaniments are packed in separate containers; the eventual plate presentation is up to the recipient.

Some restaurants offer charcuterie as a retail item. Landry's Kitchen, the retail arm of the Landry's restaurant empire, sells five different charcuterie assortments at different price points and serving different numbers of people.

Charcuterie boards may be hot right now, but they also have staying power. That's partly because the variety of artisanal meats, cheeses and accoutrements available is endless, meaning platters can be switched up frequently so there's always something new for guests to sample.

For restaurants, charcuterie is a high-end product and thus a signal that the establishment is a high-end concept. "Charcuterie is not something that people are going to go to an everyday restaurant to eat," Jorgensen says.

To learn more about charcuterie along with other hot menu trends, download the free What's Hot 2023 Culinary Forecast