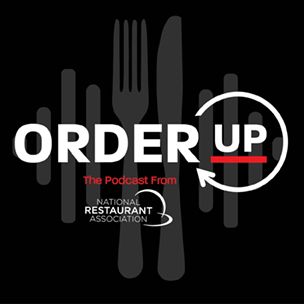 Episode 17
00:14:42
October 28, 2020
Why Your Restaurant Should Make the ServSafe Dining Commitment
Guest Speakers:
Sara Bray and Roy Hinojosa
Good food safety and hygiene practices are key for restaurants to begin the recovery process. The National Restaurant Association's new ServSafe Dining Commitment is one way for restaurants to establish trust with patrons. On this episode of Order Up, we're talking to Sara Bray of the National Restaurant Association and Roy Hinojosa of Golden Corral about how restaurants can join, and benefit from, the ServSafe Dining Commitment.
This podcast is not intended to provide medical or legal advice but may present suggested practices for restauranteurs to help prevent the spread of the COVID-19 viral disease. Adherence to any suggestions cannot ensure prevention of infection and should not be interpreted as setting the standard of care or be deemed inclusive of all proper methods or practices. Podcast listeners are urged to follow the requirements and recommendations of federal, state and local health authorities. Pursuant to Centers for Disease Control and Prevention (CDC) guidance, COVID-19 is generally considered to be spread from person to person by respiratory droplets, and not generally by food or packaging. Given the rapidly evolving nature of the pandemic, guidance may change as our understanding of unique challenges that COVID-19 poses within each country, state, and locality. The Association does not warrant or guarantee the accuracy or suitability of any information offered, and the listener is encouraged to do their own research, and where appropriate, obtain the advice or guidance of legal counsel or the input of other experts with respect to their practices and/or applicable laws.
Listen to the previous episodes
Episode 89

16:19

September 25, 2023

Best Practices in Food Safety and Hygiene

Guest Speakers:

For National Food Safety Education Month, Karly is joined by Dotti Haynes of Tork, an Essity Brand, to discuss providing a safe, hygienic experience for staff & guests across the restaurant industry.

Play Episode

Episode 88

31:46

September 11, 2023

From Concept to Franchise with Chef Erica Barrett

Guest Speakers:

This week, Karly speaks with Chef Erica Barrett about her new restaurant, Dough Boy Pizza, and the journey from catching the entrepreneurship bug as a child to appearing on Shark Tank.

Play Episode

Episode 87

12:36

August 28, 2023

Top 5 Policy Priorities for Remainder of 2023

Guest Speakers:

National Restaurant Association's VP of Public Policy Aaron Frazier returns to discuss recent advocacy on Capitol Hill and potential legislation and regulatory shifts impacting the industry.

Play Episode