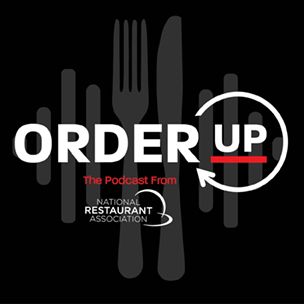 Episode 74
22:35
March 13, 2023
Turning Industry Insight into Action with SpotOn CMO Kevin Bryla
Guest Speakers:
This week we revisit the
2023 State of the Restaurant Industry report
with the perspective of Kevin Bryla, Chief Marketing Officer and Head of Customer Experience, for
SpotOn
, our presenting sponsor for this report. Kevin joins Karly to discuss the three big tech trends impacting restaurants in 2023, the state of takeout and delivery, and POS system innovations.
(03:52) - How SpotOn sees three big tech trends impacting restaurants in 2023
(06:58) - The takeout and delivery trends that are here to stay
(09:44) - Innovation through POS systems
(11:14) - Tech investments helping restaurants with labor issues
(12:55) - Boosting revenue while keeping guest prices manageable
(15:20) - Blurring of dayparts, flexible pricing, and demand for in-restaurant dining
(16:23) - The biggest technology and menu trend opportunities for restaurant operators
Visit restaurant.org to find the full
2023 State of the Restaurant Industry Report
.
https://restaurant.org/research-and-media/research/research-reports/state-of-the-industry/
SpotOn
is one of the fastest-growing restaurant software and payment companies providing the technology and support that helps local businesses—and the people that run them—to succeed on their own terms.
For more information, visit
www.spoton.com
and the SpotOn Resource Center: https://www.spoton.com/resource-center/
SpotOn's Restaurant Manager Toolkit
:
We see you putting in long hours to make your restaurant a success. That's why SpotOn created these resources. So you can spend less time doing busy work and more time doing what you love. See how restaurant management software can win you back hours a day.
Offer: Listeners who download the State of the Restaurant Industry report can save $500 on a point-of-sale with built-in tools to run and grow your restaurant.
The views expressed in this podcast are solely those of the speaker and do not necessarily represent the opinions of the National Restaurant Association (Association) and its affiliates.
If you'd like to receive new episodes as they're published, please subscribe to
Order Up
in
Apple Podcasts
,
Google Podcasts
,
Spotify
, or wherever you get your podcasts. If you enjoyed this episode, please consider leaving a review in
Apple Podcasts
. It really helps others find the show.
Podcast episode production by Dante32.
Listen to the previous episodes
Episode 93

20:10

November 13, 2023

Celebrating National Apprenticeship Week with Conrad Chura

Guest Speakers:

For National Apprenticeship Week, Karly is joined by Conrad Chura, owner and founder of Wakin Bakin in Louisiana, to discuss the value of apprenticeship in the restaurant industry.

Play Episode

Episode 92

32:04

October 30, 2023

The Entrepreneur's Studio: Milk Bar

Guest Speakers:

This week, Order Up shares a conversation with pastry chef Christina Tosi, founder and CEO of Milk Bar, featured on The Entrepreneur's Studio podcast.

Play Episode

Episode 91

24:25

October 16, 2023

CEO Series: Expanding Opportunities in Restaurant Operations

Guest Speakers:

CEO Michelle Korsmo talks to Casey Absey of Fargo's Blackbird Woodfire about embracing opportunities beyond their restaurant, in another installment of Order Up's CEO-hosted miniseries.

Play Episode