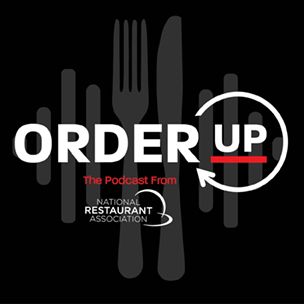 Episode 69
17:04
November 14, 2022
The Restaurant Youth Registered Apprenticeship Program
Guest Speakers:
Scott Cave, James Henry, Jaymeerah Harris
This week on Order Up, Karly is joined by
ProStart
educator Scott Cave and RYRA program alumni Jaymeerah Harris and James Henry to provide insider perspectives on the
Restaurant Youth Registered Apprenticeship
program. The program connects young people to apprenticeship opportunities within the hospitality industry. In this episode, hear from the program's inaugural participants, their successes in the industry thus far, and the future of RYRA.
(0:54) –
Restaurant Youth Registered Apprenticeship
(3:04) – Being a ProStart educator
(4:47) – Piloting RYRA
(6:46) – Hearing from program alumni
(10:53) – Deciding to participate in RYRA
(15:28) – Looking to the future
Click here
for more information about the National Restaurant Association Educational Foundation.
Click here
for more information about the Restaurant & Hospitality Leadership Center.
This episode is proudly Supported by Coca-Cola.
The views expressed in this podcast are solely those of the speakers and do not necessarily represent the opinions of the National Restaurant Association (Association) and its affiliates. The Association does not warrant or guarantee the accuracy or suitability of any information offered. Listeners are encouraged to do their own research and consider the applicability and suitability of the information provided for their own individual circumstances.
If you'd like to receive new episodes as they're published, please subscribe to
Order Up
in
Apple Podcasts
,
Google Podcasts
,
Spotify
, or wherever you get your podcasts. If you enjoyed this episode, please consider leaving a review in
Apple Podcasts
. It really helps others find the show.
Podcast episode production by Dante32
.
Listen to the previous episodes
Episode 89

16:19

September 25, 2023

Best Practices in Food Safety and Hygiene

Guest Speakers:

For National Food Safety Education Month, Karly is joined by Dotti Haynes of Tork, an Essity Brand, to discuss providing a safe, hygienic experience for staff & guests across the restaurant industry.

Play Episode

Episode 88

31:46

September 11, 2023

From Concept to Franchise with Chef Erica Barrett

Guest Speakers:

This week, Karly speaks with Chef Erica Barrett about her new restaurant, Dough Boy Pizza, and the journey from catching the entrepreneurship bug as a child to appearing on Shark Tank.

Play Episode

Episode 87

12:36

August 28, 2023

Top 5 Policy Priorities for Remainder of 2023

Guest Speakers:

National Restaurant Association's VP of Public Policy Aaron Frazier returns to discuss recent advocacy on Capitol Hill and potential legislation and regulatory shifts impacting the industry.

Play Episode