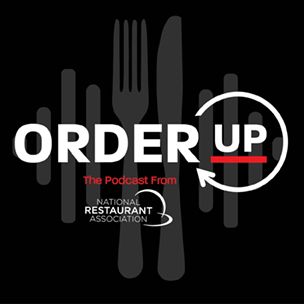 Episode 58
9:22
May 16, 2022
The National Restaurant Association Show 2022
Join us this weekend (May 21-24) for the National Restaurant Association Show 2022! This episode, host Karly McBride highlights several resources and programs that will be represented at the show. From a "Workforce Day" to training opportunities and presentations on current DEI initiatives, the Show is an excellent environment to connect with peers and embrace the continued recovery of the foodservice industry.

To register and learn more about the 2022 National Restaurant Association Show, visit: https://www.nationalrestaurantshow.com/.
(1:25) – Recruiting and retaining your workforce
(3:03) – Workforce Day
(3:56) – Restaurant & Hospitality Leadership Center (RHLC)
(4:17) – The ProStart Program demo
(4:51) – Military service member opportunities
(5:20) – Hospitality Opportunities for People (Re)entering Society (HOPES)
(5:46) – Pathways to Black Franchise Ownership
(7:38) – ServSafe
(8:19) – Healthcare and insurance resources

More resources and initiatives highlighted in this episode: On healthcare and insurance, including RHA Benefit Trust - https://restauranthealthcare.org/ Multicultural Foodservice & Hospitality Alliance (MFHA) - https://mfha.net/ The National Restaurant Association Resource Library - https://restaurant.org/education-and-resources/resource-library If you'd like to receive new episodes as they're published, please subscribe to Order Up in Apple Podcasts, Google Podcasts, Spotify or wherever you get your podcasts. If you enjoyed this episode, please consider leaving a review in Apple Podcasts. It really helps others find the show. Podcast episode production by Dante32.
Listen to the previous episodes
Episode 75

24:53

March 27, 2023

Celebrating Women's History Month with Denny's CEO Kelli Valade

Guest Speakers:

This week, Karly speaks with Kelli Valade, CEO of Denny's Corporation, about fostering an inclusive and service-minded company culture and taking recent lessons into 2023.

Play Episode

Episode 74

22:35

March 13, 2023

Turning Industry Insight into Action with SpotOn CMO Kevin Bryla

Guest Speakers:

This week we revisit the 2023 State of the Restaurant Industry report with the perspective of Kevin Bryla, Chief Marketing Officer and Head of Customer Experience, for SpotOn, our presenting sponsor.

Play Episode

Episode 73

27:07

March 06, 2023

2023 State of the Restaurant Industry

Guest Speakers:

A new and positive normal is starting to take hold at restaurants across the country. This week, Hudson Riehle joins us to discuss the report findings and what to expect in the year ahead.

Play Episode