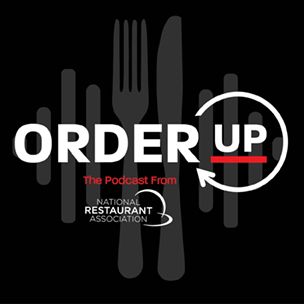 Episode 63
24:28
August 08, 2022
The American Data Privacy and Protection Act
Guest Speakers:
This week on Order Up, Karly is joined by Brennan Duckett, The National Restaurant Association's Director of Technology and Innovation, to discuss the American Data Privacy and Protection Act and its impact on restaurants if passed by Congress in its current form. In this episode, learn about ADPPA's impact on small businesses, its intent to empower consumers, and the further revisions needed to include appropriate compliance and enforcement measures in the bill.

(0:47) – Technology and Innovation
(2:08) – American Data Privacy and Protection Act
(3:22) – ADPPA consumer rights
(6:23) – Restaurant accountability and liability
(9:11) – State vs. federal law
(11:15) – Enforcement
(13:40) – Impact on small businesses
(16:35) – Protecting loyalty programs
(18:40) – NRA's opposition to the bill in its current form
(21:30) – Compliance and empowering consumers
(24:02) – Staying up-to-date and speaking up

Read the National Restaurant Association's letter to Congress regarding ADPPA. If you'd like to receive new episodes as they're published, please subscribe to Order Up in Apple Podcasts, Google Podcasts, Spotify or wherever you get your podcasts. If you enjoyed this episode, please consider leaving a review in Apple Podcasts. It really helps others find the show.

Podcast episode production by Dante32.
Listen to the previous episodes
Episode 81

29:43

May 30, 2023

Expert Advice for Restaurant Operators: Diversity, Tax Credits, and More

Guest Speakers:

Industry experts shared advice for restaurant operators in a recent 4-part webinar series. Listen in for top insights on diversity, emergency preparedness, policy and tax credits, and food donations.

Play Episode

Episode 80

20:18

May 08, 2023

ProStart: Educating Tomorrow's Industry Leaders

Guest Speakers:

Chef Patrick Phelan, 2023 ProStart Teacher of the Year, shares insights on mentoring the next generation of restaurant workers and the value of ProStart's hands-on curriculum.

Play Episode

Episode 79

15;35

April 26, 2023

Why Restaurant Operators Oppose New Labor Nominee

Guest Speakers:

National Restaurant Association's Sean Kennedy, EVP of Public Affairs, and Aaron Frazier, VP of Public Policy, discuss the Association's opposition to Julie Su's nomination for secretary of Labor.

Play Episode