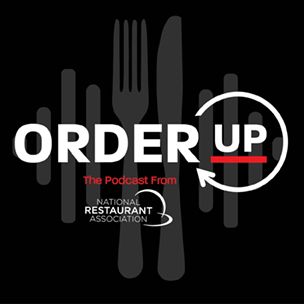 Episode 80
20:18
May 08, 2023
ProStart: Educating Tomorrow's Industry Leaders
Guest Speakers:
Like many aspiring cooks, Chef Patrick Phelan grew up cooking at home and dreamt of being a chef someday. After working in various restaurant roles in college, he worked his way up to pastry chef at a top New Orleans restaurant. But his culinary career took an unexpected turn into education after Hurricane Katrina closed his restaurant. With a reopening uncertain, Patrick went looking for a new job and landed one as a ProStart educator for a school in the area. Nearly two decades later, he's still teaching and was recently named 2023 ProStart Teacher of the Year. Listen in to hear more about Patrick's commitment to educating tomorrow's restaurant leaders.
(01:49) - Patrick's journey from the kitchen to the classroom
(05:14) - Explaining the
ProStart
Educator role
(07:57) - Building career paths for students
(10:25) - Helping students expand their culinary horizons
(13:36) - Inspiring career paths of ProStart graduates
(16:08) - Advice for students curious about the ProStart program
ProStart
is a two-year industry-backed culinary arts and restaurant management program for high school students. The program reaches approximately 165,000 students in over 1,850 schools in all 50 states, Washington, dc, and the territory of Guam. Over the past 23 years, more than 1 million students have participated in ProStart.
Patrick Phelan is a certified ProStart and ServSafe educator based in Louisiana. Patrick has worked in the restaurant industry for over 20 years in a number of capacities and has been educating the next generation of restaurant workers for 17 years.
The ProStart Teacher of the Year Award, sponsored by Golden Corral in honor of founder James Maynard, honors one individual for their tireless dedication to providing remarkable experiences to their ProStart students.
If you'd like to receive new episodes as they're published, please subscribe to
Order Up
in
Apple Podcasts
,
Google Podcasts
,
Spotify
, or wherever you get your podcasts. If you enjoyed this episode, please consider leaving a review in
Apple Podcasts
. It really helps others find the show.
Podcast episode production by Dante32.
Listen to the previous episodes
Episode 89

16:19

September 25, 2023

Best Practices in Food Safety and Hygiene

Guest Speakers:

For National Food Safety Education Month, Karly is joined by Dotti Haynes of Tork, an Essity Brand, to discuss providing a safe, hygienic experience for staff & guests across the restaurant industry.

Play Episode

Episode 88

31:46

September 11, 2023

From Concept to Franchise with Chef Erica Barrett

Guest Speakers:

This week, Karly speaks with Chef Erica Barrett about her new restaurant, Dough Boy Pizza, and the journey from catching the entrepreneurship bug as a child to appearing on Shark Tank.

Play Episode

Episode 87

12:36

August 28, 2023

Top 5 Policy Priorities for Remainder of 2023

Guest Speakers:

National Restaurant Association's VP of Public Policy Aaron Frazier returns to discuss recent advocacy on Capitol Hill and potential legislation and regulatory shifts impacting the industry.

Play Episode