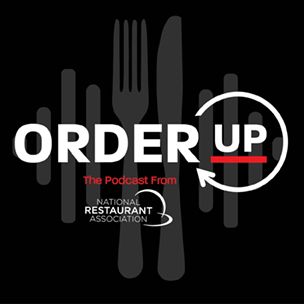 Episode 23
00:27:47
February 22, 2021
Millions in Scholarships for Restaurant Industry Students
Guest Speakers:
Matthew Rosales and Ashten Garrett
Higher education is the ticket to better paying careers. The cost of college, however, can be an impediment to many interested in entering the foodservice and hospitality industry. This week on Order Up, we're speaking with the Senior Manager of the National Restaurant Association's Educational Foundation, Matthew Rosales, as well as scholarship recipient and rising culinary star, Ashten Garrett. Tune in for details and share with any students in your life who could benefit from a National Restaurant Association scholarship.
Neither the National Restaurant Association, National Restaurant Association Educational Foundation nor their affiliates warrant or guarantee the accuracy or suitability of any information offered, and the podcast listener is encouraged to do their own research, and where appropriate, obtain the advice or guidance of legal counsel or the input of other experts with respect to their practices and/or applicable laws. Nothing in this podcast shall be deemed to create or grant any rights to any third parties.
Listen to the previous episodes
Episode 93

20:10

November 13, 2023

Celebrating National Apprenticeship Week with Conrad Chura

Guest Speakers:

For National Apprenticeship Week, Karly is joined by Conrad Chura, owner and founder of Wakin Bakin in Louisiana, to discuss the value of apprenticeship in the restaurant industry.

Play Episode

Episode 92

32:04

October 30, 2023

The Entrepreneur's Studio: Milk Bar

Guest Speakers:

This week, Order Up shares a conversation with pastry chef Christina Tosi, founder and CEO of Milk Bar, featured on The Entrepreneur's Studio podcast.

Play Episode

Episode 91

24:25

October 16, 2023

CEO Series: Expanding Opportunities in Restaurant Operations

Guest Speakers:

CEO Michelle Korsmo talks to Casey Absey of Fargo's Blackbird Woodfire about embracing opportunities beyond their restaurant, in another installment of Order Up's CEO-hosted miniseries.

Play Episode