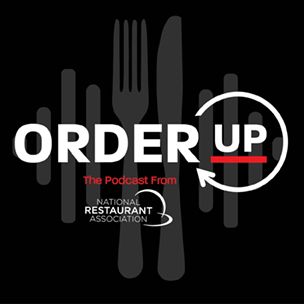 Episode 48
24:16
November 01, 2021
Kids Live Well
Guest Speakers:
Jeff Clark, Maggie Gentille
Finding healthy, kid-friendly choices at restaurants can often be a struggle for families. This week on Order Up, we talk to Jeff Clark and Maggie Gentille to learn how the National Restaurant Association's updated Kids Live Well program is empowering restaurateurs to provide healthy options for children in their communities.
This podcast is not intended to provide medical or legal advice. Given the rapidly evolving nature of the pandemic, guidance may change as our understanding of unique challenges that COVID-19 poses within each country, state, and locality. The views expressed in this podcast are solely those of the speakers and do not necessarily represent the opinions of the National Restaurant Association (Association) and its affiliates. The Association does not warrant or guarantee the accuracy or suitability of any information offered, and the listener is encouraged to do their own research and consider the applicability and suitability of the information provided for their own individual circumstances.
Listen to the previous episodes
Episode 81

29:43

May 30, 2023

Expert Advice for Restaurant Operators: Diversity, Tax Credits, and More

Guest Speakers:

Industry experts shared advice for restaurant operators in a recent 4-part webinar series. Listen in for top insights on diversity, emergency preparedness, policy and tax credits, and food donations.

Play Episode

Episode 80

20:18

May 08, 2023

ProStart: Educating Tomorrow's Industry Leaders

Guest Speakers:

Chef Patrick Phelan, 2023 ProStart Teacher of the Year, shares insights on mentoring the next generation of restaurant workers and the value of ProStart's hands-on curriculum.

Play Episode

Episode 79

15;35

April 26, 2023

Why Restaurant Operators Oppose New Labor Nominee

Guest Speakers:

National Restaurant Association's Sean Kennedy, EVP of Public Affairs, and Aaron Frazier, VP of Public Policy, discuss the Association's opposition to Julie Su's nomination for secretary of Labor.

Play Episode