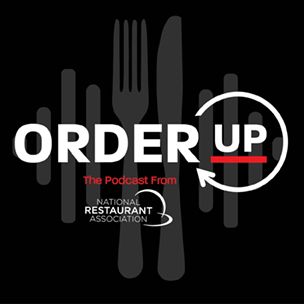 Episode 35
00:26:42
June 14, 2021
Innovative Solutions to 86 Food Waste
Podcast Sponsored by:

Do we have the right to waste as much as we do? That is the central question for restaurants as we grapple with the environmental impact of our industry moving beyond COVID. Pete Pearson of the World Wildlife Fund and Suzanne Cohen of Essity Tork joined us this week for an episode on minimizing a restaurant's environmental footprint and how these practices can further help your bottom line. Tune in to learn more.
This podcast is not intended to provide medical or legal advice. Adherence to any suggestions regarding the COVID-19 viral disease cannot ensure prevention of infection. Given the rapidly evolving nature of the pandemic, guidance may change as per our understanding of the unique challenges that COVID-19 poses within each country, state, and locality. Neither the National Restaurant Association nor its affiliates warrant or guarantee the accuracy or suitability of any information offered, and the podcast listener is encouraged to do their own research, and where appropriate, obtain the advice or guidance of legal counsel or the input of other experts with respect to their practices and/or applicable laws.
Listen to the previous episodes
Episode 66

47:10

September 26, 2022

CEO Series: Creating a Culture that Attracts and Retains Talent

Guest Speakers:

Roz Mallet, Lakisha Hunter

This week, Michelle Korsmo speaks with Roz Mallet and Chef Kisha Hunter in the second installment of Order Up's CEO-hosted miniseries with Association members about key topics and issues.

Play Episode

Episode 65

32:39

September 12, 2022

CEO Series: Political Advocacy in the Restaurant Industry

Guest Speakers:

This week, National Restaurant Association President & CEO Michelle Korsmo speaks with Lance Trenary, President & CEO of Golden Corral Corporation and NRA Chairman, in the first installment of Order U

Play Episode

Episode 64

50:25

August 25, 2022

The Entrepreneur's Studio: Sugar + Spoon

Guest Speakers:

Ivana Orlovic, William Hubbell

This week, Order Up shares a conversation with Ivana Orlovic and William Hubbell, safe-to-eat cookie dough entrepreneurs and founders of Sugar + Spoon, featured on The Entrepreneur's Studio podcast.

Play Episode