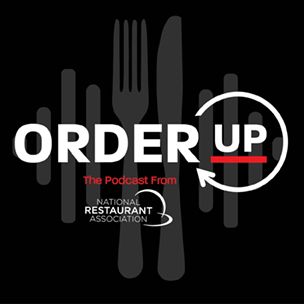 Episode 57
20:08
May 02, 2022
Harnessing Point-of-Sale Data
Guest Speakers:
This week on Order Up, we're joined by Joe Costanzo of REVOLTtek for a conversation about the power of point-of-sale systems in the restaurant industry. Tune in to hear Joe, a restauranteur turned technology consultant, share how to approach integrating POS into your restaurant's operations and how to enhance your marketing, customer loyalty, food profit, and staffing through the data collected in a POS system.
(0:36) – Joe Costanzo and discovering point-of-sale technology
(3:53) – Consulting with restaurant industry experience
(5:56) – REVOLTtek
(7:15) – Heartland Restaurant POS
(9:14) – What can restaurants learn from their point-of-sale data
(11:36) – Food profit
(14:27) – Data-driven marketing
(15:23) – Customer feedback
(16:19) – Staff scheduling and performance
(18:24) – Increasing sales
(19:50) – Selling data to suppliers
(21:17) – Getting started
For more information on
REVOLTtek
, visit:
http://www.revolttek.com
/.
To learn more about
Heartland Payment Systems
, vist:
https://www.heartland.us/
This podcast is intended for general informational purposes and is not intended to provide any listener with legal or medical advice. The views expressed in this podcast are solely those of the speaker and do not necessarily represent the opinions of the National Restaurant Association (Association) and its affiliates. Reference to any specific product or service does not constitute an endorsement or recommendation. The Association does not warrant or guarantee the accuracy or suitability of any information offered, and the listener is encouraged to do their own research and consider the applicability and suitability of the information provided for their own individual circumstances. Given the rapidly evolving nature of the pandemic, guidance may change as our understanding of unique challenges that COVID-19 poses within each country, state, and locality evolves.
If you'd like to receive new episodes as they're published, please subscribe to
Order Up
in
Apple Podcasts
,
Google Podcasts
,
Spotify
or wherever you get your podcasts. If you enjoyed this episode, please consider leaving a review in
Apple Podcasts
. It really helps others find the show.
Podcast episode production by Dante32.
Listen to the previous episodes
Episode 93

20:10

November 13, 2023

Celebrating National Apprenticeship Week with Conrad Chura

Guest Speakers:

For National Apprenticeship Week, Karly is joined by Conrad Chura, owner and founder of Wakin Bakin in Louisiana, to discuss the value of apprenticeship in the restaurant industry.

Play Episode

Episode 92

32:04

October 30, 2023

The Entrepreneur's Studio: Milk Bar

Guest Speakers:

This week, Order Up shares a conversation with pastry chef Christina Tosi, founder and CEO of Milk Bar, featured on The Entrepreneur's Studio podcast.

Play Episode

Episode 91

24:25

October 16, 2023

CEO Series: Expanding Opportunities in Restaurant Operations

Guest Speakers:

CEO Michelle Korsmo talks to Casey Absey of Fargo's Blackbird Woodfire about embracing opportunities beyond their restaurant, in another installment of Order Up's CEO-hosted miniseries.

Play Episode