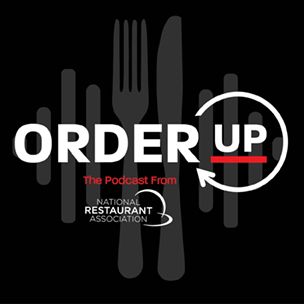 Episode 78
18:53
April 24, 2023
Good Done Right: Wendy's Focus on Environmental Awareness
Guest Speakers:
In the second episode dedicated to Earth Day, Karly speaks with
Liliana Esposito
, Chief Corporate Affairs and Sustainability Officer at The Wendy's Company, about reducing greenhouse gas emissions, developing more sustainable packaging options, and reducing food waste.
In this conversation, Liliana shares several goals and commitments Wendy's has set in its
Good Done Right
initiative and the progress thus far. With a focus on food, people, and
footprint
, Wendy's approach to energy, waste, and employee engagement makes a significant impact and serves as inspiration for operators across the restaurant industry.
(01:28) – Introducing Liliana Esposito
(02:15) – Good Done Right at Wendy's
(03:43) – Reducing greenhouse gas emissions
(05:11) – Sustainable packaging
(06:06) – Eliminating food waste and commitment to freshness
(08:07) – Purpose-driven employees
(13:38) – Tips for smaller operators approaching sustainability
Resources to learn more:
Wendy's to Reduce Greenhouse Gas Emissions and Climate Impact
How Wendy's is Approaching Diversity, Equity and Inclusion in 2023
Wendy's Reflects on 2022 Corporate Responsibility Achievements
If you'd like to receive new episodes as they're published, please subscribe to Order Up in Apple Podcasts, Google Podcasts, Spotify, or wherever you get your podcasts. If you enjoyed this episode, please consider leaving a review in Apple Podcasts. It really helps others find the show.
Podcast episode production by Dante32.
Listen to the previous episodes
Episode 89

16:19

September 25, 2023

Best Practices in Food Safety and Hygiene

Guest Speakers:

For National Food Safety Education Month, Karly is joined by Dotti Haynes of Tork, an Essity Brand, to discuss providing a safe, hygienic experience for staff & guests across the restaurant industry.

Play Episode

Episode 88

31:46

September 11, 2023

From Concept to Franchise with Chef Erica Barrett

Guest Speakers:

This week, Karly speaks with Chef Erica Barrett about her new restaurant, Dough Boy Pizza, and the journey from catching the entrepreneurship bug as a child to appearing on Shark Tank.

Play Episode

Episode 87

12:36

August 28, 2023

Top 5 Policy Priorities for Remainder of 2023

Guest Speakers:

National Restaurant Association's VP of Public Policy Aaron Frazier returns to discuss recent advocacy on Capitol Hill and potential legislation and regulatory shifts impacting the industry.

Play Episode