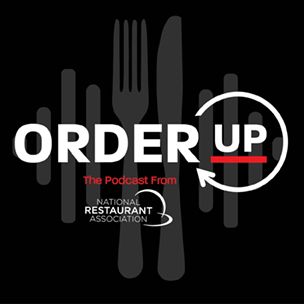 Episode 78
18:53
April 24, 2023
Good Done Right: Wendy's Focus on Environmental Awareness
Guest Speakers:
In the second episode dedicated to Earth Day, Karly speaks with
Liliana Esposito
, Chief Corporate Affairs and Sustainability Officer at The Wendy's Company, about reducing greenhouse gas emissions, developing more sustainable packaging options, and reducing food waste.
In this conversation, Liliana shares several goals and commitments Wendy's has set in its
Good Done Right
initiative and the progress thus far. With a focus on food, people, and
footprint
, Wendy's approach to energy, waste, and employee engagement makes a significant impact and serves as inspiration for operators across the restaurant industry.
(01:28) – Introducing Liliana Esposito
(02:15) – Good Done Right at Wendy's
(03:43) – Reducing greenhouse gas emissions
(05:11) – Sustainable packaging
(06:06) – Eliminating food waste and commitment to freshness
(08:07) – Purpose-driven employees
(13:38) – Tips for smaller operators approaching sustainability
Resources to learn more:
Wendy's to Reduce Greenhouse Gas Emissions and Climate Impact
How Wendy's is Approaching Diversity, Equity and Inclusion in 2023
Wendy's Reflects on 2022 Corporate Responsibility Achievements
If you'd like to receive new episodes as they're published, please subscribe to Order Up in Apple Podcasts, Google Podcasts, Spotify, or wherever you get your podcasts. If you enjoyed this episode, please consider leaving a review in Apple Podcasts. It really helps others find the show.
Podcast episode production by Dante32.
The views expressed in this podcast are solely those of the speaker and do not necessarily represent the opinions of the National Restaurant Association (Association) and its affiliates. The Association does not warrant or guarantee the accuracy or suitability of any information offered. Listeners are encouraged to do their own research and consider the applicability and suitability of the information provided for their own individual circumstances.
Listen to the previous episodes
Episode 81

29:43

May 30, 2023

Expert Advice for Restaurant Operators: Diversity, Tax Credits, and More

Guest Speakers:

Industry experts shared advice for restaurant operators in a recent 4-part webinar series. Listen in for top insights on diversity, emergency preparedness, policy and tax credits, and food donations.

Play Episode

Episode 80

20:18

May 08, 2023

ProStart: Educating Tomorrow's Industry Leaders

Guest Speakers:

Chef Patrick Phelan, 2023 ProStart Teacher of the Year, shares insights on mentoring the next generation of restaurant workers and the value of ProStart's hands-on curriculum.

Play Episode

Episode 79

15;35

April 26, 2023

Why Restaurant Operators Oppose New Labor Nominee

Guest Speakers:

National Restaurant Association's Sean Kennedy, EVP of Public Affairs, and Aaron Frazier, VP of Public Policy, discuss the Association's opposition to Julie Su's nomination for secretary of Labor.

Play Episode