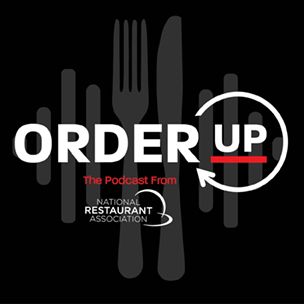 Episode 28
00:36:09
April 05, 2021
Creative Restaurant Solutions during the Pandemic
Guest Speakers:
Jeff Drake and Carl Howard
The restaurant industry took a hit during the pandemic. Some restaurants, however, were able to lean into innovative solutions to mitigate the damage. Today on Order Up, we're talking to Jeff Drake of Protein Bar & Kitchen and Carl Howard of Fazoli's. Jeff and Carl shared some creative ideas they came up with to drive sales. Listen for more.
This podcast is not intended to provide medical or legal advice. Given the rapidly evolving nature of the pandemic, guidance may change as our understanding of unique challenges that COVID-19 poses within each country, state, and locality. The views expressed in this podcast are solely those of the speaker and do not necessarily represent the opinions of the National Restaurant Association (Association) and its affiliates. The Association does not warrant or guarantee the accuracy or suitability of any information offered, and the listener is encouraged to do their own research and consider the applicability and suitability of the information provided for their own individual circumstances.
Listen to the previous episodes
Episode 93

20:10

November 13, 2023

Celebrating National Apprenticeship Week with Conrad Chura

Guest Speakers:

For National Apprenticeship Week, Karly is joined by Conrad Chura, owner and founder of Wakin Bakin in Louisiana, to discuss the value of apprenticeship in the restaurant industry.

Play Episode

Episode 92

32:04

October 30, 2023

The Entrepreneur's Studio: Milk Bar

Guest Speakers:

This week, Order Up shares a conversation with pastry chef Christina Tosi, founder and CEO of Milk Bar, featured on The Entrepreneur's Studio podcast.

Play Episode

Episode 91

24:25

October 16, 2023

CEO Series: Expanding Opportunities in Restaurant Operations

Guest Speakers:

CEO Michelle Korsmo talks to Casey Absey of Fargo's Blackbird Woodfire about embracing opportunities beyond their restaurant, in another installment of Order Up's CEO-hosted miniseries.

Play Episode