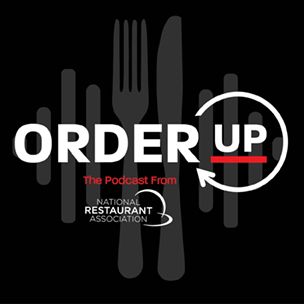 Episode 53
25:09
March 07, 2022
Continuing a Family Legacy with V&M Bistro
Guest Speakers:
Vincenza Carrieri-Russo, Margherita Carrieri-Russo
This week on Order Up, we're celebrating Women's History Month by chatting with Vincenza and Margherita Carrieri-Russo, a sister duo of restaurateurs continuing their family legacy in the food service industry. Tune in to hear them discuss how V&M Italian-American Bistro was born, what they did to adapt during the pandemic as a small business, and why food is a gift of love and gratitude. Plus, learn all about their latest endeavor: boozy ice cream!
(01:30) - Who are V&M?

(02:44) - Continuing a family legacy

(03:56) - Forgive quickly

(06:19) - Ice cream innovations

(10:48) - Food and love

(13:40) - Speaking up with the Hill Runner's program

(17:00) - Staying the course

(21:34) - Continuing the conversation
Stay up to date on V&M Bistro by visiting their website or following them on instagram, facebook, and twitter.
Learn more about Women's History Month from the National Restaurant Association here.
Listen to the previous episodes
Episode 89

16:19

September 25, 2023

Best Practices in Food Safety and Hygiene

Guest Speakers:

For National Food Safety Education Month, Karly is joined by Dotti Haynes of Tork, an Essity Brand, to discuss providing a safe, hygienic experience for staff & guests across the restaurant industry.

Play Episode

Episode 88

31:46

September 11, 2023

From Concept to Franchise with Chef Erica Barrett

Guest Speakers:

This week, Karly speaks with Chef Erica Barrett about her new restaurant, Dough Boy Pizza, and the journey from catching the entrepreneurship bug as a child to appearing on Shark Tank.

Play Episode

Episode 87

12:36

August 28, 2023

Top 5 Policy Priorities for Remainder of 2023

Guest Speakers:

National Restaurant Association's VP of Public Policy Aaron Frazier returns to discuss recent advocacy on Capitol Hill and potential legislation and regulatory shifts impacting the industry.

Play Episode