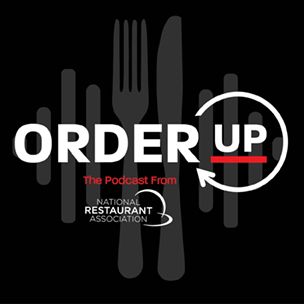 Episode 86
23:19
August 14, 2023
CEO Series: Customer Satisfaction in the Digital Age
Guest Speakers:
CEO Michelle Korsmo talks to Julie De Cock of Key West's
La Crêperie French Café
and
ViV Wine Bistro
about bringing authentic French cuisine to the vacation hot spot in another installment of Order Up's CEO-hosted miniseries. In this episode, Julie shares her approach to curating a digital presence and finding longevity in customer relationships and her team.
(03:12) – Introducing Julie De Cock
(07:00) – Digital presence
(10:17) – ViV Wine Bistro
(14:11) – Providing excellent service
(16:54) – Hospitality in a vacation destination
(21:38) – Looking ahead
Listen to the previous CEO Series installment:
"How NRAEF Programs Build a Strong Workforce and Industry."
If you'd like to receive new episodes as they're published, please subscribe to
Order Up
in
Apple Podcasts
,
Google Podcasts
,
Spotify
, or wherever you get your podcasts. If you enjoyed this episode, please consider leaving a review in
Apple Podcasts
. It really helps others find the show.
Podcast episode production by Dante32.
This podcast is intended for general informational purposes, and nothing in this podcast shall be deemed to create or grant any rights to any third parties. The views expressed by the guest speaker in this podcast are solely those of the guest speaker and do not necessarily represent the opinions of the National Restaurant Association (Association) and its affiliates. The Association does not warrant or guarantee the accuracy or suitability of any information offered. Listeners are encouraged to do their own research and consider the applicability and suitability of the information provided for their own individual circumstances.
Listen to the previous episodes
Episode 89

16:19

September 25, 2023

Best Practices in Food Safety and Hygiene

Guest Speakers:

For National Food Safety Education Month, Karly is joined by Dotti Haynes of Tork, an Essity Brand, to discuss providing a safe, hygienic experience for staff & guests across the restaurant industry.

Play Episode

Episode 88

31:46

September 11, 2023

From Concept to Franchise with Chef Erica Barrett

Guest Speakers:

This week, Karly speaks with Chef Erica Barrett about her new restaurant, Dough Boy Pizza, and the journey from catching the entrepreneurship bug as a child to appearing on Shark Tank.

Play Episode

Episode 87

12:36

August 28, 2023

Top 5 Policy Priorities for Remainder of 2023

Guest Speakers:

National Restaurant Association's VP of Public Policy Aaron Frazier returns to discuss recent advocacy on Capitol Hill and potential legislation and regulatory shifts impacting the industry.

Play Episode